Pragmatic Play Casinos
A plucky company that is now somewhere between being mid-size and competing for a seat as an industry leader, Pragmatic Play are fearless when it comes to bringing new products to market and inventive in how they do it.
Apart from a few rumours going around that Pragmatic Play are the reincarnation of another company that got itself a very bad reputation (more on this later), this company is one of the most highly regarded slots developers in operation today, but they also run a live casino, bingo network, and even a virtual sports vertical.
Established in 2015, they have expanded rapidly over the years and have never been shy to challenge competitors with far longer histories and deeper pockets.
With main offices in Malta, Gibraltar, and the Isle of Man, as well as smaller bases in other countries, they are clearly positioning themselves to be available to as many regulated markets as possible, which probably explains how they have been able to develop so quickly.
Pragmatic Play Casino Sites
What Kind of Games do Pragmatic Play Make?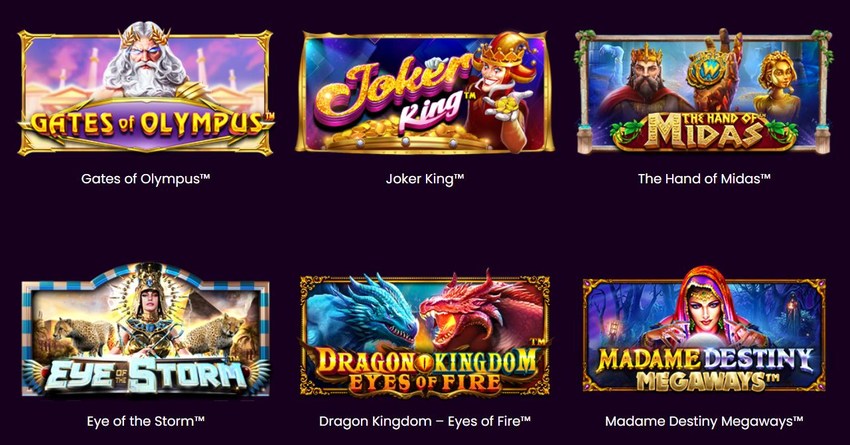 Not so long ago this would have been a much shorter section, but Pragmatic seem to have a fondness for launching new product verticals, so as well as what is below you can expect more to come.
Let's start with slots though, since these make up the bulk of their offering.
Slots
Like most software developers in the online casino industry, one of the biggest elements of Pragmatic's business is their slots.
Featuring high end production values and busy gameplay with simple features that trigger frequently, their games have become popular with players who have more traditional tastes but don't want to sit through too many dead spins before something interesting happens.
Of course this is all balanced out, no slot company makes guaranteed cash dispensers, but excitement is definitely the order of the day with Pragmatic.
They offer a good mix of contemporary and more retro style games, and even the odd branded title like Peaky Blinders – although this isn't something they are particularly known for.
They seem to do well with animal themed slots for some reason; Great Rhino, Bronco Spirit, and Buffalo King have all been warmly received by players, and adapted to incorporate further features such as the Megaways engine, licensed from Big Time Gaming.
In terms of visuals, their style of artwork has a classic touch and animations are kept fairly simple, so the games never look dull or static, but they aren't going to overpower the senses either.
The John Hunter Series
Without doubt their most famous slot character is John Hunter, an adventure and treasure seeking hero with more than a passing resemblance to Indiana Jones.
Pragmatic aren't the first to exploit this theme - indeed, Playn'GO have their own fedora wearing adventurer named Rich Wilde who features in several of their games such as Book of Dead - but Pragmatic must be bringing something to the party because there are loads of John Hunter titles:
| Game Name | Release |
| --- | --- |
| John Hunter and the Secrets of Da Vinci's Treasure | 2018 |
| John Hunter and the Aztec Treasure | 2019 |
| John Hunter and the Tomb of the Scarab Queen | 2019 |
| John Hunter and the Book of Mystery | 2019 |
| John Hunter and the Book of Tut | 2020 |
| John Hunter and the Mayan God | 2020 |
| John Hunter and the Quest for Bermuda Riches | 2021 |
They don't seem to be finished with them yet either, as a new one was released a few weeks before this article was written.
The nice thing about this series is that each of the games are slightly different. For example, Bermuda Riches takes place on a 7 by 7 grid and uses cluster pays along with instant cash wins and a free spins bonus, so the base game is always fun without being overwhelming, but there is a bonus round to aim for too; on the other hand, Mayan Gods uses a more traditional 5x3 grid with wilds and freespins only.
If you liked the instant cash wins with the collect feature but not the cluster pays element, then you could opt for Scarab Queen instead, getting the game you want within the same series. Aztec Treasure, on the other hand, features different size symbols on the 7x7 grid.
They have tried to make the John Hunter series suit as many player demographics as possible and it shows.
Live Dealer Casino
Given the size of the industry leaders in the live casino industry, it's rather ballsy of Pragmatic Play to attempt to compete, but compete they have, and actually they have already snapped up a fair few clients.
One benefit of being newbies in this particular arena is that their newly built studio is state of the art. Only opening in 2019 it has all of the latest equipment and technology including 4K cameras that beam HD quality visuals to both laptops and mobile devices, and even VR gadgets.
Green screen capabilities enable branded offerings to their clients, who can also use Pragmatic Play's marketing tools to control their own offers and promotions within the live casino. What's more, the whole system is available in 30 different languages and with multilingual dealers.
In terms of games, they don't have as wide a selection as the likes of Evolution, but it's not exactly miles off. There are many roulette and blackjack variations as you would expect, as well as sic bo, baccarat, dragon tiger, and they have even branched out into gameshow style games with their Mega Wheel.
This collection will only keep growing, and it's not uncommon to see online casinos using Pragmatic Play alongside another time served live casino so as to provide their customers with greater choice.
Bingo
Offering a customisable user interface and an intuitive back office tool that allows easy access to analytics and the scheduling of targeted promotional campaigns, Pragmatic Play's bingo offering is excellent. What's more, everything available via a single API, so integration is no problem either.
They aren't just going with the flow though, they have their own ideas and even welcome ideas from their clients that can help shape the product. As an example of their innovation, Pragmatic have released a bingo room where the prize is not cash, but free slots spins.
It's a great alternative for bingo players who also enjoy slots, especially those who tend to play bingo when prize pots are small, and for the casino operators it is an opportunity to create hybrid customers who use more of the gaming products on offer.
Bingo Blast
A unique game only available through Pragmatic's bingo network is Bingo Blast, a new way to play the game of bingo and an excellent alternative to spice up the usual offerings.
Designed for mobile players first and foremost, it is bingo for the modern day, with more interesting visuals, and games that are 3 to 4 times faster than an average game of 90-ball bingo thanks to the way each game plays out.
Again, this is perfect for mobile players who may only have a few minutes to play in a queue or on a coffee break.
The game works by 'blasting' 20 numbers onto the screen at the same time to begin with, highlighting any that match those on the players cards in orange, before further calls are blasted from left to right one at a time and the cards come into view.
In this way, the game skips the usual build up and gets straight to the point where players are close to winning.
It's fast and exciting with a more 21st century feel, but it's still the same game of bingo that players love.
Another example of Pragmatic Play pushing boundaries and challenging standards.
Virtual Sports
This is new territory for Pragmatic, and they don't have any other sports based products, but it shows the company is willing to try new things and once again proves the point that they are not afraid to challenge dominance in different areas of the industry.
High frequency games with seamless odds and high quality 3D visuals are the order of the day, across four different game types:
Penalty Shoot Out
Horse Racing
Greyhound Racing
Fantastic League
There will doubtless be more to come but for a starting point this offers variety and fun, with the penalty shootout being something of a novelty compared with other developers virtuals.
New games and races start every two or three minutes and run 24/7 using an RNG in a similar way to slot machines.
The graphics and detail in all four categories are superb, and each race/game is unique, so the user experience is very hugh.
It may be a new venture for Pragmatic but you would never guess.
Promotional Tools
One of the great things about Pragmatic Play, from their clients point of view, is that they offer so many options when it comes to promotions and offers within their games.
Their in-game promotional tool, named 'Enhance', allows casino operators to run all sorts of promotions on Pragmatic's games, but tailor them in any way the operator wants to.
This means that you can find promotions on Pragmatic games at one casino that you won't find at another, which allows casinos to compete more effectively.
The sorts of promotions that can be run include:
Prize Drops
Tournaments
Free Round Bonuses
Countdown Free Round Bonuses
Free Card Bonuses
Replay Feature
The tournaments can be run on any Pragmatic game including those in the live casino, so there is loads of choice if operators want to push specific games.
The replay feature isn't really a promotion, but a tool that allows players to replay their 100 biggest wins, and relive the fun. They can also share their good fortune online so it serves doubly as a bragging feature and free advertising for the game/casino.
TopGame Technology and Pragmatic Play Theory
TopGame Technology was a game developer founded in 2007/8 with a less than positive reputation, shall we say.
One of the biggest controversies was the fact that they didn't add the jackpot symbols needed to trigger the main prize in two of their slots, and the fact that a large number of their partner casinos were listed as rogue or simply didn't have enough money to pay big winners did them no favours either.
There were other things that went on such as not paying affiliates, but safe to say that despite having some entertaining titles, TopGame Technology's reputation was in pieces, and in 2015 after many complaints they shut down.
Coincidentally, a brand new company sprung up out of nowhere in 2015, called Pragmatic Play. Not only that, but they bought a number of TopGame Technology's old titles to start off their game library.
So we had a company that began just as TopGame ended, selling the same games, but claiming to be a completely different entity. You can see why people were suspicious.
The theory has never been proved or disproved, but what can be said with certainty is that Pragmatic Play have never displayed the same sort of behaviour as TopGame Technology.
Pragmatic Play's reputation is not only solid, but they have achieved an incredible amount in the short time they have been around, so these days no one really worries about the potential link to TopGame, because Pragmatic have always behaved responsibly and fairly.