They may not be a household name for many players in the UK, but iSoftBet do have one of their five offices here, and they have been in operation since 2010.
They work with a dual purpose, creating their own games and also providing integration solutions for other businesses, placing them squarely in the middle of a very busy industry with friends on both sides of the line.
It's probably fair to say that iSoftBet currently have more partnerships with European brands than with those in the UK, but those operators they work with in this country are some of the biggest names there are, like Entain, so their games and services get a lot of face time nonetheless.
Plus, for a company that took less than a decade to get to such a prominent position, it is only a matter of time before they strike new partnership deals on our shores.
Best iSoftBet Casino Sites
Who are iSoftBet?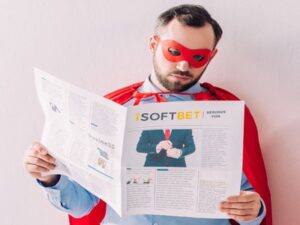 iSoftBet are a software developer creating online casino slots and table games, as well as a B2B service provider offering online casinos and aggregation platform from which they can access over 8,000 games from 80 leading software providers.
In fact, you could argue that their B2B business is their core operation, because their game aggregation platform (GAP) and all of its associated features and solutions would be just as effective with or without their own proprietary games.
Launching in 2010 and entering the Italian regulated market soon after, iSoftBet hit the ground running and began to establish themselves.
Within a few years they had successfully obtained licenses from Alderney, Belgium and the UK and continued to add to this list as the years rolled on. They are now regulated in 20 different markets, mainly in Europe but also including Columbia.
They have offices in the UK, Malta, Cyprus, Romania, and the Philippines, having seen massive growth between 2016 and 2022, and their team is widespread and diverse, numbering around 300 people from many different countries.
Their work is twofold as described above, but both elements compliment one another very well indeed, and success in one area organically enhances their fortunes in the other.
Lets cover some of their areas of expertise.
Software Aggregation
A huge part of their business is their software aggregation capabilities.
Their own in house developed games give them a platform and make them known to players, but we bet they make a large majority of their income from this B2B product.
The GAP enables online casinos to take advantage of rapid, one time integration to scores of top slot developers and all of their games, including those of iSoftBet.
This means that, once set up, a casino can log in and select the games they want on their site, and they are away. They don't have to talk to 30 different developers and make deals with them all to get access to all of their games, they can do it all through one channel.
They can also tweak their games list, add or remove game from it, and run promotions using iSoftBet's application programming interface (API).
The basically allows various different applications to talk to each other so that a casino could, for example, bolt on a jackpot feature to a game that other casinos were only offering as a standard game version. This helps casinos create their own unique engagement approach using features and tools that suit them.
Essentially, iSoftBet have done all of the leg work a casino would need to do in order to get their game library together, and then sell that package on. They have also enhanced this package with extra features which are explained below.
Games

The company have created over 150 of their own titles, comprising a nice mix of table games like blackjack, roulette, and a few baccarat and poker options; plus a good number of slots too.
However they have also created partnerships with 80+ other leading game developers such as Wazdan, Red Tiger, IGT, Evolution, Quickspin, Play'nGo, etc., and absolutely loads of exciting smaller studios too.
This means they can offer a ginormous range of titles to their business customers, as well as enjoying the success of their own titles.
The number of games they can give their business customers direct access to is their major strength, so the more partnerships they can create the stronger a position they are in when talking to potential customers.
Player Engagement
Part of their B2B package includes the ability for operators to pick and choose their own selection of player engagement tools, depending on their objectives.
The product is called 'Arena', and includes four customisable tools that operators can toggle on and off with any game they choose.
These include:
Free Games
Jackpots
Multidrops
Tournaments
For example, research done by iSoftBet showed that there were 35% more spins on games with a jackpot tool enabled than those without, which is very useful information for a casino.
They also found that older games (those released before 2020) could have their activity boosted by as much as 350% by bolting on a jackpot and relaunching the game.
They also had data on running slots tournaments, showing that bets could be increased on a slot by up to 76% during a tournament, and a 60% uplift was retained even after the tournament had finished.
With these tools casinos can run promotions in a much more targeted way, and with the flexibility to use them in tandem with the games of their choosing with just a few clicks of a mouse, iSoftBet can offer their customers autonomy with ease.
They can also take an advisory role and discuss a casino brand's goals before helping them to decide which features to employ in order to achieve those goals.
Data Solutions
As eluded to above, iSoftBet are big on data and analytics, and this is something they can also offer to their clients.
Whether this be data taken from a specific promotion, game or game feature, operators can get useful and accurate information about their customers' reactions to their marketing choices.
In this way, casinos get a strategic level of understanding when it comes to the momentum of a game or a decline in activity.
Better yet, this is all available instantly and in real time, allowing operators to make timely decisions and capitalise on things that are going well, and quickly call time on anything that is not having the desired effect.
Of course, iSoftBet have their data solutions ready to go, but should a customer want something specific then they can customise a data program to meet specific needs.
Support & Compliance
This would all be for nothing if iSoftBet weren't there to help when they were needed, so their support service is 24/7.
That means that if one of their clients realised something had gone awry but it was 2 in the morning, someone at iSoftBet would be reachable and able to get to work setting it right.
Just one of the benefits of having a global workforce.
This extends to meeting regulatory requirements in the many different jurisdictions in which they work too, so the team could ensure that games are ready for all market conditions.
For example bonus buys are not allowed in the UK, but many games they have use them in jurisdictions where they are allowed. iSoftBet would ensure this never became an issue for their clients.
They have even developed their own responsible gaming features and compliance widgets.
What are iSoftBet Slots Like?
We mentioned that iSoftBet also create RNG based table games, but here we will be focussing on their slots.
It goes without saying that they are all optimised for both desktop and mobile play, but iSoftBet like games with bonuses and added game mechanics, such as their own Hold and Win and Ultrabet mechanics:
Hold and Win – This is a bit like a scatter triggered bonus round, but golden coins/shields are introduced to the reels holding monetary values. If six land the round starts and all coins stay in place, with others landing across the respins as well as other symbols that can boost the value of each symbol, add extra respins, collect all money on the screen, etc.
Ultrabet – A bit like a bonus buy, and not available in the UK, but Ultrabet allows the purchase of 50 rapid spins with extra benefits and all bonuses collected played at the end of the round.
They have also licensed the Megaboard and Megaways mechanic like so many others from BTG though, so they can make their games as appealing as possible to players.
In terms of theme and design, iSoftBet have a lot of games with Asian, Mythology and Classic themes, and on the whole their design style feels less sharp and 3D than the ultra modern games that we are seeing a lot these days.
This is by design rather than through any sort of failure though, with their games feeling softer and less 'in your face' than some rivals, but never feeling dated. They play very smoothly and are generally less chaotic.
The company are a bit of a hotch potch when it comes to their slots actually. For example they don't really do branded slots, but the one they have opted for is Basic Instinct – a film that was released 18 years before the company formed. Random.
There is a Twisted Tales series of games that puts a dark spin on famous stories like Robin Hood, Alice in Wonderland, and Sherlock Holmes, focussing on the 'bad' characters. These are all great games, but they have a different visual style to most of iSoftBet's others.
This means you can't always spot an iSoftBet game just by looking at it, but then this isn't key to their success given the strength of their aggregation product.