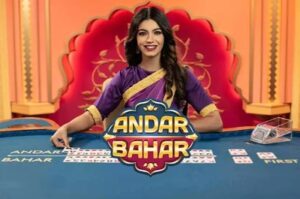 Andar Bahar is a game that came from Bangalore in India, and is still an extremely popular game in the country today, with an estimated 15 million people per day playing either for money in casinos or for fun in their homes.
The game's true age is not known, but it is very old, at one time being played with pieces of cloth which had patterns on before cards were invented.
Andar Bahar's introduction to the West is relatively recent, but it has been popping up in online casinos more and more often as the years have gone on, and awareness is growing.
The appeal is probably down to Andar Bahar's simplicity, coupled with the wide range of side bets you can make on the game, giving it a lot of flexibility and keeping it fun, without being too taxing on the player.
You can find RNG or live casino versions of the game, and while they may all come with very slight differences in layout or in exactly which bet types are available, the game will always have the same structural bones as we will explain below.
Playing Andar Bahar
As a gambling game, Andar Bahar is about as simple as they come, but it does have a few alternative bets that make it much more interesting.
At a fundamental level, you are essentially playing snap, but don't let that put you off because the game does go a little deeper than that.
Played using a single 52 deck of cards and controlled by a dealer, there is theoretically no limit to the number of people who can join in since all bets are independent and the players make no decisions on which cards are dealt.
To begin the game, the dealer shuffles the cards and then turns one face up and lays it on the table.
This is the 'joker' card, also sometimes referred to as the middle, house, or trump card, and it is this card that needs to be matched. Suits don't matter in Andar Bahar so you just need another card of the same value, regardless of the suit or colour.
This is where the game's name comes into play.
At this point bets can be made, after which the dealer will begin to deal one card each in turn to the Andar side, and the Bahar side – Andar translates as 'inside' and Bahar translates as 'outside'.
Players bet on which side will end up matching the joker card first, with payouts and probabilities as follows:
| Bet | Probability | Payout |
| --- | --- | --- |
| Andar | 51.50% | 1:1 |
| Bahar | 48.50% | 0.9:1 |
The reason it is uneven is because the Andar side is dealt first, so that side has a slight advantage over the Bahar side, making it the least risky bet in the game.
As you can see, there is no skill involved here, it is purely a guessing game.
One thing to mention before moving on, is that in some friendly games, the side that is dealt first is decided by the colour of the joker card, with Andar being dealt first if the joker card is black, and Bahar being dealt first if the joker card is red.
This is not a rule that is played when money is involved though.
Andar Bahar Side Bets
Aside from the main bet on the game, there are lots of other possible side bets that might be included.
Not all variations will have all of these betting options, but most will have at least some of them – it's rare to find an Andar Bahar variation that only lets you bet on the Andar or Bahar sides.
They are good additions because they allow bets at every stage of the game, meaning every single card dealt holds your interest until the game is decided.
Predicting the Joker Card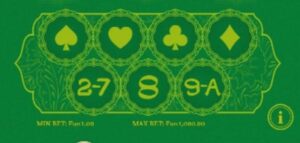 These bets are made before a single card has been dealt, and are over as soon as the joker card has been dealt.
You don't have to use this bet if it is available, but it's a way of bringing some entertainment to an area of the game that would otherwise be a little meaningless; afterall, it doesn't really matter what the joker card is, so without a bet we are just waiting to get this bit out of the way before the fun section of the game begins.
Any wins at this stage are paid out before the game continues too, so theoretically, if you won money on the joker prediction you could then use that to bet with later in the game.
The possible bets that might be available cover three different aspects:
So you can bet on whether the joker card will be a low number, the number 8, or a high number, whether it will be black or red, and which suit it will be.
Here are the payouts and probabilities for those bets:
| Joker Prediction | Probability | Payout |
| --- | --- | --- |
| Value of 2 to 7 | 46.15% | 1:1 |
| 8 | 7.69% | 11:1 |
| Value of 9 to Ace high | 46.15% | 1:1 |
| Red or Black | 50% | 0.9:1 |
| Suit | 25% | 2.8:1 |
The bets that carry the least risk are the red or black bets, since they have a true 50/50 chance of coming in, although the payout is obviously smaller to reflect that, but there is a good range for those with different attitudes to risk here.
Range of Cards Dealt

This set of bets must also be placed before the game begins, since placing them once the game has already got going would give players an advantage.
That said, you would need to wait for the joker card to be dealt, so range bets are placed at th same time as main game bets on Andar or Bahar.
Here, you are betting on how many cards you think are going to be dealt before a matching card shows up to end the game.
It's usually broken down into ranges to make things easier, but you might occasionally find the option to bet on every single possible number; so in 1 card, 2 cards, 3 cards, 4 cards, and so on.
So if you think the joker card will be matched within 5 cards drawn you would bet on the 1-5 Range. If the joker was matched within 1-5 cards your bet would win, but if it took six cards or more to match the joker your bet would lose as the came moved forward.
Here are the betting options, most usual payouts, and probabilities for the range bets:
| Range of Cards | Probability | Payout |
| --- | --- | --- |
| 1 to 5 | 23.8% | 3:1 |
|  6 to 10 | 21.7% | 4:1 |
| 11 to 15 | 16.9% | 5:1 |
| 16 to 25 | 21.8% | 4:1 |
| 26 to 30 | 6.09% | 15:1 |
| 31 to 35 | 3.69% | 25:1 |
| 36 to 40 | 1.89% | 50:1 |
| 41+ | 0.79% | 120:1 |
This group of bets is where the very highest payouts can be found in Andar Bahar, but as you can see, there is a reason for that.
In a 52 card deck, with a joker card down and 40 other non-matching cards already drawn, you would need all 3 remaining cards of the same value as the joker to be among the last 11 cards in the pack. Given that the average number of cards needed to finish the game is 13, this is going to be a pretty rare occurrence.
It does happen occasionally, but again, it's all down to your appetite for risk.
To be clear, the joker card does not count towards the range bets, the count begins with the first card dealt to Andar.
Mid-Game Bets
This is the side bet you are least likely to find with Andar Bahar variations, because it can actually give the player a slight advantage.
We have never seen it in the Andar Bahar games we have played, but we know it exists or has existed in the past.
Like most things that take advantage away from the casinos though, it is most often excluded.
If it is available, you will be given the option to place another bet on the overall outcome of the game (Andar of Bahar) after the first card has been dealt to each side.
So at this point 3 cards will have been drawn:
1 joker card
1 Andar card
1 Bahar card
So the player has a little bit of insight into what is left in the pack but it is still a random guess as to where the first matching card will land.
Betting a little later can up the player's chances of winning to 51.58%.
Example Game of Andar Bahar
To finish up, we will run through an example game of Andar Bahar with pictures to help you fully understand how the game is played before you go and try it for yourself.
Here we have one example of how the game might be laid out before any cards are dealt.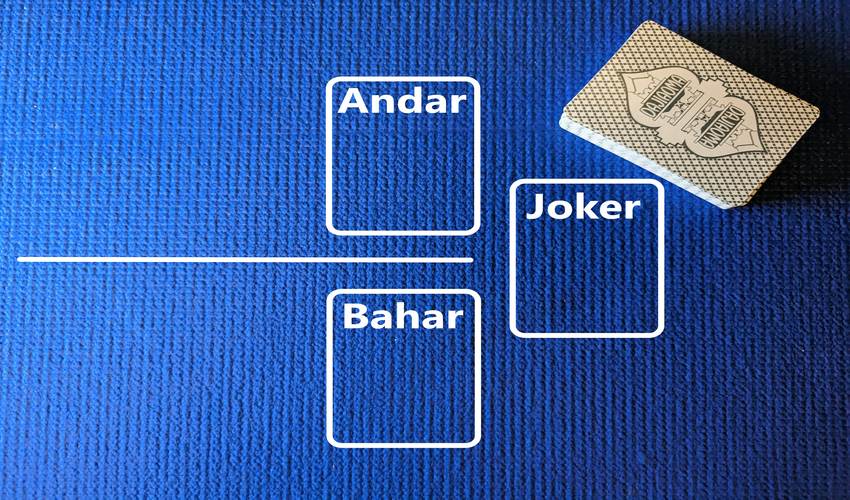 If we were allowing bets on the joker card, we would place them now.
So let's pretend we bet £5 that the joker card will be red (0.9:1 payout), and £5 that it will also be a low number between 2-7 (1:1 payout), so that's £10 down.
Now let's deal the card and see what we get.
Ok, so we won the first bet but lost the second.
We bet £10 in total, returned £4.50 on the red bet, but lost the £5 number range bet since the joker card is a 10 of hearts and therefore above the range we bet on, so we are down 50p overall.
Now it is time to place our bet on the outcome of the game, so let's go a bit bigger and stick £10 on Andar (0.9:1 payout), given that it has a slightly bigger chance of winning than Bahar.
We will also place a side bet on the range, opting for the game to conclude within 16-25 cards dealt. We will go for £5 on that which comes with a 4:1 payout.
So we now have £15 on the table; £10 on Andar, and £5 on a 16-25 card range.
Next, it's time to deal the first two cards.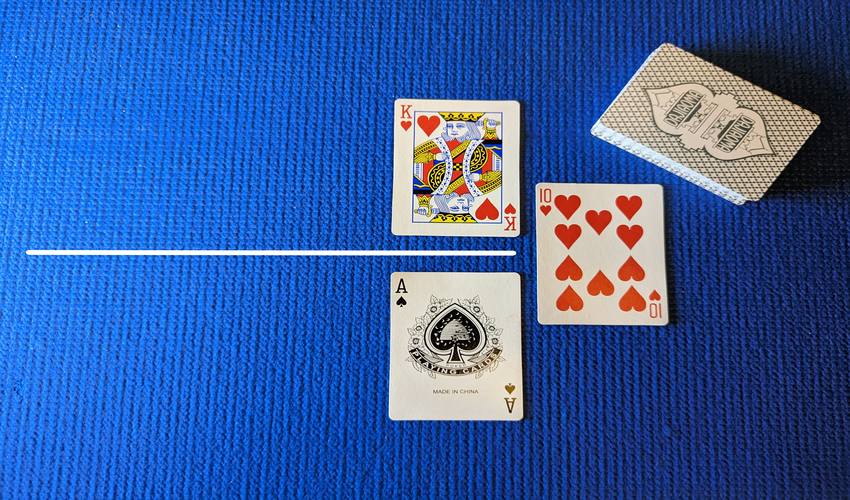 No match yet then.
At this point we would be able to place another bet if mid-game betting was allowed, but we will say it's not for the sake of simplicity here.
We would now continue to deal one card to each side, one a time, Andar then Bahar, until we found a match.
It could be in one more card, it could be in 40 more cards, we just keep dealing until it happens.
We will fast forward now until we get there.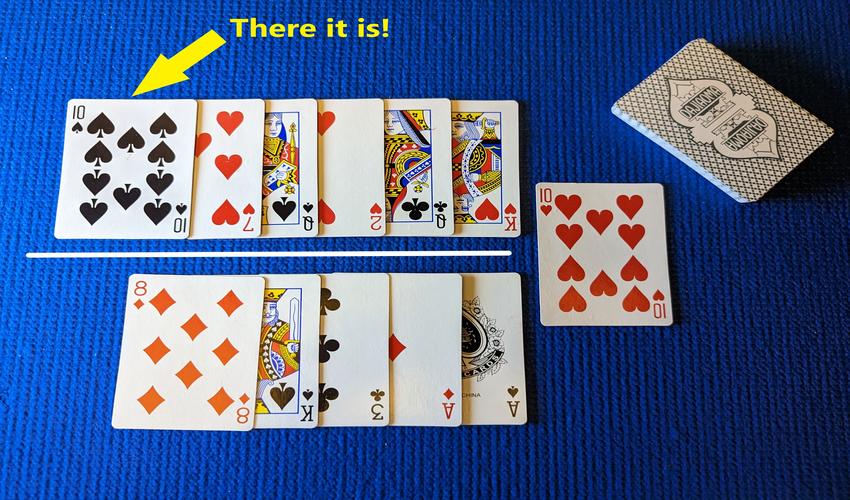 There it is, another 10, this time of spades, and it's on Andar too so we win our main game bet returning 0.9:1 on our £10 stake. That's a return of £19.
However, it only took 11 cards for that 10 of spades to show up, far fewer than the 16-25 cards we predicted, so we lose the £5 we bet on the 16-25 range.
So we bet £15 on the game, won £9 on the Andar bet, but lost £5 on the range bet, giving a total upside of £4.
If we subtract that 50p loss from earlier we have actually come out ahead by £3.50 in this example hand.
This shows how interesting the game can be, since a lot can happen in betting terms inside a relatively short period of play.