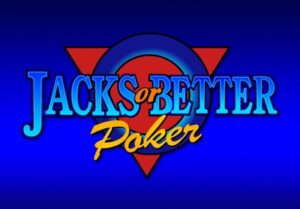 Video poker has forged a solid reputation for itself over the years both on machines in physical casinos and online, and it can even have a negative house edge in certain situations.
Based on the game 'Five Card Draw Poker', video poker was initially played on standard gambling machines and came to prominence in the 70s, however, it is now widely available online where many players actively seek it out.
Video poker also has quite a long and interesting history too, so as well as taking you through how to play the game we will also take a look at how it all started.
Learning the history of a game is a great way to really understand its' nuances, and also why it has evolved over the years.
How to Play Video Poker
There are a huge number of video poker variations, each with a slightly different approach and rules, so talking about the game more generally means that this guide might not match the version you are playing 100%.
However, the following is a good framework for how most games work on a basic level, just be aware that some of the more intricate details might have been tweaked if you are playing a different version.
For this guide, we will focus on Jacks or Better as it is one of the most common varieties.
Let's run through an example hand and see what happens.
Video Poker Example Hand
As you can see, video poker has an old school vibe to it, with many online versions built to replicate the old machines you would find in real casinos.
It's a very simple game to play from a functional point of view; you simply choose your coin value using the 'Bet' button, then choose how many of those coins you want to play by clicking on the paytable, which will change to show accurate payouts based on the bet level you currently have selected.
So if you had chosen 25p per coin your bet level would look like this:
1 Coin – 25p
2 Coins – 50p
3 Coins – 75p
4 Coins – £1.00
5 Coins – £1.25
Five coins is the maximum allowed and this is the level we will use for this example, making our total bet £1.25. However, with bet levels from 25p to £5.00 on this particular game, the staking flexibility is wide.
Once happy with the amount you are betting, hit 'draw', and your cards will be revealed.
We have got lucky and landed 2 pairs, which we obviously want to hold, so we will click on them and the computer will know we want to keep these cards.
We can easily see which cards we have selected by the yellow 'Held' sign that shows up, so you can spot any mistakes before you carry on.
Now we have done that, we will hit draw again to see if we can improve our hand.
We will only see one card replaced so the best we can hope for is 3 of a kind on this particular hand.
Each game is dealt from a single digital pack of cards, so you know that if there are already two cards of the same value showing that there are only two more left in the deck.
We got a Jack which did nothing for our hand, so our 2 pair win has been highlighted in yellow on the paytable.
We can now hit the 'Collect' button to claim our winnings of 10 coins, which at 25p each are worth £2.50, so we have doubled our initial stake of £1.25.
However, you might also have noticed a golden 'Double' button has appeared. This is an opportunity to increase your win by wagering it in a higher/lower style extra game.
Most players don't do this especially if they are playing using a strategy, but we will give it a go just to show you how it works.
The first card is revealed, a Jack in our case, and we need to pick one of the four remaining cards and hope that it is a higher value.
At least one of them will be higher than the up card, but it is basically pot luck.
We have got incredibly lucky and found an Ace, doubling our £2.50 win and giving us £5.00 instead.
We now have the option to play this doubling game again if we want to, so we can try and turn that £5.00 into £10.00, but we feel we have pushed our luck far enough so will take our winnings by hitting the 'Collect' button.
That is the end of the game and we can now start again with a new stake size if we want to, or we can keep things as they were.
Jacks or Better Return and Probability
Here is a table showing the returns and probability of each hand in Jacks or Better, but be aware this may be different for other video poker variations.
You can also see the possible number of combinations that are possible for each hand.
| Hand | Return | Probability | Possible Combinations |
| --- | --- | --- | --- |
| Royal Flush | 800-to-1 | 0.000025 | 4 |
| Straight Flush | 50-to-1 | 0.000109 | 36 |
| Four of a Kind | 25-to-1 | 0.002363 | 624 |
| Full House | 9-to-1 | 0.011512 | 3,744 |
| Flush | 6-to-1 | 0.11015 | 5,108 |
| Straight | 4-to-1 | 0.11229 | 10,200 |
| Three of a Kind | 3-to-1 | 0.074449 | 54,912 |
| Two Pair | 2-to-1 | 0.129279 | 123,552 |
| Jacks or Better | 1-to-1 | 0.214585 | 337,920 |
| No-win Combinations | 0 | 0.545435 | 2,062,860 |
Some of the statistics above might surprise you, but it becomes clear how the casinos can afford to pay ut such high returns on the most valuable hands when you look at the odds of them coming in.
The History of Video Poker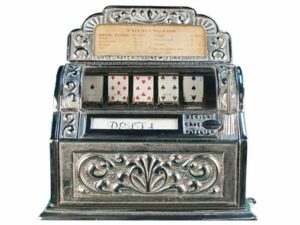 The earliest relations of the first draw poker machines were actually based exclusively on luck and did not include an option to draw or hold on any of the cards.
These early machines go all the way back to 1891, and included five reels with ten numbers on each which would spin, exactly like the slot machines that followed years later. When these reels stopped, the five cards on show would or would not form a winning poker hand.
It wasn't until 1901 when the first machine with a hold feature was brought to the market, and this turned it into a game of partial skill rather than a game of chance. This was officially the first five card draw machine.
It was called the 'Skill Draw' machine and was invented by industry luminary Charles Fey, who had started to build a reputation for himself in this niche, having created a number of different machines by this point.
These first poker machines actually only included 50 cards (10 on each of the five reels) and in the majority of cases the Jack of Hearts and the 10 of Spades were excluded, meaning that players could only get a Royal Flush in two suits, cutting the probability of getting a Royal Flush at all in half.
Those that did 'win big' would often be paid on in cigarettes, drinks, or candy, since gambling for money was illegal in most states at the time.
Video Poker Machines as we Know Them Today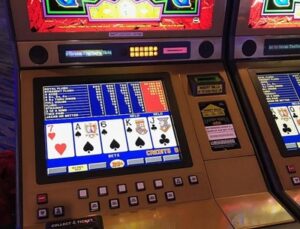 Following decades of evolution, the first video poker machines that we might recognise today were called Poker-Matic, and were introduced to the marketplace in 1970 by the Dale Electronics Corporation as soon as it was able to combine a central processing unit with a television monitor.
Back then, the screen was similar to television screens of the day, and even though these featured in nearly every Las Vegas casino and establishment, they did not become overly popular. Customers in the 70s were reluctant to trust electronic gambling machines when they could not see the reels for themselves; it was similar to the trepidation many felt towards to internet in its early days.
However, later in the decade the man now considered to be the 'Father of video poker', William "Si" Redd, whose own firm, Bally Distributing Company, was acting as a game distributor for Bally Gaming gave a presentation to company executives covering a new invention; a game that he called video poker.
Despite the ingenuity of such a machine, the company did not want to deviate from slot machines and as a result, allowed him to keep the patent for himself.
International Game Technology (IGT) and Video Poker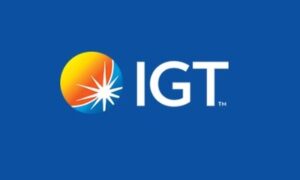 Following his initial rejection, Redd moved fast to agree a deal with the Reno-based Fortune Coin Company to create Sircoma (standing for Si Redds Coin Machines), and they began the mass production of video poker machines. The success that followed meant that by 1979, a new video poker machine called Draw Poker was supplied to the majority of US casinos, particularly in Las Vegas.
The company went public in 1980, changing its name to International Game Technology, and by 1981 IGT had made video poker the most widely distributed game for US casinos in the United States.
IGT can also take credit for significantly changing the industry as a whole with video poker, especially when the company released their multi-million dollar progressive jackpots to the marketplace, such as the Megabucks spinning reel video poker machine which was a particular game changer.
In the early nineties, Ernie Moody invented the Triple Play Poker game and valiantly attempted to get companies to give his product a shot, though time again he was unsuccessful. He even turned down offers of employment so he could continue to push his game.
It turned out that he was right to do so, when in 1997, Bob Pittman, who was an Executive Vice President at IGT, agreed to give his "multi hand poker" machine a chance and Triple Play Poker shot to prominence almost overnight. The company could barely keep up with demand for the product and at one of the first installations at Sunset Station, customers were said to be queuing out of the door, while scuffles broke out between older women who were desperate to try the new game.
Video poker had officially arrived, and this laid the foundations for other companies to jump on the bandwagon, and for the online versions that we can play today being created too.
FAQ
What is the Difference Between Poker and Video Poker?
Many poker players believe that video poker is far easier than poker, due to the fact that it arguably requires a lot less skill. There are other differences however, not least the fact that video poker presents an easier chance to win, because it is based solely on a player's card combination on the screen.
Meanwhile, if you are playing online poker against other people, you have no idea what cards your online opponents have. If you were playing in real life you would also have to contend with bluffing and tells and all of those things.
Essentially, video poker is a solitary game based on an initial draw and one chance to change crads you don't like, while traditional poker is a game played against others over several rounds where more strategy and misdirection can be used to the players advantage.
What are the Biggest Wins in Video Poker?
It's hard to say because not every big win will be on record, but in 2018, World Series of Poker player Brett Hanson turned to video poker after losing in the latest tournament as a way to channel his disappointment. Choosing his favourite two video poker machines at Caesar's Palace Casino in Las Vegas, he started wagering $250 per spin and recorded a $200,000 jackpot win with a royal flush, the odds of that happening being 1/40,000.
A year earlier in 2017, another World Series of Poker player, Kyle Cartwright became a three time jackpot winner while playing video poker, after he won with a hattrick of royal flushes. While he scooped a total of $300,000 ($100,000 each time), he stated that he gambled no more than $9,000 – an incredible feat. Cartwright also correctly stated that while luck is a huge part of video poker, if a player has the right strategy, this can also make a difference and give you a competitive edge.
Is Video Poker a Good Game for Beginners?
Yes. If you are a player new to poker then video poker is a good way to get to know the hands and to train your brain to spot card combinations quickly. It's a simplified version of traditional poker essentially, so it is less overwhelming for a new player.
There is also less pressure to make decisions before you are ready because you are only playing against the computer, there are no other players waiting on your decision.
In a real casino you often find that the poker tables are exclusive, invite only, or otherwise have huge buy ins that most people can't afford. This makes video poker the next best thing in this situation too, allowing casinos to offer the game to everyone in some form without having to staff tables that don't make them much money.
You often find big poker players dabbling in video poker too, just for a bit of fun. It's a good way to get a quick fix when you don't have time for a long session or you want something a little less intense and more laid back.