How Video Slots Work & How To Play
Slots and video slots are some of the most popular forms of online gambling around, they have millions of fans around the world with some staying loyal to just a few titles or specific software developers and others covering as much of the market as they can, always on the hunt for something new.
The beauty of these games is that they can be based on absolutely anything, and because there are so many developers out there the number and variety of slots is epic. There is a colossal amount of choice as developers try to target all of the various different demographics and target markets, both in the way the games look and sound and in how they play and what playing style they are best suited to.
To understand everything there is to know about slots and video slots, it would also make sense to understand why they were developed in the first place and how they came to be so popular, so do take a look at how it all started after reading the guide.
How Video Slots Work
Before we go any further, you should understand that all slots are slightly different, so you are not guaranteed to see the same features and set up on one as you will on another. One might have lots of paylines while another might just have 10. Those paylines might be adjustable or fixed. The game could have a freespins round or a special bonus round or a jackpot, but then again it might just have a wild symbol and not much else.
The game used here as an example is fairly typical, but just be aware that you will find games that look a lot different to this.
Understanding the Interface
This image is from a game called Starburst by NetEnt. It's a fairly standard game which is why it was chosen, and it's probably one of the most famous slots in the world too.
Looking at the interface, you will notice the various different symbols covering the five reels (vertical) and three rows (horizontal). These will appear in different places after every spin, and hopefully they will land in a winning combination on a payline so that you get some money back.
Speaking of paylines, this slot has ten of them, and number 9 is running across the top of the grid in this image to show you how it works. If you get three or more matching symbols along that payline from left to right or right to left with no gaps, you have a win. Some slots only pay left to right but Starburst is a 'win both ways' slot.
Now take your attention to the control bar.
The button in the middle is the spin button that you hit when you are ready to have a go. On the left of that you have the 'Auto Play' button which you can use to set a certain number of spins in motion if you don't want to hit the spin button every time. On the right is the 'Max Bet' button, and this will set your bet amount to the maximum allowed – which is £100 on this slot, so careful with that one!
This slot uses coins rather than money – this is just an in game currency – and the 'Bet Level' box shows that we are currently betting 10 coins, 1 per payline, and our 'Coin Value' box shows that coins are worth 1p each, so in real money that makes it 10p per spin:
1 coin x 10 paylines = 10 coins per spin
1p per coin x 10 coins = 10p
You can adjust the coin value and the bet to get a stake amount per spin that you are happy with, and actually, if you look at the very bottom of the image the game will show you the amount of money you are betting per spin as well.
You can see now that the coin value is 2p per coin, but we have also set the Bet Level to 2 which means we are betting 2 coins per payline at 2p per coin. So:
2 coins x 10 paylines = 20 coins per spin.
2p per coin x 20 coins = 20p per spin.
This game does not allow the player to adjust the number of active paylines so you always have to play all of them, but other games might allow you to only play with 5 paylines active, for example, so you only have half the chance of winning on each spin but your stake is also half the price.
Paytables
To help players understand the game they are playing before they part with any money, each slot has to provide a paytable or information page. In this game it is accessed by hitting the green 'Information' icon on the bottom left of the control bar, but different developers put this information in different places.
Once open, it will look something like this:
Next to each symbol are some numbers. Pay attention to the BAR symbol, those numbers translate like this:
| | |
| --- | --- |
| 5 Symbols on Payline | 250 x Stake |
| 4 Symbols on Payline | 200 x Stake |
| 3 Symbols on Payline | 50 x Stake |
That means that if you landed 3 BAR symbols on a winning payline on a spin costing 10p (10 coins) you would win £5 (500 coins). Of course the BAR is the highest paying symbol so all others will be worth less than that. You can win on more than one payline per spin though, so those little wins can add up.
The paytable will also be where any information pertaining to special features is explained. Starburst is a very simple slot so there isn't a lot else to say, but for games with more depth there could be quite a lot of information contained in here.
Slot Glossary
Since there are so many variations to slot games, we thought we would draw up a bit of a glossary of the most common slot features and terms so that you know what they are when you eventually come across them.
| Term | Meaning |
| --- | --- |
| Expanding Wild | A wild symbol that will expand to fill the whole reel it is on, effectively creating more wilds on all other rows |
| Freespins | Often given as part of a feature round or bonus, these are normal spins except they don't cost you anything. Sometimes during a freespins round the chances of winning or the amount you can win will be enhanced in some way as well. |
| Multiplier | Displayed as x5, for example, meaning your winning amount will be multiplied by 5. These are often added onto consecutive wins or used as part of a feature round. |
| Pick Me Game | A bonus game or a way of choosing exactly how a bonus game will be played. The player is presented with a number of items which they need to choose one at a time. Sometimes they reveal cash prizes, other times they reveal what type of structure your bonus game will take. |
| RTP % | This stands for 'Return to Player' and shows how much money the game will return over a very long period of time. For example, an RTP of 97% would pay out 97p for every £1 it took. This should not be taken literally, more as a representation. |
| Scatter | A scatter will trigger a payout and/or a feature without having to land on a winning payline. Usually, the key number needed is 3 scatters, and they are often used as a way to gain entry into a freespins or bonus round. Sometimes they have a value of their own as well, and sometimes they don't. |
| Sticky Wild | This is a wild that will stay in position for a pre-determined number of spins after it has landed, thus guaranteeing you a wild on your next spin. |
| Wild | A wild is a symbol that can take the place of any other symbol on the board to create a winning line. Think of it as the blank tile in Scrabble, it can be anything you need it to be. However, it usually will only stand in for regular symbols, not scatters or bonus symbols, although that is not definitive. |
There are more, many more, but there is no use overwhelming yourself early on. There is more than enough here to set you on your way, and the rest is not difficult to pick up once you have tried a few different games.
Famous Slot Titles
There are an amazing number of different slot titles out there, all differing in theme and play style in order to appeal to as wide a variety of players as possible. But with thousands of games available, they can't all be top class.
Just like anything else, there are a few 'stars' of the online slot world, games that have really struck a chord with a huge number of players and achieved a certain level of celebrity status within the industry. Some in game characters have even become mascots for their developers, such has been their popularity.
So let's take a look at some of the most successful slot titles that have stood the test of time; big hits that are still played regularly today years after their initial release.
Age of the Gods - 2016
A slot based on Greek mythology, which is an ever popular theme in the online slot world, this one was developed by online software giant Playtech and has subsequently evolved into a whole series of different titles all based on the same theme. The main aim is to try and line up a combination of different symbols representing the Greek Gods known as the Pantheon of Power. This achievement results in a 200x payout of the original stake.
Lining up three of the same God triggers a range of different bonus features. Triggering the bonus scatter symbol automatically launches the free spins feature, and if you line up five different wild symbols and you will win the big prize worth 10,000x the original stake. It also comes with a progressive jackpot.
Beach Life - 2008
Another popular title from Playtech that has been going strong for over a decade now, this slot has a medley of visually attractive symbols, all of which are based on a beach theme. So expect sandcastles and sunshine as you explore the bonus features, instant prizes, free spins, and the chance to win a maximum payout of 10,000x your original stake for lining up five different wilds. Should you manage to land the wild combination when they spin on a maximum bet, then you will win the big prize.
This game also has a progressive jackpot attached to it.
Circus of Cash - 2011
Yet another popular slot from Playtech, and this is all about the bonus rounds, with nine different ones available. These bonus games range from the Tightrope Motor Bear, Knifethrower, and Lion Tamer game (all based on activities that you might see in a circus), while there is the chance to win 5,000x your original stake.
Being based on a circus theme, the music is exactly what you would expect: upbeat and using a range of different instruments to keep things feeling lively. As well as bonus rounds, there is also a progressive jackpot within the slot, a common trend with Playtech titles, so there is the chance to win really big.
Thunderstruck II - 2010
An absolute classic from slot developer Microgaming, this slot is a sequel to the very popular and successful slot, Thunderstruck and a firm favourite among keen slot players. This five reel game has a staggering 243 payline combinations so many more ways to win than your average slot.
Based on Scandinavian folklore, Thor's iconic hammer, Mjolnir portrays the scatter symbol, and if you manage to get three or more of these it results in the bonus rounds being triggered. These have four different levels, and you can make progress with them based on the amount of times that you trigger the bonus feature while you are playing. If you are able to line up five Wildstorm symbols, this results in the slot's 7,000x original stake jackpot being triggered.
Starburst - 2012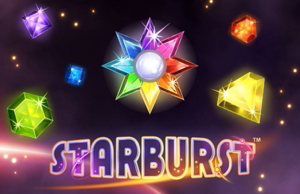 Regarded by many keen slot enthusiasts as one of the best slots to have ever been created, this iconic classic developed by online gambling provider NetEnt was an instant hit. While this is not a particularly creative or imaginative theme, the brand appeal that this has built up over the years means it is still regularly included in casino sign up offers and the like.
Another reason is for its success is its sheer simplicity, favourable gameplay, colourful visuals, and attractive audio. Boasting a top prize that is worth 50,000x your original stake, plus two different bonus features doesn't hurt either. It's a five reel, 10 payline slot which offers huge prizes, and perhaps the true beauty is that it is perfect for beginners to understand while still proving challenging for experienced slotters as well.
Cleopatra - 2012
As well as Greek mythology, another well used slot theme is that of ancient Egypt, and this slot is arguably the best of them. Probably the most popular game ever developed by industry giant IGT (Interactive Gaming Technology), this slot was originally made available to players in land based casinos, and when it moved online its popularity spread like wildfire.
The enormous amount of interest and curiosity around the topic of ancient Egypt had something to do with it, but one of the unique selling points about this slot is that it is particularly well known for the amount of free spins that it offers to players. They are quite easy to activate too compared to other slots, with the award being tripled at the end of each round. Featuring a generous 20 paylines, this game is likely to be widely played for many years to come.
Gonzo's Quest - 2011
Another highly popular classic from software giant NetEnt, this one features on almost every casino operator's site and is a winner with players due to the adventurous nature of the gameplay and content. It proved so popular that Gonzo has become something of a mascot for NetEnt, and the game was the obvious choice to be the developers first VR release.
The game contains an 'avalanche' feature which, instead of spinning the reels sees them fall into place, and when you get a winning combination the symbols that are in the winning line up simply vanish, with new ones appearing from above to take their place a bit like the Tetris game. This also means you could get more wins.
How do Online Slots Perform on Mobile?
There is simply no escaping the fact that mobile gaming is here to stay. More people are spinning the reels on handheld devices than ever before, and every new slot that is created and developed is expected to perform exceptionally on the smaller screen too. In fact, developers are even going back through their older titles and rejigging them for optimal performance on mobiles.
With almost the entire population of slot players now doing at least part of their online gambling via mobile, there can be no margin for error from a development perspective. It's got to the point now where the vast majority of slot developers actually take a 'mobile first' approach, so whether you use iOS or Android you can be sure that developers have ensured a smooth gaming experience for you.
Mobile technology was fairly basic when slots first moved in that direction a decade ago, but as the 2010s progressed better software became available and quickly too. Graphics, audio, usability, performance, and navigation are all now close to the point of perfection, so if you had any concerns about slotting on your mobile you really can ignore them. You are guaranteed a quality experience.
The History of Slots & Video Slots
It was way back in 1897 when Charles Fey brought out the first ever slot machine, the Liberty Bell, with a top prize of $0.50 cents – about $15 dollars today.
As you can imagine for the time, it was completely mechanical and not very sophisticated by modern day standards, but it was a ground breaking product none the less and laid the foundations for an entire industry.
Over the decades, slot machines gradually transitioned into more advanced machines that were easier to use, especially when the use of springs was introduced; however, they still stuck to the basic three reels. It wasn't until the mid-sixties though that electricity was first used to spin them instead of the traditional mechanical arm.
Slots became even more feature rich as technology improved, and eventually each one was fitted with an RNG (Random Number Generator) and it was these which helped to create the platform for the computerised slots that we see today.
Video Slots Arrive
In the seventies the first ever video slot was released by an American company called Fortune Coin Co, which used a screen instead of mechanical reels like the normal slots up until that point. Because there were no longer mechanical restrictions on the design of video slot machines, it meant that most games would use five reels instead of three, significantly increasing the possibilities of what a slot could do. With a video slot now capable of having in excess of 50 symbols on a reel and encompassing odds that were as high as 300 million to one to win the largest jackpot, things were on the move.
Another by-product of having so many possible combinations with five reels, was that the manufacturers no longer needed to weigh the payout symbols (despite some still doing so). The new approach was to have higher paying symbols shown up just once or twice on each reel, with more common symbols earning a more frequent payout appearing many more times.
Video slots would typically include mini games as bonuses too, which made them a much more comprehensive and attractive proposition to customers, who appreciated the versatility and choice, as well as more multimedia.
Paylines & Bonus Rounds
The developers now began to look at ways to make more money from their slots. One of the ways in which they did this was to encourage players to wager on multiple paylines that could run in any pattern on the grid decided by the maker of the game. The likelihood of each symbol appearing was just as likely and the return to player would remain the same, but the more lines a player wagered on the more likely they were to get a win on each spin. This meant that they were also wagering increased amounts.
Video slot manufacturers were quite clever in the development of their product here, because they realised that players would eventually cotton on that they were gambling a significant amount of money without really seeing a return, so they introduced bonus round games.
The potential winnings in these bonus rounds were several times the usual payout, so players would be incentivised to keep playing in order to reach the bonus rounds, where they had a chance to win back their losses and maybe even more.
Moving Online
When the industry began to move online during the late nineties the potential for online slots did not go unnoticed, and a new breed of slot developers started to form in order to meet the demand of customers. Initially this was something of a niche market within another niche market: online slot software development within the slot machine market.
Customers were quick to adapt to gambling online, they were happy not to have to travel to an establishment to play slots but they wanted more choice, so more and more companies entered the market. At first, there were only a few software development companies, the likes of Microgaming, NetEnt, and Playtech who are the industry titans today; but as time passed more specialist companies sprang up. For example, these companies might only create and develop a specific type of slot which focuses on a particular theme or style, or a gameplay feature.
The concept behind every slot is very carefully researched and planned, with a significant amount of time and effort put into ensuring the game will generate interest from a target audience. They are also quick to capitalise on current events and pop culture - the inspiration for a new slot could be a popular movie or TV show, or a big sporting event, anything that will catch people's eye.
The move to online gambling opened the door to a whole new wave of opportunities for game developers, and with slots being so easy to play and to tailor to different themes they were able to provide games for every type of player. It's no wonder that slots rank above all other games in terms of popularity, and that also enables bigger payouts to be built into the games, attracting yet more slot fans hungry for the chance at winning a fortune.
Final Thoughts
The fact that slots have been around since the late 1800s proves that they are a mainstay in gambling entertainment and are in no danger of disappearing. In fact, when you look back over the decades and see the vast changes and improvements that have been made to slot machines, you can't help but wonder where else they can go.
Saying that, the first VR slots are already here, so as that technology improves things could really start to change. It's the fact the slots are so simple to play and so varied though, that has been their real strength. Obviously the chance to win money is the main appeal, but the ways in which this is built into the games and the themes each game is built on are what make them so much fun. Branded slots based on well known movie stars, bands, movies, etc. will always pull in a crowd, and that means game developers have a limitless supply of new slot ideas.
FAQs
We have tried to keep the information into easily digestible chunks, but if you still have questions after reading the above, then maybe they are answered here.
Where Can I Find the Best Slots to Play?
You're already here! The sites we list are all top quality online operators with all of the right credentials and working relationships with the very best slot developers. That means that their game libraries are packed full of great content that can keep you entertained for hours.
Once you get an idea of which developers game's you like to play you can even start honing in on casinos that list their full catalogue, but until you get started you won't have any idea what kind of games and features suit your style of play.
How Easy is it to Win When Playing Online Slots?
There isn't really an answer to this as slots are a game of chance, although as with any gambling game, the odds are certainly not in your favour. However, there are a few technical elements that slots have built into them that can explain things a little.
One thing to look at is the RTP (Return To Player) percentage. Every slot is required to list this information by law, and it is usually within the range of 92% - 98%, although it can go higher or lower. In the most basic sense, the higher the RTP, the more often the slot pays out.
The slot's variance, on the other hand, will determine how hard it is to land wins, and this is ranked as either high, medium, or low. This info can be more difficult to find but search engines usually have the answer. High variance slots will pay out more money less frequency, low variance slots will pay out often but sometimes the win will be less than the stake, and medium variance slots lie somewhere in between.
How can I Learn the Rules of Online Slots?
The vast majority of slots have what is known as a 'demo' mode, where players who are new to the game can try it for free, using virtual credit, in order to get a feel for how they work. If you are new to playing online slots it is highly recommended that you spend some time on demo mode, as this is the perfect place to make mistakes and build confidence.
Also, as mentioned, every slot has a description of the rules which take you through how to play and the different levels or bonus rounds, what symbols and wilds there are, and even the winning combinations that you need to get. It's worth looking at this first so you can decide whether or not it is a game you think is worth playing.
Are Slot Games Fair?
Every online operator is licensed and regulated by their relevant industry body such as the UKGC (UK Gambling Commission), while some have two or three if they operate in different countries. What this ultimately means, is that they have to adhere to a certain set of rules and legislations which are put in place to protect the player. These rules ensure that every game they offer has to be fair, accurate, and consistent, the these regulating bodies monitor them on a regular basis, coming down hard on any operator that step out of line.
Each slot that is developed is done so using advanced algorithms and machine learning which makes use of very clever mathematical equations to quickly work out probabilities of every single possible outcome that players can get. A random number generator makes all of the decisions, so the results are as a random and fair as it is possible to be. Of course the odds are against you, but that's par for the course.
How Much can I Win Playing Slots?
This isn't really answerable, and it's a dangerous question to ask too as it can set up unrealistic expectations. The answer is millions if we consider progressive jackpots, but it's incredibly unlikely to happen.
Each slot will let you know of its maximum winning potential, but you are just as likely to walk away with nothing as with a profit. Smart players know when to get out while the going is good and to never chase their losses.