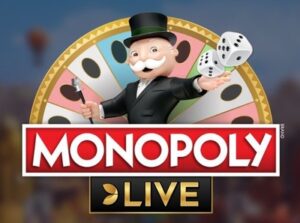 Monopoly has long been one of the nation's favourite board games, even spreading around the world and with more 'themed' versions of the game than we can count; there's Game of Thrones Monopoly, Metallica Monopoly, even Grimsby Edition Monopoly, and everything in between.
It's only fair then that the online gaming world gets a slice of the action, and Live Monopoly is now up and running.
It's a fantastic take on the original board game but brings a fresh new look alongside the gambling aspect. Fans of the original game will find plenty to enjoy but so will gamblers who are indifferent to board games.
It's a game that moves fairly quickly from round to round, and includes some degree of strategy too with regards to the outcomes you bet on and the stakes you use in order to maximise your session.
Mostly though, it's an exciting and dynamic game which breaks new ground in the Game Show genre of live casino games.
Playing Monopoly Live
Anyone who is familiar with the Dream Catcher game will recognise the way base gameplay works for Monopoly Live.
If you have never played a game like this before and are looking at the image above and wondering what on earth it all means then read on and we will explain.
Each round starts with betting time, and this is the period when you place your bets for the upcoming spin of the wheel.
You simply choose your amount per stake using the poker chips, then put them on the number you want to bet on. You can bet on as many or as few as you like.
See below: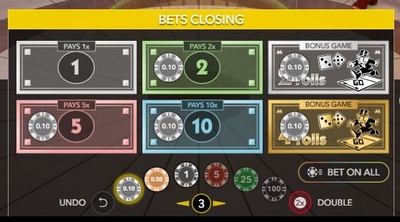 After this time is over, the live host will spin the wheel and it will land on one of the segments which will dictate the payout amount.
If you had a bet on that segment, so number 2 in this case, you win.
The Wheel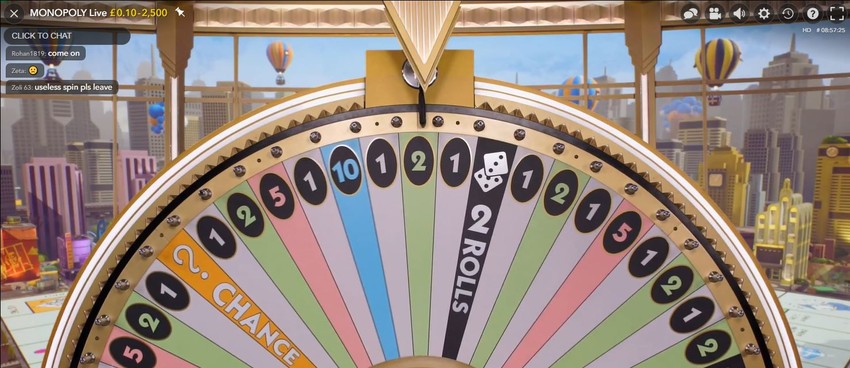 The wheel is broken up into 54 segments and each segment is given a value that acts as a bet multiplier. There are also a few segments which for all intents and purposes operate as bonus rounds which we will cover shortly.
It works like this:
1 – You get even money
2 – You get 2 times your stake
5 – You get 5 times your stake
10 – You get 10 times your stake
There are more segments with 1x multipliers than 10x as you might expect, so betting on a higher multiplier comes with increased risk. It breaks down like this:
| Multiplier | Colour | Segments |
| --- | --- | --- |
| 1 | White | 22 |
| 2 | Green | 15 |
| 5 | Pink | 7 |
| 10 | Blue | 4 |
If you are any good at maths you will already have spotted that this only account for 48 of the 54 segments of the wheel, so what are the others?
Chance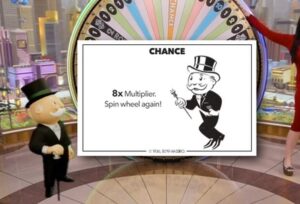 There are two areas on the wheel that you don't need to bet on at all, and these are the Chance segments.
If the wheel lands on a Chance, then Mr Monopoly himself will spring up from his chair, hobble over to the wheel, and reveal either a random cash prize or a multiplier.
If he reveals a multiplier then all bets stay in place and the wheel is spun again, with the resulting payout being multiplied.
So, if the Chance revealed an 8x multiplier and the wheel then landed on 5, your bet would be multiplied by 40x.
What's more, the wheel can land on Chance twice in a row, in which case your multiplier will be multiplied.
This is obviously rare but it has happened, there is video evidence online.
2 Rolls & 4 Rolls
The wheel features two more segments, 2 Rolls and 4 Rolls, and there are two of each. Unlike the Chance, however, you do need to bet on these outcomes in order to benefit from them.
This is arguably the most fun part of the game, as qualifying players are transported into a 3D augmented reality Monopoly world, with Mr Monopoly hopping around the board to collect prizes for you.
Each property on the board has a multiplier value, and as you might expect Old Kent Road has the lowest and Mayfair has the highest. These can be upgraded too, and if you manage to get around the board and pass go they will be upgraded again. You can see some huge wins if this happens. Chance and Community Chest squares pay out random cash prizes based on your qualifying stake.
If you got here via a 2 Rolls you will get two rolls of the dice and if you got here via 4 Rolls you will get four, plus, any double gets you an extra roll. The more rolls you have the more chances you have of adding multipliers to your win.
Watching the money stack up is so much fun, watching from the sidelines because you didn't bet on the 2 or 4 Rolls segments is a bit gutting, but you can still appreciate how brilliantly the game is developed.
Playing Monopoly Live on Mobile?
The beauty of games from Evolution Gaming is that no matter how technical or advanced they are, they are always exceptionally built and equally impressive when used cross platform. Consistency is the key word here.
There are obviously some restrictions when playing on a smaller screen because it isn't possible to display all of the options in the same way. There just isn't the space.
But what Evolution have done is rejigged things a little so that the player experience is optimised.
As you can see from this image, almost all of the usual features are still on show including previous results, chat, winners list, etc. but they are just in a different place. Everything looks and sounds just as crisp and clear as on the desktop.
The main difference is the speed with which you can operate.
If you like placing different stake sizes on different segments of the wheel then this can be challenging on mobile due to the short betting window, but you can always set up your bet and then simply repeat it.
All in all, your enjoyment of Monopoly Live should not be affected one way or the other regardless of the device you use to play it on, and if you do opt for mobile then there is no performance difference between IOS or Android.
Final Thoughts
Monopoly Live is one of the more advanced live casino games out there, it pushes boundaries with the augmented reality bonus features which enhances the enjoyment of the game no end. Coupled with the potential avalanche of wins in this round and it is a definite winner.
However, this has got our imaginations going to the point that we are now wondering how much further Evolution could take this concept. Virtual reality technology is already coming on in leaps and bounds, and with headsets like the Oculus already being used by video gamers, the capability is certainly there for live casino gaming as well.
Could we eventually see ourselves hopping around the board alongside Mr Monopoly? Or even up close and personal with the dealer so it feels like we are talking directly to them. Maybe the players could virtually spin the wheel? The potential for improving this already popular game is huge.
Monopoly: Fun Facts
Since this casino game is based on a world famous board game, it makes sense to learn a little bit about its origins. Monopoly has a genuinely fascinating history from the reasons behind its initial development to being used as an escape aid for POW's in WW2!
Origins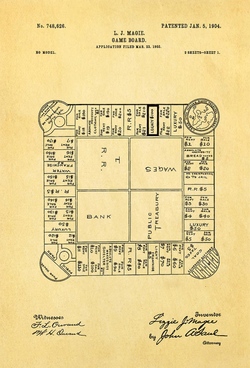 The game of Monopoly stretches all the way back to 1903 when original designer Elizabeth 'Lizzie' Magie created a game that she wanted to use to explain the single tax theory of Henry George.
With two sets of rules and the ability to essentially play as 'good' or 'bad', this was initially intended as a means of education to illustrate the dangers of capitalism… oh the irony.
After taking out a patent in 1904, she published her game in 1906 under its original title, 'The Landlord's Game'.
Elizabeth tried to push the game as much as she could herself but it never really took off.
While a number of other board games were subsequently invented which bore all the hallmarks of Magie's version, it wasn't until 1936 when the Parker Brothers obtained the rights for the game that it became known as 'Monopoly'.
However, Magie felt that her game had been stolen from her.
The same year, the two brothers began licensing the game for sale outside of the United States.
WW2 Service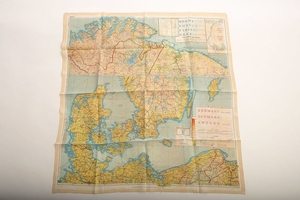 In 1941 the British Secret Intelligence Service commissioned James Waddington Ltd, the company who had acquired the UK license, to begin creating a unique edition of Monopoly for World War II prisoners of war.
Under the Geneva Convention, POWs were allowed to be sent care packages, and these included things like games and recreational equipment.
Monopoly fitted neatly into this category and so plans went ahead to create a version of the game with an escape kit built in. This included silk maps built into the board, a compass and file as playing pieces, real money hidden under the monopoly money, and other sneaky tricks.
The Government even set up fake charities to deliver these packages, and downed airmen spread the message among POW's to look out for Monopoly sets with a red dot on the Go square. This indicated that it was a 'special' game. It is thought that these Monopoly sets helps hundreds of allied prisoners escape the Germans and make it back to the UK.
Hasbro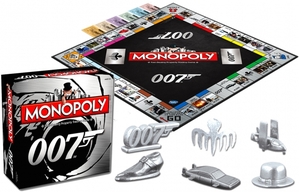 In 1991, Hasbro bought out Parker Brothers and became the owners of Monopoly by default.
Since that time, so many variations or 'themes' of the game have been licensed that it is almost impossible to keep track.
As well as a Monopoly board based on every major town and city in this country and many others, you can also play versions of the game based on popular TV shows, films, computer games, versions with different rules, and more.
Here are a few:
The Avengers
The Walking Dead
Fortnite
Stranger Things
Cheaters Edition (cheating encouraged)
Ms Monopoly (where the women earn more than the men…)
Friends
Only Fools and Horses
Assassins Creed
World Football Stars
James Bond
Eastenders/Coronation Street
You get the picture.
FAQs
If you have further questions then we might have covered them below. We have tried to go into as much detail as possible but it isn't always possible to cover ever single detail in the body of the article, so for those questions see below.
Where can I Play Monopoly Live?
While the game itself was developed by Evolution Gaming who are the company that still run it from their studios, Monopoly is available to play from any casino that uses Evolution to power their live casino.
This means that it will be available at a huge number of casino sites, including many of those listed on our site. It doesn't matter which one you choose so long as you ensure that the casino has a license to operate in the UK. Any site listed with us is 100% safe, but there are a few rogue operators out there so be vigilant and always check with the UKGC if you aren't sure.
Why Have I Never Heard of Monopoly Live?
It is still relatively new in relative terms, and if you aren't a regular live casino player then you are unlikely to have come across it. What's more, traditional Monopoly isn't really associated with gambling so it's not something that anyone would be specifically looking for unless they had already heard of it.
In fact, the Game Show genre of live casino games as a whole is still pretty new. Many slot players still think live casinos are all blackjack and roulette and so give them a wide berth. Games like this one and Deal or No Deal etc. are much more suited to players who enjoy 'softer' games, but many are yet to venture into the world of live casino. Monopoly Live already has a good solid fanbase though – it's usually got one of the highest number of players of all the Game Show type games – and good news travels fast, so you can expect to hear plenty about it going forward.
How can I Learn the Rules of Monopoly Live?
If you have read this article but are still a little uncertain, we would suggest loading the game up and watching a few rounds. You don't even need money in your account to watch, and you can take what you have learned here and build on that.
Keep an eye on where the wheel lands and what happens afterwards. Perhaps wait until you have seen a few bonus rounds so that you know exactly how they work and then when you are ready start out with small 10p stakes until you get comfortable, then bet as much or as little as you can afford.
Try not to get confused with the traditional board game though. It is similar in some ways but a lot of the rules don't carry over so it is better to think of this as a different game altogether from a rules perspective.