How to Play Live Blackjack
If you are considering playing Live Blackjack then it's safe to assume you know a bit about the game already.
There is another article on this site covering Blackjack in detail if not, so read that first and get some practice in before coming back to this article.
Live blackjack is essentially the same as regular blackjack, but instead of the game being computer based and the outcome of each deal being decided by a random number generator, the game is being played out for real with physical cards dealt by an actual dealer.
The only thing missing is you, and this problem is solved by a live stream link up which allows you to see and interact with the dealer and other players. There could be hundreds of players at each live table though, so how does this work? And what if you want to play alone, is that possible?
Read on to find out.
How Live Blackjack Works
Blackjack is the busiest game in any live casino, there are so many variations with different rules, side bets, and table limits that it's not uncommon to find 40-50 different live tables active at the same time, and they are all busy.
Understandably then, they all look a little bit different, but this guide is how a fairly typical live blackjack game will be played.
Each game starts with betting time. This is only about ten seconds so it can pay to save your betting preferences such as stake amounts etc. Once time is up the game will begin and the dealer will deal the cards as normal.
You might notice they are 'scanning' the cards over what looks like a barcode reader. This is because each card has a chip in it that tells the computer its value. You can see the value on the card, so you know it matches up, and the dealer will then feed the players cards into a trap door in the table.
This happens because from that point on your hand is shown digitally while the dealer's is always shown physically as well as digitally. It makes it easier to personalise the game considering everyone will have different side bets, may or may not double or take insurance, etc.
Once the hand is dealt you have to decide what to do and will see your options as digital buttons in the middle of the screen. You only have a few seconds to decide otherwise the game will act on your behalf, standing on 11 and above and hitting below.
The computer wizardry takes care of remembering what each player has chosen, and you can even see the percentage split of what all the other players are doing; for example, it might say that 20% are hitting and 80% are standing.
The dealer will keep hitting so long as someone is asking them to and the hand isn't bust, but if you chose to stand then any following cards will not apply to your bet. The game is concluded, the winners paid out, and the process starts again.
In this way, an unlimited number of people can play at a single table. It just means you need to pay a little more attention because there is more going on and not all of it will always apply to you.
Betting Behind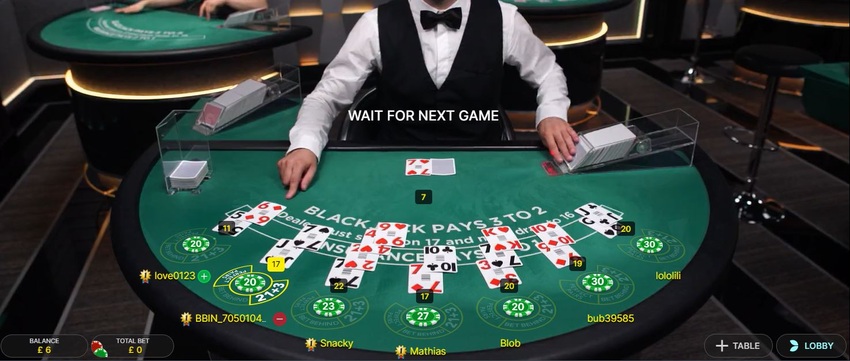 Some tables work differently, and have a limited number of seats just like there would be at a real casino. This obviously presents a bit of a problem for anyone wanting to join and for the casino too, as it limits their income.
To get around this, betting behind was created. Betting behind allows you to bet on the outcome of a specific hand but not to decide how that hand is played. The hand is played by the person at the table, although you can make decisions on things like insurance and doubling that will only affect your bet.
This also serves as a queuing system, and if anyone with a seat at the table leaves the game the option to 'sit here' will appear until someone chooses to take the seat. It's a fastest finger first scenario. You can also do this from the lobby without having to load the game first.
If you notice a player at the table has a gold medal next to their name with a number on it, this represents the number of rounds they have won in a row. It resets as soon as they lose but if you watch for a while you can get a sense of which players know their stuff and which don't. Obviously, you only want to bet behind capable players.
Salon Prive'
There is actually an option to play live blackjack one on one with the dealer, essentially meaning you have your own private game which no one else is allowed to join or even watch.
However, this does come at a cost.
On average you will need at least £6,000 in your account in order to join the table, and the table limits usually start at what could be a couple of weeks income for most people, and they go a lot higher than that too.
For anyone with money to burn though this is as close as you can get to a real life casino experience without leaving your home.
Think of it as the private rooms you get for high rollers in a regular high street casino.
What's the Difference Between Live & RNG Blackjack?
Aside from the obvious – the fact that there is a live dealer on the other side of the table when playing live – the main difference between live blackjack and games run on a random number generator is timing.
When playing live you are forced to keep to the casino's schedule. Betting time is limited, and so is the amount of time you have to decide what you want to do. For anyone trying to learn an optimal betting strategy this could be an issue as you won't have time to check your table to see what your strongest option is based on the cards you are dealt.
An RNG based game will wait as long as you want it to before making a decision, because your actions have no impact on anyone else playing the same game.
Another difference is the fact that you can talk to the dealer and other players using the chat box in live blackjack, so there is a social aspect to it. You can also see who won what at the end of each round which can be interesting.
Of course, anyone suspicious of computer generated results might prefer to play live because you can see every move the dealer makes, so even the most tin foil hat wearing players can feel confident there is no rigging going on.