Anyone who is a member of an online casino or gambling site will know that there are often various alternatives for you to bet on. Whether these be specialist casino games, virtual sports, entertainment wagers or anything else, they provide something a bit more specific than standard sports bets, for example. One such category is Exchange Games, and this kind of wagering only is something that can be found at the Betfair online site, the worlds biggest betting exchange.
What exactly are Exchange Games? And how do you go about betting on them? Exchange Games basically provide players with the ability to place bets on the outcome of a computer-generated gaming event. Let's say that a table of six poker players are in the middle of playing a round of Texas Hold'em, you can place bets on that. You, while still being a bettor, won't be playing the actual game of poker – instead, you're betting on the outcome of one or more of the six players at that table.
With Exchange Games betting, however, you can both back and lay selections, which you cannot do in a normal casino game where the only option is to back an outcome. Essentially, backing allows you to bet on something specific happening in the game, while laying is placing a bet that something specific won't happen. With these type of bets, you will be betting against other gamblers who have opted to wager on the opposing choice you have made, the site itself simply takes a commission for providing the service.  In some ways this is kind of like being your own casino operator, in the same way that betting exchanges allow you to be your own micro-bookie.
For more about how exchanges work in general see our betting exchanges page on our sister sports site.
Exchange Games You Can Bet On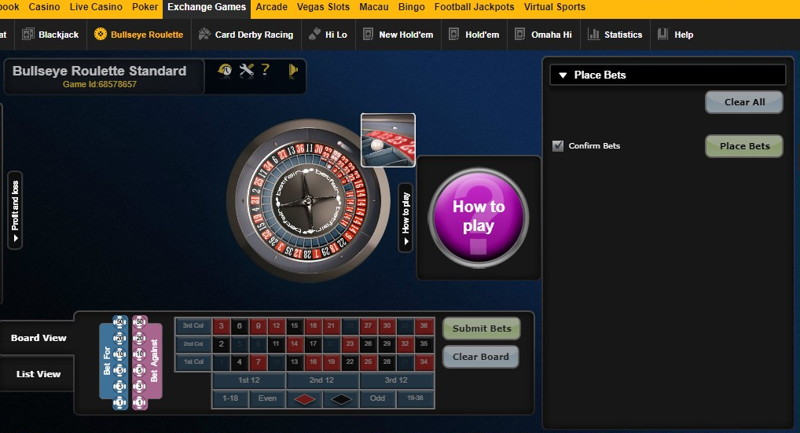 If you do opt to participate in Exchange Games, then you'll find that several different games can be wagered on. In the rundown at Betfair, there are different categories for these, which are:
As you can tell, these are all card or table games that may be found within a land-based or online casino. Visiting one of those categories will allow you to see the different betting possibilities for such. Naturally, these are different card games, so they each have different markets that you can wager on.
Take, for example, Baccarat. If you opt to bet on this, then you will get the Main Market, which allows you to bet on whether the player wins, banker wins or a tie occurs. This would be a "Back" bet. You can also "Lay" on all three options as well, which would be you betting on one of those three things not occurring. Side bets are also possible, which allows you to wager on things like a Natural Win occurring or the Highest Hand Is Odd.
On the other hand, if you opted for betting on Texas Hold'em, then you'll see the cards that each player is dealt initially. From there, you get to bet on which player you believe will win the poker round – Hand 1, Hand 2, Hand 3 or Hand 4. The same is true with Omaha Hi, although side bets are also possible with this one, such as Winner Has Flush or Winner Has Three of a Kind.
Betting on Exchange Games Markets
If you're a member of the Betfair platform, then you can login and access the Exchange Games area. There, you'll see the different games to choose from, and as long as your account is funded (and you are over 18 years of age), you can use the money within to place wagers. It's also important to note that you can play standard Exchange Games or Turbo Exchange Games, with the latter simply playing out faster than the former.
Let's say that you have chosen Blackjack to bet on. All you need to do is click on the sub-link along the top of the website. This will then display the betting area, with a section on the left for the game to be displayed and another on the right for you to see how to place bets, see your bets already placed and view the rules of betting on blackjack.
To proceed forward, you just need to decide upon which market(s) you would like to bet on. Let's say you think Player 3 stands a good chance of being victorious after seeing all four players' dealt hands. You would select a 'Back' bet on Player 3. Decimal odds are displayed for the total return that you'll get on the stake you place. Even money is expressed as 2.0, basically meaning that you get back your initial bet plus the same again as winnings.
You'll also see the Amount Available, which is the amount of money available for you to bet at the stated odds. You can choose to bet all of that or part of it. Should you wish to place a larger bet than that amount, the system places the remaining stake as an unmatched bet available for others to take.  In exchanges you are betting against other people, not the site itself, and therefore bets need to be matched, i.e if you want to back a market with a stake of £100 there needs to be someone laying the same market for a stake of at least £100, anything more than this is 'unmatched' and remains so until someone else decides to match your bet, if no one matches the remaining stake at the odds you want this is returned to you.
Back bets are those wagers placed in the normal way you would in a conventional casino. You can also ask for better odds or more money than currently available. Whatever the case may be, your bet shows up on the Lay side of the market. On the other hand, the Lay side of the market shows the money and odds requested by backers. To accommodate a backer, just click a button in the Lay column.
The current best odds are shown in the coloured box, while the second and third best can be seen in adjacent boxes to this. You simply click on the coloured box, and if you wish to alter the odds, you can do so on the section that displays on the right. You can then enter your stake for a Back bet or the Backer's Stake for a Lay bet. You then simply submit your bet and if it's a successful one, you receive a pay-out.
Alternative Bets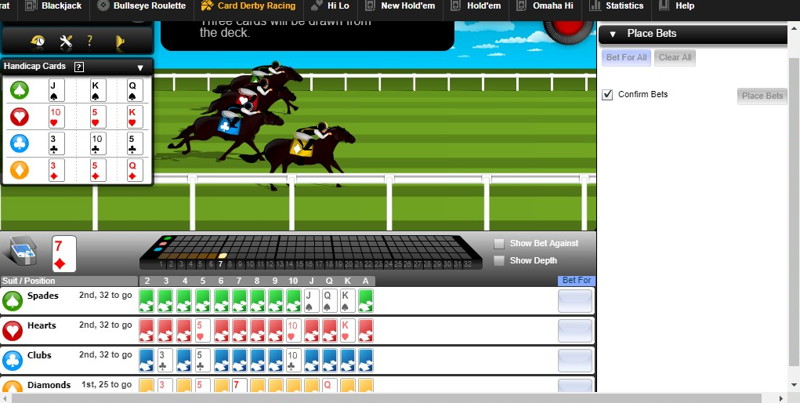 As well as being able to bet on the outcomes of various card games, there are two alternative inclusions mentioned earlier. These are the Bullseye Roulette and Card Derby Racing options.
Bullseye Roulette Exchange Game betting basically allows you to watch selected pockets on the wheel take over their neighbours as 18 balls are dropped, selecting numbers swiftly. When the last ball is launched, only two numbers remain, but there can only be a single winning number, and this could be the one that you selected. Four rounds of betting take place in each game, allowing you to Back or Lay against many of the usual roulette selections. The 36 pockets of the wheel basically reduce down to one. The 18 balls are sequentially dropped into the wheel over four 'Spin Rounds'.
When betting on Bullseye Roulette, you can participate in 'Blind Bets' on various selections. Then, eight balls are dropped in succession and the slot that each of them lands in converts adjacent cells into its colour and value. You're betting on which number you believe will be the last one remaining on the wheel.
With regard to Card Derby Racing, this focuses on virtual horse racing. Four horses are on the track and each one has a playing card suit assigned to it. Players bet against one another on the bet exchange market. It's just like betting on an actual horse race, except at Betfair's Exchange Games section, the race is simulated by a random shuffle of a 52-deck of cards. Players can Back or Lay any of the four runners in this option.
Commission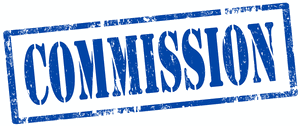 One important piece of information regarding Exchange Games, is that you should keep in mind that Betfair charges commission on net winnings. This is because they do not take the bets directly, you are betting with other players, they just take a small cut of all the winnings made as a kind of fee for providing the service.
If your bets lose you won't be charged commission for them, but winning bets will be charged commission. Should you be a part of the My Betfair Rewards, then your chosen commission package will be utilised to decide on commission rate. However, if you're not, then a Market Base Rate is used instead (usually 5%).
The Market Base Rate depends upon where you live, and it is this that helps to calculate your commission. Your Discount Rate reduces the amount of commission that you pay, too. This is based upon how many Betfair Points you have accrued. Betfair Points are granted to you regardless of whether you win or lose when Exchange Game betting. Discount Rate is calculated every Sunday at Midnight GMT, but this will be capped at 20% unless you have completed the identity and verification requirements of the site. Different countries will have different discount rates as well.
Your commission is calculated by taking your Net Winnings x Market Base Rate x (100%-Discount Rate). So, let's display a small example. Let's say your net winnings are £450 and your Market Base Rate is 5%. You've got a Discount Rate of 20% at the moment, so the equation looks like this:
£450 x 5% x (1 – 20%) = £18 commission
You would also earn 180 Betfair points in this situation. Should you have net losses as well, then you'll still earn Betfair Points on such. As it happens, Betfair Points can be won not only by betting on Exchange Games, but in the casino, sportsbook, poker room and elsewhere.
Do You Need to Be a Pro To Use Exchange Games?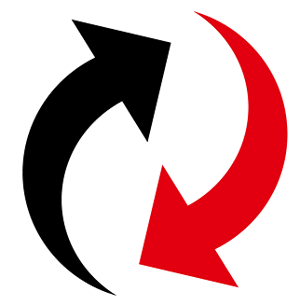 While it's not specifically necessary to be a pro bettor in order to participate in Exchange Games, it is one of the favoured options for those who consider themselves professionals in the field. Betfair's betting exchange has been around since 2000, and it has actually experienced quicker growth than many fixed odds equivalents. Because you're able to set your own odds, you essentially cut out the middleman, giving you much more control over the markets that you want to bet on.
For the average online bettor, this can be quite confusing to comprehend, and many find it easier to stick with standard fixed odds betting.  Those that do take the plunge though often never go back due to the far better odds value you can get in an exchange, simply because you are betting against thousands of other people who all have different opinons on the outcomes.
Professional bettors stand the chance of backing a bet with a conventional bookmaker and then laying this on the exchange at favourable odds to guarantee a small profit from such, and this is why it has become much more compelling for professionals to involve themselves in.  This is a process known as arbing.
While it's true that anyone has the opportunity to take advantage of Exchange Game betting, not everyone is able to utilise it to the best of their advantages. This is another reason why professional gamblers often access such betting possibilities – because it gives them something alternative to the everyday bettor to enjoy.