How to Play Deal or No Deal Live
Based on the popular television show that ran from 2005 to 2016 in the UK, this high octane live game has become just as popular in the online gambling community and continues to gather fans on a weekly basis. It's a much more dynamic game than many others in the same marketplace, with a great deal of flexibility and customisation where the bet levels are concerned, as well as the amount that you can win. This means that it will suit players of all means, so long as they enjoy the gameplay of course.
This is a game which was created in partnership with Endemol Shine, the Dutch production company behind the TV show, and is exclusively available for players from online gambling software provider, Evolution Gaming. This is a brilliant combination, as Evolution are responsbile for some of the best live casino games in the industry and Endemol have produced more hit shows than I can count, so the two of them together were bound to come up with a winner.
Developed with the intention to help redefine live online gambling entertainment, this game has brought a new and dynamic to the industry, particularly from an interactive perspective, and will no doubt pave the way for other more immersive titles to follow. For now though, it's about time we had a good look at Deal or No Deal Live itself.
Deal or No Deal Live Game Structure
The game itself is unique and multi-layered, allowing an unlimited number of players to take part and try to win the highest cash prize they can manage. There are three stages to the game, however, each spin you make prior to the live game costs you money, so it can be a pricey one.
Qualification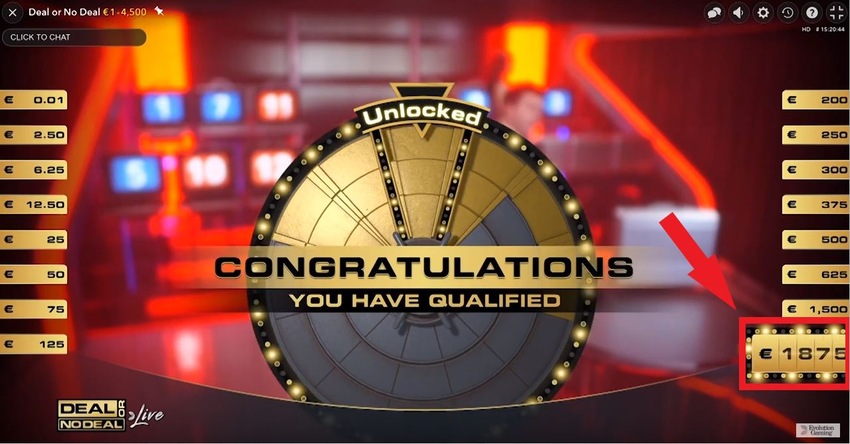 Stage 1: The first thing that players have to do is spin a three-reel bank vault through the RNG-based qualifying round. Lining up the three reels gets you through this round, and each spin sets the cash amount for the highest value briefcase (the ultimate prize) from 75x up to 500x. This round is timed so if you don't qualify in time you are out.
| Spins/Qualification? | Stake | Stage 1 Cost |
| --- | --- | --- |
| 10 / Yes | 10p | £1 |
| 15 / Yes | 10p | £1.50 |
| 20 / No | 10p | £2 |
So as you can see, you can spend money and not even get past the first stage.
Top Up
Stage 2: When the player has qualified, they enter a second round which lets them top up the amount in the highest value briefcase. So if they qualified from the last round and the value was set at £10 on the qualifying spin, that is where this round will start. Each further spin costs yet more, and involves random multipliers between 5x and 50x, increasing the prize fund in the highest value briefcase. There is no obligation to do this but it means you are playing for more money in the live round. With an initial £10 from stage 1 it might go like this:
| Top up Spin | Spin Stake | Cost So Far | Amount Added | New Total |
| --- | --- | --- | --- | --- |
| Spin 1 | 50p | 50p | £4.00 | £14.00 |
| Spin 2 | 50p | £1.00 | £7.00 | £21.00 |
| Spin 3 | £1.00 | £2.00 | £10.00 | £31.00 |
| Spin 4 | £3.00 | £5.00 | £30.00 | £61.00 |
| Spin 5 | 20p | £5.20 | £3.00 | £64.00 |
So in this example you have spent £5.20 on 5 top up spins, boosting the amount in your highest value briefcase from £10 to £64. A much more attractive amount to win, but of course there is no guarantee that you will win it. However, the banker's offer will have to take this higher amount into account too, so it will be a better offer than if you had gone into the game with just £10 in the briefcase.
Live Game
Stage 3: When the time in stage 2 is up you are entered immediately into the live Deal or No Deal game show, complete with a real life host and their assistant and those famous briefcases. It now becomes a contest of nerves, luck, and raw intuition, as the briefcases are revealed and the bankers offers come in. The hope is that your briefcase contains the biggest prize, and if it does and you don't take any of the banker's offers, that money becomes yours.
Perhaps the true beauty of this game is that, while the process is relatively simple, especially from a gambling point of view, it is also incredibly engaging; crossing your fingers for qualification, then striking the right balance between boosting the amount you are playing for and how much you spend, before biting your lip as the briefcases are opened to reveal your fate.
How Do the Game and the TV Show Compare?
Ben Sutherland / Flickr
Although the format is very similar there are a few key differences between the game show and the online game, the main one being that in the TV show only one person could play at a time.
There is no official 'qualifying' round on the TV show, but each box had a contestant stood with it and only one of them could be selected to play for the money on each game, so that could be classed as a qualifying round of sorts.
The second stage of the online game didn't exist in the TV show either. There was no opportunity to boost the maximum amount that was played for, this was fixed and was the same for each show.
The final stage of the online game bares the most resemblance to the TV show, but it moves at a much quicker pace, with 3 or 4 boxes being opened at a time by the assistant. The player (you) does not get to choose which boxes are opened as in the TV show – this would be impossible given how many people are playing at the same time – they are opened in the same order each round.
The banker will still make an offer based on what has happened after each set of boxes has been opened, and the player has a few seconds to think about it, but this amount will be specific to each player and based on how much they have in their highest value briefcase.
How Does it Function on Mobile?
This is a hugely important element for online gamblers, with more and more people preferring to play on mobile devices these days.
Because this is such a flagship game that has seen an awful lot of development and investment, it was essential for Evolution Gaming to make the game as accessible and effective as possible on mobile devices.
Of course, Evolution Gaming are the best in the business when it comes to live games, it's their USP, so as a company they have constantly kept up with technological developments and usually been the first to market with fresh innovations.
You can probably see where this is heading.
Owing to the fact that so much time and effort was put into developing this game – and by a company who specialise in this field as well – the mobile live experience is fantastic.
With customer experience being key, the graphics, functionality, and navigation are industry leading whether the game is played on iOS or Android.
As long as your internet connection is solid, this game won't let you down.
How Popular Could Deal or No Deal Live Become?
Although the television show is no longer on our screens, in its heyday it attracted millions of viewers on a daily basis and thousands of applications to appear on the show. This is one of the reasons why the game has the potential to reach dizzying levels of popularity.
Gamblers who are fans of the show are an obvious target, but non-traditional gamblers who miss the show and always wanted to take part can now get their fix from the live game, and they are an untapped market. It also helps that playing Deal or No Deal Live doesn't feel like gambling in the typical sense, so it is a less scary prospect for the uninitiated.
The fact that it is also live means that the excitement levels can really build, and the presenter can keep everyone feeling involved while competing against other online players at the same time adds a great social element.
Of course, marketing will play a large role in how successful the game turns out to be. They have an obvious head start in that the game is already a brand that people know, and it works in a format that they will instantly understand, so people will not have to see it advertised more than a few times before they take action.
All things considered, although Deal or No Deal Live isn't currently as popular as games like Dreamcatcher or Monopoly, it has the potential to be an industry leading title once people give it a try.
Final Thoughts
Overall, developing this game was a masterstroke of an idea by Evolution Gaming, who were not only able to negotiate the rights for it, but also to capitalise on the huge popularity of what is deemed a British institution in some circles. This also has a considerable amount of potential from a technological perspective, and as things advance over the next few years many options for enhancing the experience could come to light.
FAQs
While we have endeavoured to cover the game as comprehensively as possible, we appreciate that there still might be some questions you want answering. We have done our best to pre-empt a few and answer them in the most efficient way possible.
How can I Learn the Rules of Deal or No Deal?
One of the best ways to learn the rules of the live game is to watch a rerun of the television show so that you can see the drama unfold for real. Furthermore, we have explained the mechanics of the game in this guide in order to equip you as much as possible in order to get as much from it as you can.
There are also a number of videos online of people playing the game that you could watch and get a better understanding before staking your own money.
If you would rather dive straight in though, then you could play along at the minimum stake until you get to grips with it. This is always the best way to learn but it obviously costs money to play.
How Easy is it to Win Deal or No Deal?
At the end of the day there isn't necessarily a right or wrong answer to this, because ultimately it is based on a combination of luck and judgement. From the latter perspective, this comes from knowing when to take the banker's offer and deciding whether what is left is over or under the amount that you might have in your own box.
It's a game of chance to some degree, so you could just blitz through it with no strategy at all. But if you have an understanding of chance, randomness, and can keep track of what has already been and gone, then you will be better placed to know when it is a good time to take the bankers offer and when it might be worth carrying on.
That said, it will always be a gamble.
Is Deal or No Deal a Fair Game?
Every online operator listed with us is licensed and regulated by their relevant governing body such as the UKGC (UK Gambling Commission) or MGA (Malta Gaming Authority), and this means that they have to adhere to strict legislation that is put in place to protect the player.
They are monitored on a regular basis to ensure what they are doing is in line with the regulations and the fairness of their games certainly falls under this, so you can rest assured that all of the games and slots and live games on any site listed here are fair.
Of course, the fact that you essentially need to buy your way into the live game may seem unfair to some people, but that's down to personal preference.