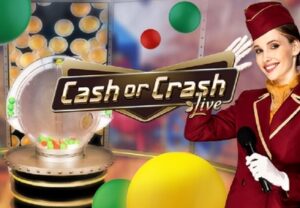 As more and more slots and bingo players head to the live casino, casinos need more game show style games to entertain them.
These types of game started as a way to get non-traditional table game players into the live casino and they have worked a treat.
The newest of them is Cash or Crash by Evolution Gaming, a lottery or bingo style game which uses progressive multipliers to determine the payout for each player.
It's a simple game that increases the excitement the longer it goes on, and it's all based purely on luck so you don't need any knowledge or skills to join in.
The game is set on a hot air balloon or blimp of some sort, and the game host is dressed up like the flight attendant.
Here is how it works.
Guide to Playing Cash or Crash
The key to this game is the green and red balls.
Once you have placed your bet the machine will pick a ball at random, and the colour of that ball determines what happens to your bet.
A green ball starts you off on the ladder with a 1.2x multiplier; another green ball increases the multiplier to 1.6x, and on it goes until 18,000x is reached.
A red ball will end the game though, no matter how high you are on the ladder, and any money left in the game is lost.
A golden ball boosts all the multipliers on the ladder and also serves as an extra life when the first red ball is drawn, cancelling it out.
There are 28 balls in the machine all together and they break down like this:
| Colour | Number |
| --- | --- |
| Green | 19 |
| Red | 8 |
| Gold | 1 |
So 20 balls are good news and 8 balls are bad news, meaning at the start of the game you have a 71.4% chance of getting a positive result.
Obviously though, the more green balls that are drawn, the fewer there are left in the machine, so you chances of getting a nasty red ball increase dramatically as time goes on, and it can be very difficult to let your bet ride later in the game knowing you could lose the lot.
Claiming Money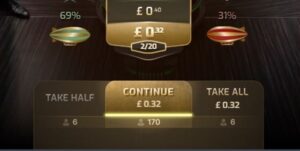 After each ball is drawn, you have the chance to continue with the game, take all of your winnings, or take half of your winnings – just note that you can only take half of your winnings if your bet is worth over 40p at the time.
There is not a lot of time to make this decision, so it pays to go in with a strategy because if you wait too long the game will automatically carry your bet forward.
Therefore, if you want to take your profits early on you have to get on with it and click that button. On the other hand, if you are determined to let your bet ride until hitting a big win and are happy to lose many times along the way then you can just watch and enjoy.
It's a high variance game though, so those big wins will not come often.
It can help to keep an eye on the balloons either side of the multiplier ladder, as these show your rough chances of getting a green or red ball on the next draw.
If you choose to take all of your money the game continues until either no one else is still playing or until a red ball is drawn to end the game.
The Results

You will notice a results bar in the bottom right corner of the screen, and this gives you some idea of how the last eight games have gone.
You can see that there were 3 games that drew 4, 4, and 2 green balls before a red was drawn, then 3dead games in a row, followed by a game in which the golden ball was drawn getting to the 6th tier on the multiplier ladder. The game that is bright green is still in play, and currently on its 4th green ball.
Of course this is just a small sample size of the last ten minutes or so, and as the game is random it doesn't really give you any indication of what to do next, but for anyone who believes in hot and cold streaks it might be interesting to look at. Be aware of gamblers fallacy here though.
The Multiplier Ladder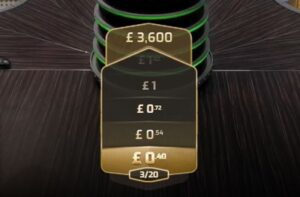 There are 20 stages on the multiplier ladder, but to get to the last one you would need to draw every single green ball and the golden ball with no reds drawn (or one if it comes after the golden ball).
This, as you can imagine, is extremely unlikely to happen.
If you look to the bottom the ladder lets you know what level you are on, and it will also show your potential payout based on the amount you bet. This will change as you increase or decrease your bet during betting time.
The ladder looks like this, with the higher return only available after a golden ball has been drawn:
| Level | Payout |
| --- | --- |
| Level 1 | 1.2x |
| Level 2 | 1.6x-1.7x |
| Level 3 | 2x-2.2x |
| Level 4 | 2.7x-3.1x |
| Level 5 | 3.6x-4x |
| Level 6 | 5x-5.6x |
| Level 7 | 7.1x-8x |
| Level 8 | 10x-10.5x |
| Level 9 | 15x-16x |
| Level 10 | 21.5x-24x |
| Level 11 | 33x-36x |
| Level 12 | 54x-62x |
| Level 13 | 95x-105x |
| Level 14 | 160x-175x |
| Level 15 | 310x-360x |
| Level 16 | 550x-760x |
| Level 17 | 1,200x-1,500x |
| Level 18 | 2,900x-4,000 |
| Level 19 | 6,800x-11,000 |
| Level 20 | 18,000x-50,000x |
Obviously, the size of your initial bet determines how much money you win or lose, so a 20p bet would return 24p (1.2x) after the first green ball, while a £1,000 bet would return £1,200 (still 1.2x).
So what you can win is dependent on how much you are willing to stake, but the multiplier size will always stay the same at each stage on the ladder.
The only time this will change is after the golden ball is drawn, as it increases the multipliers on the ladder as shown above, so the earlier this ball is drawn the better.
FAQ
Can You Play Cash or Crash on Mobile?
Just like all of Evolution's live dealer games, Cash or Crash is available on any device including mobiles and tablets.
The layout will be a little different using a phone but the game will be optimised to perform on whatever size screen you are using, and all of the normal features and functions will be available.
The audio visual quality will be the same too from their end, but obviously the quality of your device and internet connection can have an impact on how you experience the live stream.
Is it Easy to Win Playing Cash or Crash?
It's a game of chance so it can't really be easy or hard to win, but we can look at likelihoods.
The likelihood of the first ball being green is quite high, so if you took your winnings after each successful first green ball you would theoretically slowly but surely build a profit. You would need enough in the kitty to cover losing streaks though.
Other people may use a strategy made possible by the 'Take Half' option after winning draws. Basically, if you take half after each green ball that is drawn you cover your stake and end up gambling with the casino's money. But again, there will be times when this approach fails many times in a row due to the randomness of the game.
If you get lucky and place a decent size wager and let it run on a 14 green ball streak then you will be very happy indeed, but there is no way of knowing if and when this is going to happen. It would certainly be easy money, but it would be completely down to chance.
How Can I Learn How to Play Cash or Crash?
Have a good read through this article to bring yourself up to speed, and if you still don't feel ready to stake real money on the game then just go and watch a few rounds. You will soon get the hang of it.
Evolution games are available at most online casinos in their Live Casino section, so just open it up, find Cash or Crash, and open the game.
You don't have to bet to see what is going on, and you can even type messages to the presenter in the chat box if you have any specific questions you want them to answer.
At a 20p minimum bet though, it's easiest just to watch a few games then have a few goes for yourself to see if you like it.
Why is it Called Cash or Crash?
The idea is that the game takes place in a hot air balloon floating above the city.
The more green balls that are drawn the higher the balloon floats and the more money you win by staying in the game.
However, they trick is to cash out before a red ball is drawn, because when that happens the hot air balloon comes crashing back down to earth.
Obviously none of this actually happens, but that's the theme that explains the name.