Bridge is one of the more complicated card games to get your head around, and although people do play for money, you are highly unlikely to find it in a casino.
Bridge clubs exist, where likeminded people come together to play the game either for fun or for money, and there are competitions for professional standard players too, but it is certainly classed as a niche game these days.
It is popular though, because like poker, there is a high level of skill involved compared to most games, and while there is still an element of luck in regards to the cards each player is dealt, there are more opportunities to be tactical.
This is partly because the game is played in teams, so there are four players in each game but they will be working in pairs; and partly because aside from the game play itself, there is a bidding round in which tactics can be employed before a single card is played.
This makes bridge a very dynamic game in which the fortunes of a team can change quickly and dramatically, so the outcome is rarely easy to predict. This has made it attractive to some of the world's greatest minds such as Bill gates, Warren Buffet, and the 34th President of the United States, Dwight Eisenhower.
Bridge is a trick taking game which can trace its' origins back to the 15th century, although the first set of rules that resemble the game played today only date back to 1886, and there have been plenty of variations since.
This guide, however, will cover what most people would consider to be the standard bridge rules, also known as Contract Bridge.
How the Game of Bridge Works
The outline of the game is quite easy to get to grips with, it only becomes complicated once play actually begins.
Bridge is played in matches, games and tricks. Each match is made up of either 2 or 3 games, and each game is made up of up to 13 tricks.
A game ends once a team has accumulated 100 points; a match ends once one team has won 2 games, so the result of a match will either be 2 games to 0, or 2 games to 1.
Points are scored for a variety of things, but penalty points are also a possibility, and it is the number of points scored in total that ultimately decides the winner of a match.
Set up and Deal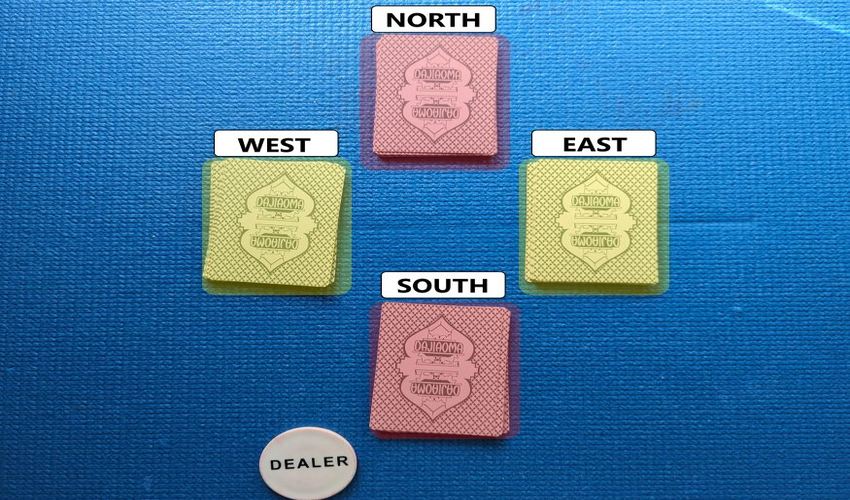 Traditionally, the four players sit opposite each other and are labelled North, East, South and West, with North and South sat facing each other to make up one pair, and East and West sat facing each other to make up the other.
Each player takes it in turns to be the dealer, and will deal the cards clockwise around the table one at a time until all 52 cards have been dealt.
Each player may look at their cards straight away, but must not show them to any other player, not even their team mate.
Most players arrange their cards by suit, and then by value, so their hand would go low to high suit by suit, to make it easier to analyse the strength of the hand at each stage in the game.
In bridge, card ranks run from Aces high to 2s low.
Bidding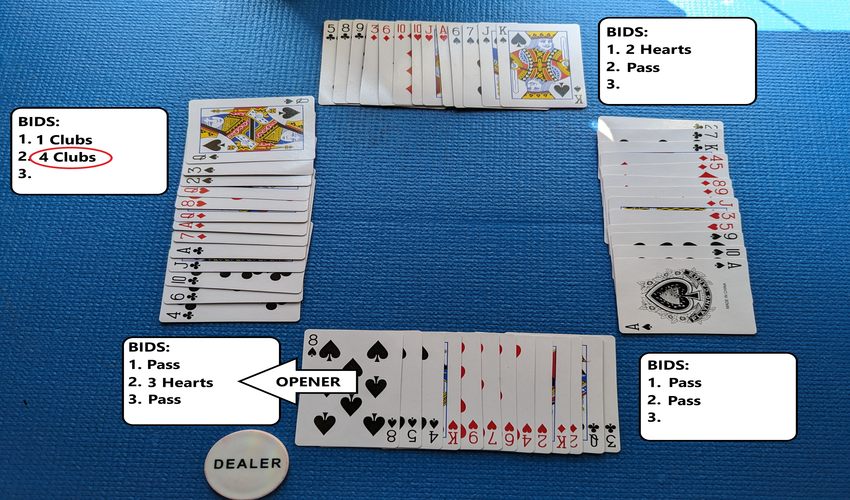 In this section of the game, each team is effectively bidding on how many tricks they think they will win during the game based on the hand they have and what information they can glean about their partner's hand.
This is also where the trump suit is established, and each player will want to make the suit they have the most of the trump suit, also bearing in mind card rankings.
The dealer makes the first bid, known as the 'opener'.
Since there are 13 tricks to a game, in order to win, a team needs to take more than 6 tricks. Therefore, when bidding they will say how many tricks more than 6 they think they will win by, as well as the suit they wish to be the trump suit.
So if a player said "2 Spades", it would mean that the team needed to win at least 8 tricks (6+2=8), and that spades would be the trump suit. Players can also bid for no trump (NT) instead of choosing a suit, so they would say "2 No Trump" if this was what they wanted.
When bidding, each new bid must be higher in number or in suit value than the last bid. If a player does not want to increase the bid then they can pass, but they are allowed to bid again next time their turn comes around if they want to.
Suit values from lowest to highest are as follows:
Clubs (lowest)
Diamonds
Hearts
Spades
No Trump (highest)
They are in alphabetical order essentially, other than No Trump.
This part of the game is also used to give the other player in your team a clue as to what kind of cards you have, although obviously, the players on the other team can hear your bid too so will also be party to that information.
This is why someone may choose to pass early on before making their bid – perhaps they just want as much information from the opposition as possible before making their bid?
If your team mate bids '1 Hearts', then you know they have a decent number of hearts, so if you do too, you might increase the bid to '3 Hearts' when it is your turn, which tells them you are also strong in that suit. Alternatively, you could give them information about another suit you have high cards for, by saying '2 Spades', before upping your bid on hearts later on if that was the strongest suit in your hand. In this way, your team mate knows more about your hand before the bid contract is established.
The bidding ends when 3 players in a row pass after the last bid, at which point that last bid becomes the contract for the game. The player who made that last bid is known as the 'declarer', and it is up to them to win the game for their team.
The other team are now known as the defenders, and it is their job to stop the declarer making their contract bid.
Doubling and Redoubling
On top of all of this, players can also bid 'double' or 'redouble', which means the previous bid will be worth 2x or 4x as many points.
However, this has the same impact on penalty points, so you might double someone else's bid if you think they have been too optimistic and will not make their contract – it increases the penalty of failure essentially.
If another higher bid is made after a double or a redouble, then it is ignored, but the new higher bid can be doubled and redoubled too, so it's not a single use option.
Tricks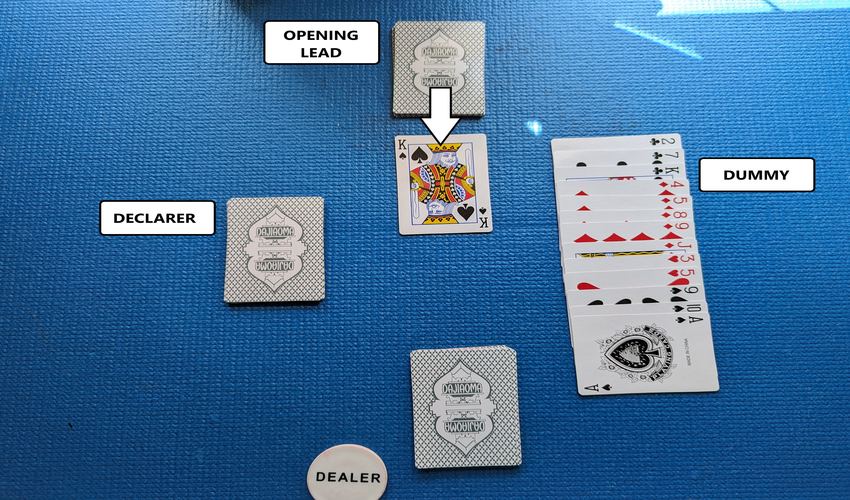 Once the bid contract has been established, the gameplay can begin.
The player to the left of the declarer is the first to lay down a card in the first trick, known as the 'opening lead'.
Once this first card has been placed on the table, the team mate of the declarer must turn over their hand so that everybody can see it, and they become the dummy.
They are a silent player now and the declarer will play cards from their upturned hand as well as their own hidden hand.
The suit of the card laid down by the opening lead becomes the lead suit for that trick, and everyone else must, where possible, lay down a card from the same suit.
If they do not have a card in the same suit, they can lay down any card. This can be a good opportunity to dump a low value card, but it can also be used as a way to steal the hand using a card from the trump suit (assuming the trump suit is not also the lead suit).
In bridge, cards rank Ace high to 2 low, but a trump card of any value will beat even the highest card of the lead suit for that trick. The only way to beat a trump is with a higher value trump.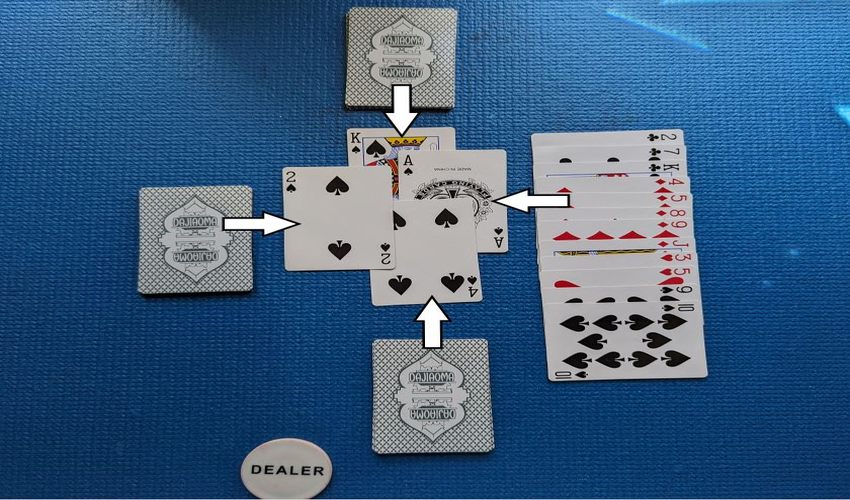 Once each player has placed a card, the player with the highest value card wins the trick, and they get to lay the first card of the next trick, establishing a new lead suit for that trick.
Conversely, the trump suit, if there is one, remains the same for the entire game.
The tricks continue this way until one team has scored 100 points or more, at which point a new game begins with the dealer button moving around to the left.
Scoring
There's an awful lot to get through with scoring in bridge, since not only are points scored for winning games, but there are bonus points to be earned depending on exactly how you win the game, as well as penalty points.
The score sheet for a single game is represented by a cross or plus sign in the middle of the page; this means there is a single vertical line and a single horizontal line which cross at the mid-point.
One pair's score is recorded on the left of the line, the other pair records their score on the right. But what about the horizontal line?
In bridge, scores are separated and recorded either below the line or above the line.
The points recorded below the line are those earned for winning tricks. However, points are only awarded for tricks 7 and above, so the first 6 tricks do not earn the team any points.
Furthermore, the value of a trick will change depending on the trump suit for the game:
| Trump | Contract | Doubled | Redoubled |
| --- | --- | --- | --- |
| Diamonds/Clubs | 20 | 40 | 80 |
| Spades/Hearts | 30 | 60 | 120 |
| NT (Trick 1) | 40 | 80 | 160 |
| NT (Tricks 2-13) | 30 | 60 | 120 |
These points only apply to tricks won within the contract though; so if the bid was 3 Spades (9 tricks in total) and the team won 10 tricks out of 13, they would have won 1 more trick than predicted.
This is known as an 'overtrick', which is covered in the next section.
Game Bonuses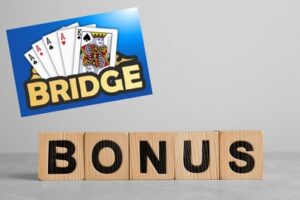 Overtricks – and all other additional bonus points scored – are recorded above the line; so quite literally above the horizontal line on that team's side of the score sheet.
Each individual overtrick is worth slightly different amounts depending on the trump suit:
Clubs/Diamonds – 20 points
Spades/Hearts – 30 points
So beating the bid by 2 tricks with spades as trump would be an additional 60 points.
Whether or not a team is vulnerable (more on that below) does not impact the value of overtricks.
On top of winning points for overtricks, there are also extra points to be won known as game bonuses, for different achievements within the game.
Some give a set amount of points, but others are dependent on additional elements within the game.
Those with set points are:
Making your bid when doubled or redoubled – 50 points
Winning the match 2 games to 1 – 500 points
Winning the match 2 games to 0 – 700 points
Then there are the achievements that give different amounts of points depending on other elements, but in brief; if your bid is doubled or redoubled and you manage to make it you get bonus points; if you manage to overtrick when doubled or redoubled you get extra points (on top of the points for each individual overtrick); if you achieve a 'Small Slam', which is to say winning 12 of 13 tricks, you get extra points; if you achieve a 'Grand Slam', which is to say winning all 13 tricks, you get extra points.
The points awarded are as follows:
| Achievement | Vulnerable | Not Vulnerable |
| --- | --- | --- |
| Overtrick (Doubled) | 100 | 200 |
| Overtrick (Redoubled) | 200 | 400 |
| Small Slam | 500 | 750 |
| Grand Slam | 1,000 | 1,500 |
As you can see from the table above, the number of bonus points you get above the line in each scenario depends on whether or not your team is vulnerable, so let's explain that next.
Vulnerable and Not Vulnerable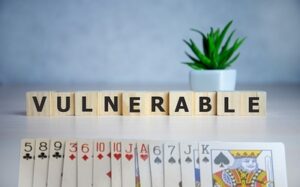 As if things weren't already complicated enough, once the first game has been played, the concept of vulnerability is introduced.
Once a team has won a game, they become vulnerable.
This sounds counterintuitive, but the reason they are vulnerable is because the penalty for failing to reach the contract bid is doubled, so the stakes get higher the closer a team gets to winning the match.
Both teams can become vulnerable; if both teams have won 1 game each, both will be vulnerable for the last game which will decide the match.
If a team fails to make their contract bid, then penalty points are awarded above the line to the defending team instead.
Each trick under the bid contract is known as an undertrick, so if a team bid '4 Clubs' (a bid to win 10 tricks in total), but only got 7 tricks, they would be 3 tricks under and penalty points would be awarded.
This is how the points for undertricks work:
| Failure | Vulnerable | Not Vulnerable |
| --- | --- | --- |
| Undertrick | 50 | 100 |
| Undertrick (Doubled/1st)) | 100 | 200 |
| Undertrick (Doubled/Additional) | 200 | 350 |
| Undertrick (Redoubled/1st) | 200 | 400 |
| Undertrick (Redoubled/Additional) | 400 | 600 |
For clarity, the first undertrick when doubled and redoubled is less costly than all additional undertricks. This means that failing to meet your bid contract by more than 1 trick when doubled or redoubled can be very damaging indeed.
This emphasises why the bidding part of the game is so important.
Playing Bridge for Money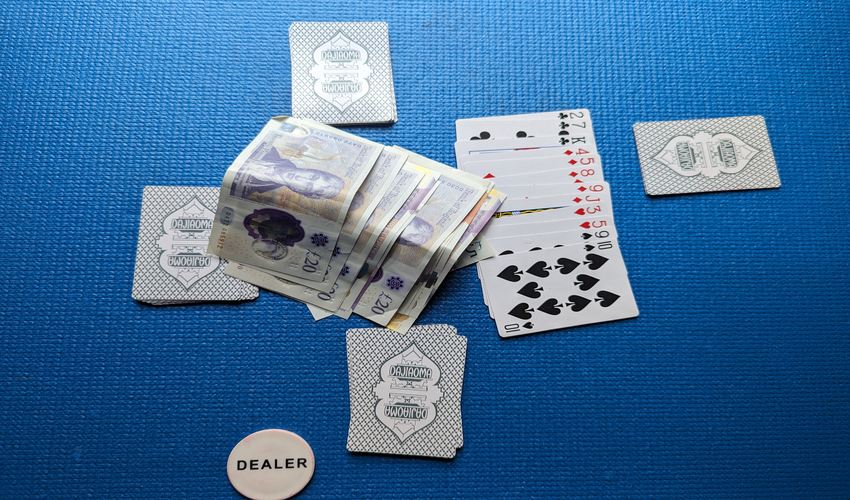 You might be looking at the game rules here and wondering how bridge could be played for money.
Well, back in the day a version of the game known as Rubber Bridge was popular, in which a small amount of money per point or per 100 points was established before the game began.
It might be fractions of a penny per point, or £1 per 100 points, it just depends on the stake levels people are comfortable with.
Rubber Bridge is much less popular now sadly; you might find it played on certain nights in a few private members clubs or local bridge associations, but it's pretty elusive.
The other way to play for money is in tournaments, which are handled a lot like poker tournaments.
You usually pay a smallish entry fee and then the pot is split between the top performing players in the tournament.
With all of these gambling options though, you don't necessarily get to play with the partner you want, so frustrations can creep in if you are paired up with a player you don't rate.
That said, there are professional bridge players out there who make a living from the game, so it is possible to do well at these tournaments and private games, and there is enough bridge about to make it plausible.
You just need to practice to get your skill level up, and research the world of bridge to find out where the best games are taking place and when.