Casino Game Guides
You can play almost any type of casino or slots game online and in land-based casinos these days. It seems as technological innovation has progressed and games have become mostly software based that the only limit to what games you can gamble on is in the minds of the developer's imaginations.
On this page, we cover all the major casino games you can play, both online and in real world casinos. We look at how the games work, playing strategies, history, and variations on themes. We also cover how the margins work in games and what the return to player percentage is.
Whether you want to play traditional games like standard roulette, blackjack, and baccarat or you want to get involved with slots, progressive jackpots or feature games then we can hopefully shed some light on how to play them and how to get the best value. If you are more of a purist and don't like software generated games we also cover live casino games, how they work and common variations.
Casino Table Games
No longer reserved only for the rich and powerful, Baccarat is a centuries old game that is widely available at most online casinos these days, although you will be harder pressed to find it at a physical casino. Here we will briefly take you through the history of the game, how to play it, as well as answering a few frequently asked questions and clearing up some potentially confusing terms and phrases.
Although not as popular as the likes of roulette and blackjack to Western casino players, baccarat is extremely popular in other parts of th world and in fact, there are some surprising and revealing stats on this topic in this article.
It might not be as well known in this country as some other casino games, but Craps has been keeping people entertained for hundreds of years, and offers numerous ways to enjoy a bet as well as more flexibility than most other games.
It's a game that can feel a little intimidating to the uninitiated, what with so many different areas of the board, people placing bets all over the place, and the hysteria that can build during a round; but these are all indicators of how much fun can be had while playing and you should not let them put you off. Once you have read this guide you will feel much better equipped to give Craps a shot.
Originating from ancient China where it was first played more than 2000 years ago, Sic Bo is one of the oldest casino games in the world, despite being much less well known in the Western world at least.
However, the relentless hunger of gamblers for new games to play has meant it has had something of a resurgence over here in recent years, with more and more casinos offering it and even a variation or two creeping in. It is a fun, fast paced game with plenty of betting options, and after the initial learning curve it is very simple too, perfect when you want to try something a little bit different.
Few games have been tinkered with quite as much as poker over the years, and there are now more variations than you can shake a stick at. Texas Hold'em is probably the most well know variant these days though, and we cover that game is depth in this article.
Synonymous with the glamour of Hollywood as well as the danger of the underworld, poker is a game with real character - it has even been the star of a few movies - but its roots can be traced back thousands of years. Everyone from Chinese Emperors to American Civil War soldiers have enjoyed a game of poker through the ages, and it is now the most commercialised casino game there is.
If you have simpler tastes then Keno is a much ignored game that could be perfect for you. It's similar to bingo in a lot of ways but distinctly different in others, and it has a fascinating history behind it too - it is at least in part responsible for the construction of The Great Wall of China.
This game offers more flexibility than other games both in terms of your betting options and your potential payouts, although it is a game that relies solely on luck and there is no skill to it whatsoever. It has seen a fair few variations developed too over the last few years, a sign perhaps that its popularity is on the rise.
Blackjack has the lowest house edge of any casino game when played properly, so it is no surprise that it is one of the most sought after games at any gambling house. It is also fairly easy to understand after a very short time playing, at least on a basic level.
Of course there is potential to get a lot more involved and start learning perfect strategies too, but these can be tricky to learn especially if you are playing live. You ca learn more about this inside.
Slots & Jackpots
By far and away the most popular online gambling games in the industry, there are literally thousands of them to choose between and from hundreds of different game developers too. Part of thier appeal is their simplicity, although if you have never played one before you might need a little help understanding what you are looking at.
That's where we come in. This article is all about slots, where they come from, and how to play them. There are also a few recommendations to get you started - slots that have proved popular with playrs for years on end.
How do you make a great slot even better? Build a progressive jackpot into it and give players the chance to win life changing sums of money on top of the base game. Progressive jackpots have been around in some form since the 70s, but the internet opened the door to new ways of linking players from different casinos and enabling them all to play for gigantic sums of money that drop relatively often.
There is a difference between a regular jackpot and a progressive one though, and this article will explain that difference as well as highlight some of the most famous progressives of all time.
Live Casino Games
We have all heard of and probably seen the TV show, and while the online live game version doesn't have Noel Edmunds, it does come with the potential to win a lot of money. The exact amount is up to you though, as this game is all about how much you are able and willing to risk in the hope of winning higher amounts.
This also makes it a potentially expensive game to play depending on how you approach it and what kind of stake levels you go for, but that's the trade off for a game as exciting as this. The adrenaline can really start flowing with this one, especially as the last few boxes are opened, and the extra levels of engagement achieved by playing with a live game host also merit attention.
This was the game that really shook things up in the live casino world, attracting players who would usually shy away from the live casino thanks to its bright and lively atmosphere, exciting fast paced gameplay, and simplicity. The hosts switch out every 30 minutes or so too, so the game is constantly changing and evolving.
It's a simple case of spinning a big wheel and hoping it lands in your favour, but within that there is room for a certain amount of strategy and a lot of flexibility when it comes to stake levels, so Dream Catcher will appeal to players of all experience and bankrolls.
Mega ball is a live studio game from Evolution Gaming with a lottery / bingo-style theme. The game is as easy to play as bingo, you simply buy 5x5 cards with 24 numbers on each, you can buy between 1-200 cards for each game. There are 51 numbers in a lottery style draw machine, each time a ball is drawn that you have it is automatically marked off your card, you can win for getting lines or a full-house.
Once the main round is over there is then a bonus round, this is where the mega ball is drawn. The Mega Ball will have a multiplier attached (5x to 100x), if this ball completes one of your lines or your card your winnings are enhanced to that amount.
Everyone has heard of Monopoly, there is a version out there for seemingly everything. But did you know that it was also available as a Live Casino game? Well you do now. It's another of Evolution Gaming's creations and they have done a superb job of adapting the original and adding a gambling aspect that is fun, exciting, and dynamic.
This game takes place on a big wheel and is all about multipliers really, although good old Chance and Community Chest do come into play as well. As does Mr Monopoly himself who can be seen keeping an eye on the action from his armchair, and even taking the reigns from the live host when called to do so. It's another game that can be as rewarding as you want to make it, with bets available from 10p and upwards.
Playing live online blackjack offers a social element which you cannot get playing on an RNG based game, and it is also better suited to those who believe in computerised game conspiracy theories as you can watch the dealer draw cards and be sure nothing untoward is going on - but it also comes with a few considerations.
There is now more live blackjack than ever before, and this format has also opened the door to a few variations that couldn't exist in any other way.
Special Games
You might think that scratch cards have been in decline as gambling has moved online but in reality more is now spent on them than ever before. We are not talking about the ones you buy in shops, rather the online instant win games that are made to look like scratch cards.
Online scratch cards and instant win games are attractive to people as they are very simple to play and require little skill, there is no question they are popular games to play but are they good value? Many games have mini-games within them that ask you to make decisions but are you actually in control of this or is it all predefined before you even start playing?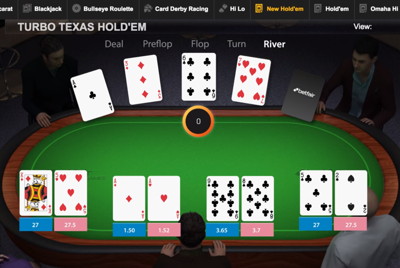 Exchange games are provided by Betfair, the worlds largest betting exchange. The idea here is you can bet on outcomes in typical casino table games, such as roulette, blackjack, baccarat, Texam Hold'em and others, in a similar way you would do in a typical casino. There are two major differences however, firstly you are not betting against the casino site but instead you are betting against other players, secondly you can lay markets (betting on something not to happen) as well as back them, in effect becoming your own mini-casino.
The exchange charges a commission for all winning bets but otherwise you are betting with other normal people. This means you can often get better odds and value compared to a fixed-odds casino. As you are betting with other users bets need to be matched, i.e. someone who wants to back a market at a certain price and stake has to find someone willing to lay that market on the same terms. Read more in our guide.
The Best Place to Play
Online casinos are numerous and also very similar, so it can be tricky to read between the lines and find one that is perfect for you. There are a few key considerations to make here, with the first and probably most obvious being; what kind of games do you want to play?
Some online casinos are extremely slot focussed with only one or two variations of roulette or blackjack thrown in. If you like to play table games and slots in equal measure then a casino like this is probably not the best option for you, whereas for a dedicated slotter it would be ideal.
Similarly, some casinos focus much more heavily on table games with masses of variations on each game as well as games you might not often see at other casinos like Pai Gow, etc. It all depends on what you want. Of course, there's nothing to stop you signing up at more than one casino to get the best of both worlds, but can you be bothered with all the jumping around between different sites? Only you can answer this, but it is a consideration.
Another thing to consider is the banking terms and conditions. If you are a penny player then you will be looking for somewhere with low deposit and withdrawal minimums and no fees. Someone with more money to spend and perhaps a taste for all things future might prefer a casino that allows methods such as ewallets or Apple pay and that has dedicated tables for high stakes.
One more thing to think about might be what kind of offers the casino promotes. Some work with VIP schemes that really look after big spenders but don't add a lot of value for the every day player. Others have a mixture of daily/weekly/monthly rewards and promotions alongside a loyalty point scheme which will be of more use to most of us but can you put up with the hassle?
There is no one single best place to play, only the best place for you. Our casino reviews have been written to help you make that decision.
Playing Slots
If you are new to slots then you may have a few questions about some of the terms and phrases you have seen so far. It's true that playing an online slot is about as simple as a game can get, but there is more to them than just bashing the spin button.
Some games offer the option to alter the number of active paylines per spin, which in turn will affect the amount that you bet per spin. On top of this, you might be able to adjust the amount you stake on each active payline per spin:
| Number of Paylines | Active Paylines | Bet per Line | Total Bet |
| --- | --- | --- | --- |
| 50 | 50 | 0.01p | 0.50p |
| 50 | 20 | 0.01p | 0.20p |
| 50 | 20 | 0.02p | 0.40p |
In this way you are lowering your bet per spin but also removing a lot of the potential winning possibilities because if you have turned off a payline and land a win on that line, you will not be pad out.
Some games even go a step further and throw 'coins' into the mix. The coin value can be set by the player, and then a number of coins are wagered on each line as follows:
| Number of Paylines | Coin Value | Coins per Line | Total Bet |
| --- | --- | --- | --- |
| 50 | 0.01p | 1 | 0.50p |
| 50 | 0.02p | 1 | £1.00 |
| 50 | 0.02p | 2 | £2.00 |
As you can imagine, to then start fiddling around with how many paylines you want active can become confusing. The slot will always show you how much your overall wager is though, so you don't need to do the maths on your own, but you do need to understand that betting £1 on a single payline is not the same thing as betting £1 across 50 paylines.
Other slots fix the paylines in place and only allow you to adjust the overall wager which is much simpler.
RTP %
All games have an RTP, whether they be roulette, video poker, slots, or blackjack - even pub fruit machines have an RTP.
This acronym stands for 'return to player', and indicates the estimated amount of money that will be paid back to the player over a very large number of spins. A game with an RTP of 95% then, would pay out 95p for every £1 that it took.
However, this is not to be taken literally. The RTP percentage is based over such a large sample of spins that no one player could ever play them all, so it is more an indication of how generous or not a game is thought to be.
From the casino's point of view they will be keeping 5% of everything staked on that game, and if the game is being played a lot then that 5% is a very healthy return. If the game takes £10,000 in a week then the casino has pocketed £1000. Not bad.
From the player's point of view, the fun comes from hoping you are the one that triggers the bigger payouts. The game could be paying out 0% for 100,000 spins, meaning that all of the players who have tried it so far have had 0% RTP, but then one lucky player comes along at the right time and hits a big win scooping 95% of everything that has been spent on the machine over those 100,000 spins, which means the machine is paying out at 95% true to its word.
That is an oversimplified example and an extremely unlikely scenario, but it demonstrates how the RTP is established and maintained.
Live vs Software Generated Games
In an attempt to appeal to as many casino players as possible, game developers and casino companies now offer and support both software generated and live streamed versions of most games.
Software Generated: These games can be played by hundreds and thousands of people at the same time and will load up in your browser. They are run by a random number generator (RNG) and offer no interaction or social aspect.
Live Games: These are games that are actually going on somewhere in the world, usually streamed from a dedicated live casino studio. A professional dealer will be hosting the game and communicating with players over the internet, and various different camera angles will keep players in on the action. Players can also chat with each other.
The live dealer option gives you more of an authentic casino experience without having to actually go to one, but it is also limiting in terms of how many hands you can get through in an hour. It's a slower way to play but there is also the enjoyment factor to consider, and some casinos run promotions specifically aimed at live dealer games too. It's also a good option if you are less trusting and want to see exactly what is going on.
Playing software generated games gives you an awful lot more choice in terms of what there is available to play, and the pace/style of play is in your control; if you are learning a new strategy on blackjack, for example, you might want to wait longer between hands than a live dealer would allow. It is a much more solitary experience but gives the player more control and allows them to play as quickly or as slowly as they would like.