Jackpot 24/7 Review
Jackpot 24/7 was closed to UK player on 21st October 2020. The brand owner, the BML group, have not liked the UK market for a long time and have been strategically withdrawing from these shores over the past few years. Jackpot 24/7 was originally a Netplay brand until it was bought by Betsson in 2017, at which time we knew at some point in the future they would pull the brand from the market. Why? It's all down to regulation, they don't like the new processes brought in by the UKGC and others to protect gamblers are so are leaving for profit reasons.
Existing users can access the site until 18th November 2020, after this time they can withdraw by contacting Betsson directly. Anyone that does not claim their funds by 31st December will find they have been donated to GambleAware.
Frankly Jackpot 24/7 has not been the same since it was brought into the BML group and has grown stale. You can find many better brands more committed to UK players on our casino sites page.
---
This online casino has quite the backstory, once living the high life with its own TV channel that ran throughout the day and night, but now focussing on providing their services online only and especially via mobile.
A recent refurb has resulted in a lovely website that feels smooth and instinctive to use and would suit players who prefer a calmer environment in which to play. The games themselves have been expertly selected to provide quality and range from developers young and old, and their numbers are more than adequate.
With a name like Jackpot 247 you would expect plenty of big win opportunities and they certainly deliver on that front, boasting countless jackpot games that can reach eye watering amounts of money.
You get the impression that this re-launch of the website is something of a new start for Jackpot 247, and there is plenty of potential for greatness here.
Jackpot Central – Scores of jackpot games await.
A1 Mobile Site – There are few better places to play on the move.
Recently re-launched – This is an older brand with a brand new approach and a renewed sense of energy.
Software and Games
Jackpot 247 are one of those casinos that provide more than enough games to keep everybody happy and update their list regularly, rather than offering every title in existence. This approach gives you around 400 games from 9 different providers, and they are a great blend of old hands and new rising stars, but all have a proven track record.
Quickfire (Microgaming), IGT, and NetEnt are a few of the old guard, while Red Tiger and Yggdrasil are just two of the younger gaming companies on the site that have made waves in the industry.
It would be remiss not to mention the 100 jackpot and daily jackpot titles onsite given the name of the casino; you can play massive games like Mega Moolah, Mega Fortune and Hall of Gods alongside some really interesting lesser known options, too. And they are in good company with hundreds or video slots and a handful of table games too.
It's perhaps not the most obvious casino to choose if you play a lot of blackjack or roulette etc., but if slotting is your main pastime with just a few hands of blackjack or spins of the roulette wheel on the side you will be just fine.
Live Casino
If, on the other hand, you like to play your more traditional casino games live, then it's a whole different ballpark.
Evolution Gaming are on hand at Jackpot 247 to provide you with everything you need for a really thrilling live casino experience.
You can play Blackjack from as little as £1 a hand and Roulette players can go in for as little as10 pence, which means that even those on the smallest budgets can enjoy the live experience.
Other games like variations of Poker, Dice, and Sic Bo are also available, as are some of the newer game types like Deal or No Deal, Football Studio, and Dreamcatcher.
This is top quality stuff with great streaming and professional dealers who will chat to you and keep you entertained between spins/hands. You can also interact with other players so it can be something of a social exercise too if you want it to be.
The Desktop Website
This is a calm and tranquil place to come and play some games and the website doesn't try to force an experience on you, letting the games take care of that and, instead, simply providing an appealing and effective platform on which to display them.
The site is designed using soft colours that do a great job of keeping the place bright and airy and also helps the player navigate. Another benefit is that the site doesn't slow itself down with added animations and graphics. The balance is just right and so games and new pages load at pace.
It's a site that actually feels like an app even though it is on the desktop. You see this more and more these days as companies re-design their sites for the mobile age, as having one site that can work on both platforms has many obvious advantages.
Finding Your Game
A key consideration for any casino is how easily the player can find the game, or type of game, they want to play.
Jackpot 247 have worked wonders here, providing enough game categories to suitably filter the long list of titles, but not so many that it becomes ridiculous. Even better, once you have selected a game type (slots, jackpots, table games, etc.) there are further filtering options to break them down further, including by developer.
This option is a Godsend if you love/hate a particular developer, but it's also useful if you can't remember the name of the game you are after but you know who made it. Conversely, if you know exactly which game you want you can use the search bar and go there directly then 'favourite' it so it goes on your favourites list.
There is also an A-Z list of all available games so that you can search alphabetically.
The Mobile Website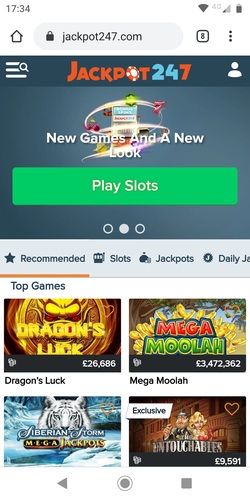 The only difference between the mobile website and the desktop website is the screen on which you access it. The design means that everything is in exactly the same place on the smaller screen, with just a few technical tweaks to enhance the experience.
For example, the game categories are on a sliding menu bar instead of being fixed, so that the casino can fit them all in the same place.
This keeps the interface clean and clear and easy to use which in turn means the player's experience is uninterrupted and just as hassle free as on a desktop.
It's faster than a rocket full of monkeys too. The search bar suggests options as you type and they update so quickly that any delay is invisible to the human eye.
The only thing that takes longer is browsing (scrolling through all slots, for example) and that's just because it's impossible to fit as many game tiles on the screen.
There is no app at the time of writing so you will have to use your browser, but I can't imagine this will be the case for long.
Jackpot 247 have been around for a while and have some serious people backing them up, so an app is bound to follow.
I was seriously impressed with the mobile experience.
Loyalty & Promotions
At the time of writing, there is no loyalty points program to take advantage of at Jackpot 247.
It's not an advisable approach if you ask me as pretty much every other online casino out there offers some version of a reward scheme, so it sets them back somewhat. The rumour is that a scheme is being discussed but there is no word on how long it might take to put into action, or what it will involve.
VIP status can be earned but it's more of a 'don't call us we'll call you' situation, so there's very little info out there on this.
That's not to say there aren't any promotions at all though, there are, but again this doesn't seem to be something the company focuses too much attention on.
Saying that, they ran an advent calendar promotion last Christmas which was a novel idea, and made it worth logging in every day, so they do have unrealised potential in this area if only they would get on and action it.
Let's Talk Money
No entries were found
I would say this is an area that could be improved upon, although it is by no means disastrous. There is no maximum withdrawal for a start which is always good to see.
It's good to see fairly high upper withdrawal limits even if the timeframes are long with some methods.
Pay In
Deposits are instant as you might expect, and you won't face any fees at this stage or on the withdrawal side either.
Not from Jackpot 247 anyway; make sure you check with your payment provider.
The range of payment methods isn't exactly exhaustive but it should give the majority of players at least one viable option.
As far as funding your account goes you can't ask for much more than a quick and simple process with plenty of options, and that's just what you get here.
Pay Out
They publish processing times of 24-48 hours before the timeframes shown in the table can be expected. As you can see, you'll have a bit of a wait on your hands if you use anything other than an e-wallet.
They also allow withdrawals to be cancelled during the processing period, with no option to lock the withdrawal either. This is a trap lucky winners should avoid, and something Jackpot 247 should look to address if they want to avoid coming across as predatory.
A Little Help?
They have won awards for this don't you know? Well, the Betsson Group have, and since they own this online casino and operate the customer services here, Jackpot 247 have won too by default.
But enough of awards, let's run through the options should you find yourself stuck or confused and needing assistance.
The Help tab at the top of the page is nice and easy to find and takes you quickly to their Help Centre which is where your contact options are displayed. You can use live chat with an average response rate of 3o seconds; e-mail, with an average response time of 30-60 minutes; or request a call back which should take anything from 15 minutes up to an hour. There is a number you can call yourself too, but why put yourself through the automated response options?
The staff are genuinely helpful and seem to be proactive too, which is something of a rarity in the online casino world for some reason, so that's a big tick.
About – As Seen on TV
It's a bit of a rabbit hole when you start exploring the history of Jackpot 247.
On the face of it they are simply an online casino site run by a Malta based company called NetPlay Malta Ltd. Nothing strange about that, every online casino site and his dog seems to be based in Malta.
But these days NetPlay Malta is actually a fully owned subsidiary of Betsson AB, an absolute giant of the industry. They bought NetPlay TV in 2017.
What was NetPlay TV, we hear you ask? Read on.
Let's Start at the Very Beginning
The year was 2008 and Virgin Media Television launched a 24 hour gaming TV channel in collaboration with Two Way Media; they called it Challenge Jackpot.
This channel ran for a few years with various different gaming shows proving rather popular with audiences until NetPlay TV came along and acquired the business assets of Two Way Gaming for £2million in stock.
The dealings that went on between them and Virgin Media are quite complex and not all that interesting, so suffice it to say that NetPlay TV ended up owning and running Challenge Jackpot, but the channel closed in 2011 so they decided to re-brand, and it eventually became a show called Jackpot 247 instead.
From 2012 it was a stand alone show airing on ITV with an associated website, and that was how it remained until 2017 when Betsson came along.
The price they paid for NetPlay TV was £26 million, but it seems they had no plans to keep running the TV show, which aired for the last time on July 1st 2019.
The website, however, is still very much alive and kicking. A fresh lick of paint after the TV show's closure along with a few new software developer contracts, and it is looking as good as ever.
Contact and Licence
UK Gambling Licence: 50721
Name: Jackpot 247
Licensee Name: NetPlay Malta Ltd
Email:

This email address is being protected from spambots. You need JavaScript enabled to view it.

Phone: 0800 001 5378
Address: VAT MT25187806, Experience Centre
Ta' Xbiex Seafront
Ta' Xbiex
XBX 1027
Twitter: Only the echoes of the old TV channel, unfortunately.