Following the UK Gambling Commission decision to fine Betway £11.6 million in 2020 for failures in appropriately checking the source of customer funds and in protecting vulnerable customers we feel it is inappropriate for us to list them here as a recommended UK casino site. For a list of sites we do recommend see our casino sites page.
It is true that Betway in the past have been a leading site but in light of the investigations carried out into their conduct we suggest that you should avoid them until they can demonstrate they have customer protection as their firm focus. Betway are also known for being aggressive in limiting accounts and again we feel this is not proper behaviour for a brand that should be setting the example.
Software and Games

Betway's major software provider is Microgaming who they have had a good relationship with since they started. This means you get a full suite of all Microgaming titles available for instant play, from legendary jackpots such as Mega Moolah to top themed titles like Brides Maids and Tarzan.
In total there are over 400 three and five wheel slots with around 100 other table and special games available.
In fact, this is a great destination for people who like to mix their time on the slots with more traditional casino games. There are blackjack variations numbering into the high 20's, and about half that number when it comes to roulette; and if you enjoy video poker you are very well looked after indeed with 20 different versions to chew through. There are a similar number of jackpots although only a handful of them tend to offer eye-watering amounts of money.
If you have been a gamer since online slots first began, then no doubt the classic slot category will hold some memories for you, and there are around 70 of them to choose from. You can see, then, that even though a single provider powers the casino, there is enough here to satisfy the whims of all players.
Vegas Baby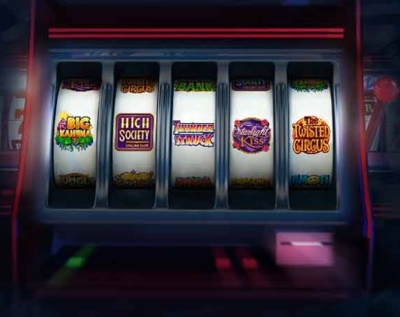 In 2016 the company expanded their games base by bringing NetEnt on board, and now IGT has also joined the party. These games can all be accessed in the Vegas section and add a new and refreshing dimension to the site.
By separating the games and their developers in this way they can be all things to all players; a single provider casino that runs quickly and smoothly, and a site that still offers depth and game range without sacrificing on performance.
The Vegas section manages to flesh out what is already available in the casino, without it all becoming overwhelming.
This is not a casino, therefore, for someone who wants literally thousands of games from every developer out there. It is, however, a casino for someone who values style and function over numbers.
Live Casino
Betway's live casino games are provided by Evolution Gaming and this is a match made in heaven.
Evolution are famous for developing high end live games with stunning graphics to suit modern connection speeds and hardware (although this can be scaled back for low resource users). Betway are one of the only brands who can honestly integrate these titles properly because the games suit the tone at Betway perfectly. Used at full throttle the live game experience here is as close as you can currently get to playing in a real casino without leaving your living room.
The live casino lobby gives you access to around 20 roulette tables – including some new variations such as Lightening Roulette – and a massive 40 blackjack tables, one to suit players on all budgets. There is also live baccarat and poker to be had.
There are ten blackjack tables exclusive to Betway customers, as well as a few newer games called Dream Catcher and Top Card which are proving very popular.
Handling the Interface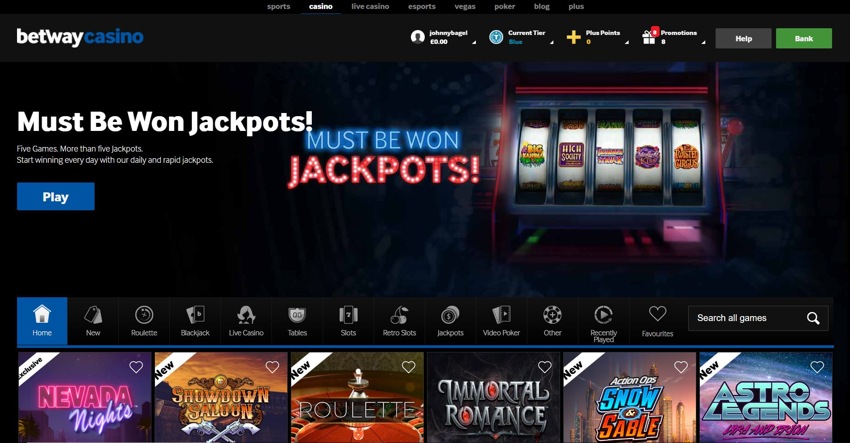 This is a classy product and no mistake. The soft blue and black colour scheme gives it a stately quality and the smooth functionality oozes sophistication. Every button, game, and info tab has a graceful and natural feel, graphics are not overused and there are no annoying sidebars or flashy features that can have a claustrophobic effect on the games.
In fact, most of the screen is taken up by the games, which is just how I like it. This makes navigation and absolute doddle, mainly because there is very little navigating to do. The interface is designed in such a way that jumping from one game category to another is almost instant, and unless you want to use the banking or help section you never need to load a new page.
The whole thing works incredibly quickly even when under pressure, and it flows beautifully. A selected game will float in from the side, and once gaming you can even continue to browse via a sidebar, which you can hide if you don't like it. The design gives the player total control, and everything is in reach and easy to pick up and put down with zero clutter.
This doesn't mean Betway is a casino for all, for example, there are no explosions of colour or excitement, it's much more laid back than that. If you tend to go for shouty funky sites with cartoon mascots you might find Betway a little dull, but if you prefer the games to take centre stage then it's worth looking into.
Finding Your Game
Another benefit of not overloading your casino with games is that browsing them is a simple affair.
There is a search bar if you want to use it, but it's just as easy to select a game category from the list and scroll through. Obviously, the video slots category is the busiest, but it never feels like a chore to browse through it.
If you want to sample the games in the Vegas section it is only a single click away and functions in exactly the same way as the casino, and the same can be said for the live casino. Plus, all games can be added to your favourites list so you never need hunt for them again.
Realistically, you could be settled into a gaming session within ten seconds of logging in.
Rewards and Offers
With Betway you are not just going to get tons of flash in the pan daily offers (although these can occur), rather, their model gives players longer term value through loyalty points, high value bonus deals and achievable prizes.
Many Betway offers focus around generating enhanced plus points. For example, you might be able to earn extra Plus Points by playing a certain game selected by Betway, and these are often games you would actually want to play, too, including live casino games. These games change regularly, usually monthly, and come with very clear terms and expiry details.
The other promotions that Betway excel at are bonus deals, wager competitions, and prize leaderboards. I know many leaderboards can seem pointless unless you play every day but this isn't necessarily the case here. Betway will often give cash and points prizes to those in the top 100 places on the list.
Plus Points & Tier Tokens

The Betway Plus points scheme is a tiered benefit system, a bit like a loyalty programme rolled into a VIP system. All new players automatically enrol and will earn points for betting and playing in all sections of the site, not just in the casino. This means you will also earn points betting on sports, bingo, Vegas and or any other products, and this is rare for a gaming site to do.
Plus Points are earned for your activity at the site, and even average players can quickly move up the tiers. Ultimately, these points can be exchanged for bonuses and free bets.
Tier Tokens are earned in the same way as Plus Points but their only function is to determine your loyalty level. Moving up the loyalty table from blue to black gives you progressively more benefits with enhanced offers and prizes are you go.
Betway is one of the few operators where you don't need to be a mega stakes player to get access to some great hospitality. Considering they are rapidly increasing their sponsorship profile too, this is a good casino to stay with for future hospitality possibilities.
Mobile Gaming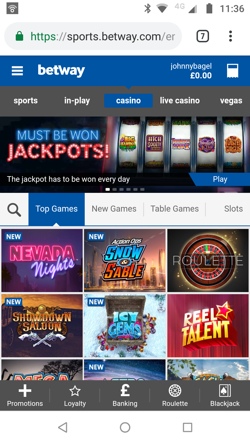 The Betway site is perfectly scalable and so works nicely on any sized screen device. There are also mobile apps available to download if you prefer to play through an application, although there is very little between them. Using the mobile site or app is a breeze and both allow you to switch between sports and casino sections with a single tap.
This is a good example of Betway choosing their software partners well too. Both Microgaming and NetEnt develop top quality high resolution games, but these titles can also be throttled back to work on any type of device and to suit any type of connection speed.
This means you get the best of both worlds with Betway, impressive graphics when you have the resources to use them but also the ability to play these titles in a lower graphic format when using mobile networks, for example.
Usability scores highly too. Quick links to banking, loyalty and promotions among others can save you a bit of time, and a scrolling menu makes navigating from one game category to another almost as slick as on the desktop site. But not quite. Still, the mobile product is one of the fastest I have used.
Using the menu button will shunt the interface to one side and allow you to access the nuts and bolts of the site such as the help section and game history. This works well, and keeps your activity ticking along in the background.
You do lose the odd feature on mobile and exiting games was a bit of a faff at times, but these are minor grievances to what is otherwise a very good product.
Tell Me More About Betway
The Betway Group is a modern breed of gaming and betting company established in 2006. It is a British company although for the most part its operations are based abroad in Malta, like many other gambling companies. They hold licences in the UK, Ireland, Spain, and other countries with offices all over the world.
They now claim to serve around 3 million regular users and are one of the best casinos for offering hospitality and rewards to normal everyday players.
Record Win

Big news brought plenty of positive attention to Betway's door, when one Jon Heywood won a record breaking £13.2 million playing Mega Moolah only half an hour after opening his account with the casino.
Not only that, but it came from a 25p spin and he wasn't even really paying attention when it happened – he was watching a documentary about WWII tanks.
Jon was a member of the British Army at the time, and a veteran of Afghanistan.
Sponsorship
The profile of Betway started to increase dramatically due to the sponsorship of major sports teams and events. Something they have continued to do.
You can see some of their biggest sponsorship deals below:
2014 – 3 year deal with Premier League Darts
2015 – Became principal sponsor of West Ham Utd FC
2015 – Became official sponsor of World Snooker UK Championship
2016 – Headline sponsor of Esports team Ninjas in Pyjamas
2016 – Signed a deal with RSC Anderlecht, Belgium
2017 – 3 year deal with Aintree Racecourse to be official betting partner of the Grand National Festival
This is just a selection of many deals that have seen the Betway name become more and more familiar to UK players. Given the growth of the brand and its quality as both a sportsbook and casino it is highly likely that Betway will only go from strength to strength in the future.
Banking and Payment Methods
| Method | Min Deposit | Min Withdrawal | Fees | Withdrawal Time |
| --- | --- | --- | --- | --- |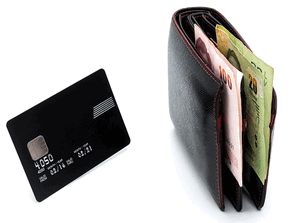 It's annoying when casinos don't lay out all of their options plainly for customers to see. Unfortunately Betway are guilty of this.
They support a good range of payment methods, but its not clear what they all are from the offset. You will find out as you go, but when you are trying to choose a new casino it's a consideration that many players take seriously.
Nevertheless, there are ewallets, prepay cards and the usual debit/credit options available, and the minimum deposit across the board is only £10. The same goes for withdrawals and Betway have no hidden withdrawal features; there is no pending periods or manual flushing necessary and payments are made promptly and fee free. No stated maximum withdrawal limits that apply.
Betway have no stated payout limits either.
Customer Support Team
You can't have a great looking product and then let it all down with poor customer service. Fortunately, the help and customer care at Betway is of a good standard.
You can get in touch by freephone 8am to midnight, or via live chat and email with 24/7 support. The customer service team can also reply to you in 15 different languages if you want to practice your GCSE German. The dedicated Twitter account seems a little quiet but it's an option nevertheless.
The help button is nice and visible on the website but you have to do a bit of digging to actually get in touch with anyone. You have to first go through the searchable FAQ – which is very good, by the way – and then indicate that the article was unhelpful, at which point the contact options will show up.
I can understand them encouraging players to help themselves before clogging up the live chat, but there's something about this system that feels miserly. I occasionally feel that the live chat team give generic advice rather than really interpreting your question properly, but it depends on who picks up your message.
Contact/Licence Details
Licence Number: 39372
Name: Betway Casino
Licensed Name: Betway Limited
URL: www.betway.com
Phone: 0808 238 9841 – 8am-Midnight
E-Mail: [email protected]

Address: 9 Empire Stadium Street, GZIRA, GZR 1300, MALTA
Twitter: @betwaysupport or @betway