If you have been playing online casino for 5 minutes or more then you will have heard of the 32Red brand. It is one of the oldest, most loved, and respected casino sites in the world with a mission to provide a great user experience above all else.
Boasting millions of happy customers and constantly striving to improve you can't go far wrong when you play with 32Red, whether you are an occasional player or a high roller. Rated as the best Microgaming casino available the operator has won plenty of awards, although fans of other software developers needn't feel left out as other developers are available.
32Red are one of the most trusted online casinos in operation, with exceptional customer service and an outstanding desktop interface. Mobile products are also available as well as more video poker and slingo than you are likely to find elsewhere.
Best Microgaming Casino – For fans of this provider there is nowhere better
Gets the Little Things Right – Not as big as some other sites but what they provide their services perfectly
Loved by Players and the Industry – Rave reviews and awards say it all, huge loyal customer base

Welcome Offer: 150% up to £150
New accounts only. Min. £10 deposit, debit card and PayPal only. 50x wagering, game contributions vary, max. stake applies, 7 day expiry. Full terms apply. 18+. BeGambleAware.org.
New customers only T&Cs Apply, 18+ BeGambleAware.org / Gamstop.co.uk #ad
The Software/Games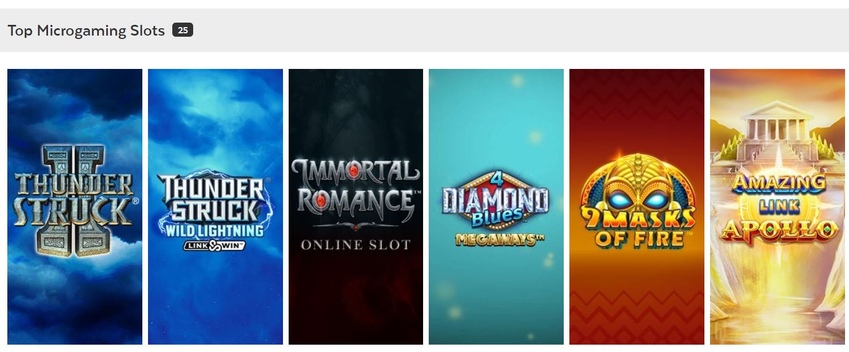 It's not all about Microgaming at 32Red but this are a great site for MG fans with the full complimant of titles on hand. On their website they have over 1,000 games on offer to UK customers, with slots being the main attraction numbering 900+. There is still plenty to play for if slots are not your usual go-to game type, as the suite of table games almost reaches 50 titles and boasts some great diversity within it; sic bo, craps, and red dog are all waiting to be played alongside plenty of variations of blackjack and roulette, including a few high limit games.
If you fancy spinning for a jackpot you have 50+ options in front of you, although they don't show the current jackpot figure for some reason, and there are 20 video poker games which is more than you usually see. 32Red also offer a dedicated slingo section when shows a commitment to this niche which is gaining in popularity.
Being a Microgaming powered casino for so long their games are obviously heavily promoted, but it's no more difficult to get involved with games from other providers like NetEnt, IGT, and Big Time Gaming. 32Red are a well-established company with 20+ years under their belt, so they knew what they were doing when they opened the door to new developers, and only the best made the cut.
Live Casino
The 32Red live casino used to be a bit on the average side, but in recent times they have caved and turned to Evolution Gaming for their live casino needs. This means that their live casino is now about as good as it gets, with variety and diversity in abundance.
The blackjack lobby is especially busy with nearly 40 tables of every limit and plenty of variations on the game including some you don't see very often, like infinite blackjack. Roulette tables number around 15 while baccarat follows close behind. There are also live poker games like three card and Caribbean stud, plus a couple of left field options in money wheel and football studio (top card). This means that professional gamblers and those who just like to dabble for fun are equally able to enjoy themselves here, with table limits ranging fully from one end of the spectrum to the other.
The interface is second to none; it's fully interactive with interesting and useful features as well as the ability to play on more than one table at a time. You can browse the lobby without leaving your current game and a sidebar offers a direct route back to the slots if you have had enough. It's as close to perfect as I have seen.
The History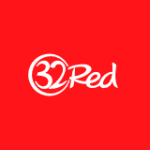 32Red are one of the longest running online casino sites still in the business, and they have an interesting backstory too. They were founded in 2000 by Edward Ware, a former Ladbrokes managing director, and officially launched in 2002. The 32Red casino has set itself up with a user focused ethos from the outset, perhaps this was due to Ed's history with Ladbrokes, a colossus of a bookmaker but also very corporate and faceless.
32Red are listed on the London Stock Exchange and are based in Gibraltar. Considering their long history and size 32Red actually employ only around 100 people; the business is run with more of a family than a corporate ethos. If you are at all worried about security then this is one of the best casinos to call home, as they have never compromised in this department.
As a brand they are keen on sports sponsorship, being the shirt sponsor of no less than 5 teams in the UK at the start of the 18/19 season: Leeds United, Aston Villa, Derby County, Preston North End and Middlesborough.
They also invest heavily in UK horse racing and have enlisted the help of celebs Patsy Kensit, Keith Lemon, and Ant and Dec in the past.
32Red were acquired by the Kindred Group in 2017, which itself was formed out of the Unibet Group, so they are now part of a much larger corporation. This gives them huge benefits as a company since they can share technology and resources, but does nothing to damage their hard fought for reputation as a customer centric brand.
Some Key Dates
2003 – Officially launched by Ed Ware
2010 – Won a dispute with William Hill over their use of the name 32Vegas. The six day trial resulted with William Hill being found to have infringed on the copyright of 32Red.
Sep 2014 – Announced the purchase of Go Wild Casino's UK based customer database.
June 2015 – Purchased Roxy Palace Casino for £8.4 million
July 2017 – 32Red acquired by Kindred Group
June 2018 – UK Gambling Commission fined 32Red for the mis-handling of a problem gambler who lost over £700,000 in a two year period. He had a net income of just £2,150 a month.
June 2018 – Ed Ware departs as CEO of 32Red
Awards
32Red have a busier trophy cabinet than most major football teams. They have been recognised countless times by both players and the gaming industry as a whole, which speaks volumes for their work ethic. Here are some selected highlights, many of which they have won more than once:
Casino of the Decade – Casinomeister Awards
Operator of the year – eGaming Review
Top Rated Casino – eTruvian Consulting
Best Customer Service & Top Online Casino – Gambling Online Magazine
Best UK Online Casino – OGGS
Most Reputable Casino – Go2Bet
The Website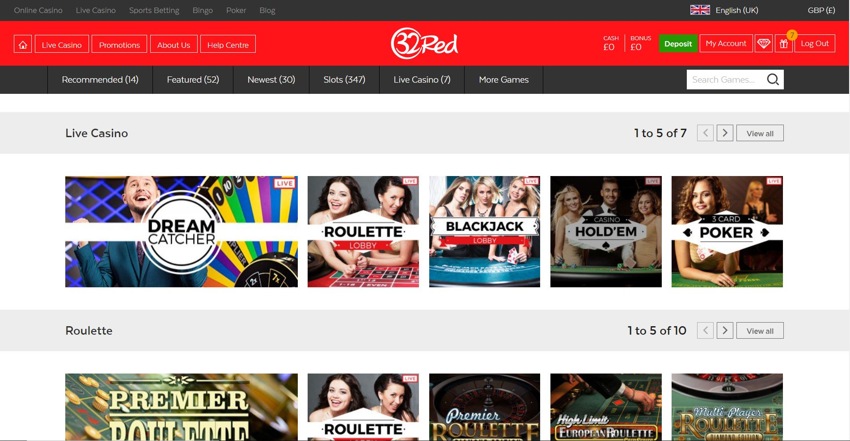 32Red have a less is more mentality, and what they offer is certainly substance over style. That isn't to say the desktop site is boring, but it is fairly simple both in terms of structure and design. There are no unnecessary features or extras, just a platform that is snappy and responsive.
Inoffensive is a good word to describe the aesthetics; a bit of colour, the odd bit of fun photography, and that's it, everything else of interest is provided by the game tiles themselves – and after all, aren't they the reason we are there in the first place?
The games are mostly available as demo's and will open in front of the homepage rather than in a new window or as a page reload, which keeps things feeling smooth and pacey, and they have tried to keep as much of the content as possible integrated in this way.
Everything you need to manage your account is kept in plain sight and in an orderly fashion, including overviews of available promotions and loyalty levels, allowing you to monitor things at a glance without leaving the page. If you do want to explore further you will open a new page or window.
In general, the site is very fast and responsive, but I did find that banking took a little longer to load than I expected. It's a minor niggle but you would think that was the one area 32Red would have been hot on speeding up.
Using the Site
As far as the games go, everything is contained to the homepage, so it works as a landing page and the game library all in one. You will never have to sit through a page load when browsing.
The games are displayed by category and you can choose to either view them a dozen or so at a time or view all of the games in that category. If you choose the second option it will behave a bit like a drop-down menu, allowing you to tidy up as you go; if you choose the first, they will scroll through a handful at a time. It's down to personal preference but I like having both options, and it keeps things feeling fluid.
You can also select the game category you want (roulette, slots, newest, featured, etc) from the menu bar which will take you straight down to what you are looking for without you needing to scroll for it, and these game categories are numerous enough to reduce the workload significantly. It takes just a few seconds from logging in to playing a game, which is superb.
It's a system which bends and shapes however you need it to and is highly usable.
The Mobile
The 32Red used to be a bit of a let down compared to all of the other great stuff about this brand, but an update has made it a million times better, and it feels as though it belongs in the modern world in which the online casino player of today operates.
The app and the mobile site are now both identical, and many of the bugs that hampered the performance of the old mobile product have been fixed. That said, it can still be a tad on the slow side when it comes to loading game tiles, but in general it is very snappy and enjoyable to use.
The fact that 32Red have made both the app and the mobile site equal in power and performance is yet another example of the company taking a customer first approach. At some casinos you might have have to choose between downloading an app you don't want on your phone or settling for a below par experience on your mobile browser, but that's not the case here. The only thing that might cause issues is your internet connection but that's not 32Red's responsibility.
There's a nice navigational touch since the top menu bar follows you down the page as you scroll, which saves a lot of back and forth if you want to jump straight rom bowsing slots to the live casino, for example, and the whole game library is available too so there is no difference in game choice between mobile and desktop play.
Games are appropriately sectioned, quick to access and load, and you can access all account features through the application, too. This is done using the footer menu where you can also quickly make a deposit, and the search bar is especially useful on mobile since the smaller screen can't display as many game options at once.
This is not the snazziest or best looking mobile casino app out there, but then 32Red have never really been about all the bells and whistles. It is more than capable of holding its' own though, and as part of a complete online casino package this is a very good addition.
The Money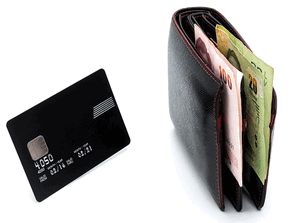 Banking is straightforward at 32Red, the user focus continuing to shine through here. They accept all major debit cards, eWallets and prepaid methods that can be loaded with physical cash are also accepted. Good old bank transfer, too.
Minimum deposits are £10 across the board with no stated maximum deposit limits, but of course, if making large deposits it helps to contact both 32Red and your bank in advance to ensure a smooth transition.
All withdrawal limits are also set at £10 minimum with no stated withdrawal maximums and no fees. Again, if withdrawing large amounts it helps to inform both the casino and your bank first.
The cashier will open in a new window and relay all of your options, as well as giving you the opportunity to look at your statements. The banking client is no frills but it does the job.
Payout Limits
For standard players, there is a maximum payout limit of £120,000 in any given 24 hour period. This can be negotiated higher if you are towards the top of the VIP tiers and especially if you are a Club Rouge member.
This rule does not apply to any progressive jackpot games thankfully.
The Help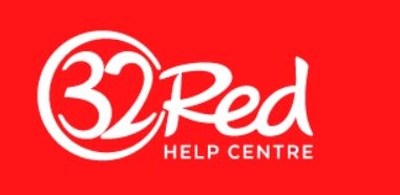 The quality of an online casino's customer support is often a good benchmark of how much the company values your custom as a whole. In the past, even the CEO at the time, Ed Ware, was known to occasionally run the customer support phone lines – I doubt you would see many other casino bosses doing similar.
32Red staff are friendly, knowledgeable, and ultimately operate using common sense rather than strict policy. This allows them to treat each customer as an individual which is really refreshing in an industry like this. As an example, sometimes customers can lose free spins and bonuses because they time out. When this has happened to me I have simply contacted the support team, explained that I have stupidly let my bonus slip, and they have reissued it without comment.
Customer services at 32Red can be reached 24/7 by email, instant chat, as well as freephone and local rate numbers. You can also contact them by post if you have time to kill. To get the info on any of these options you will have to go via the help centre, though, which is a laborious way of doing it but from their point of view it avoids time wasters.
Although I'm not a fan of the layout, the help centre is useful and comprehensive so check it out first if you have a question and it might answer your question. Rather annoyingly, once you go to the help centre you can't easily get back to the site, so maybe open it in a new window.
The Rewards
There is a common trait with the casino companies that have been around the block a few times, they don't have loads and loads of offers. This is because the older and wiser casinos have learned that players don't want a million different confusing promotions, we would rather have a few genuinely rewarding offers that can be relied on for regular value. This is the 32Red model.
They love to jump onto a seasonal bandwagon, so expect plenty of fun bits and bobs around key holidays, for example, and they have even started offering tailor made promotions that differ from player to player.
Some of the offers might revolve around playing particular slots in return for extra ruby rewards (see below) while others might offer a share of a huge bonus amount, and there are also 32Red's version of slot races to get involved with. A lot of the offers are daily so regular players can be well rewarded if they know how to play.
They also like to spice things up by occasionally throwing in some jaw dropping prizes – how does a £32k new car sound? Because it wouldn't be the first time they have given one away.
Red Ruby Rewards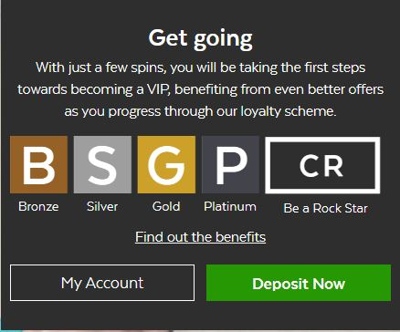 The loyalty points scheme is also VIP tiered at 32Red, so basically the more you earn, the more you get back. Points are awarded differently depending on the game you are playing and any promotion you are taking part in, but once you hit the minimum you will go to the bronze level and begin working your way up.
Each tier has increased rewards and benefits, and these can include extra rubies on your birthday, personalised offers, and extra reward points as you play. If you get to the highest tier you will be eligible for entry in Club Rouge, which is explained next.
Ultimately, red rubies are exchanged for casino chips giving you some extra purchase in return for your loyalty and playing time. You might even get sent a nice surprise email bonus.
It isn't my favourite loyalty scheme, but it is rewarding none the less.
Club Rouge
Club Rouge is up there among the top three proper VIP casino packages and is another great example of how 32Red appeal to all types of player. Club Rouge is an exclusive tier that is effectively beyond Platinum on the loyalty scheme. Players need to be invited to join, but if you manage to stay at Platinum for a few months you should get in.
There is no minimum amount of points that you need to earn to stay in but your account is reviewed regularly, and it is much easier to earn points at this level as you will get a huge ruby point bonus on your activity as a benefit of membership, you will also be rewarded with massive birthday bonuses, monthly gifts, exclusive promos, and tailor made experience packages. Since your personal account manager will get to know you, you can be sure these experiences will be right up your alley.
Of course, all VIP schemes are designed to keep you playing at the casino in question, but for regular high level players, Club Rouge is certainly worth more than the vast majority of the others.
The Details
UK Licence Number: 39430
Name: 32Red
URL: www.32red.com/
Licenced Name: 32Red Limited
Phone: 0808 180 3232 (Freephone), 0203 544 6732 (National Rate), 0330 124 3232 (Local Rate – Best for Mobile)
E-Mail: 

[email protected]

Principal Address: 32Red Limited, 401 World Trade Centre, GIBRALTAR, GX11 1AA
Twitter: @32Red (others now defunct)