Skrill Casinos
Skrill is an eWallet digital payment service, similar in design to PayPal. The service allows you to send and receive money with retailers, other people and institutions as well as online casinos and betting sites.
Less well known compared to other payment methods but a good option for depositing into online casinos. Skrill was designed from its inception to be an payment effective means for online merchants, and in particular bookmakers and casinos. Customers can sign up and begin sending and receiving money with only an email address. Skrill has many positives as a casino payment option, although there are some bonus restrictions and verification processes to be aware of.
Online Casinos That Accept Skrill Payments
18+. Play responsibly, BeGambleAware, for help quitting visit
Gamstop
. #ad.
| | Site | Min Deposit | Min Withdraw | 1-Tap | Withdrawal Time | Visit |
| --- | --- | --- | --- | --- | --- | --- |
| | BetVictor Casino | £5 | £10 | Yes | 1-3 Days | T&Cs Apply, 18+ |
| | 888 Casino | £10 | £10 | - | 2-3 Days | T&Cs Apply, 18+ |
| | Betfred Casino | £5 | £5 | Yes | Up To 48hrs | T&Cs Apply, 18+ |
| | Energy Casino | £10 | £20 | Yes | 4-24 Hours | |
| | LeoVegas Casino | £10 | £10 | No | Up to 5 Days | |
| | Vbet | £5 | £1 | No | Within 72 Hours | T&Cs Apply, 18+ |
| | Unibet Casino | £5 | £10 | No | Up To 12 Hours | T&Cs Apply, 18+ |
| | Parimatch Casino | £5 | £10 | - | Up To 24hrs | T&Cs Apply, 18+ |
| | Mr Play | £10 | £10 | No | Up To 3 Days | T&Cs Apply, 18+ |
| | Mansion Casino | £10 | £10 | - | Up to 3 days | T&Cs Apply, 18+ |
| | Gala Casino | £5 | £5 | Yes | Up to 24hrs | T&Cs Apply, 18+ |
| | CasinoLuck | £10 | £10 | Yes | 0-2 Days | T&Cs Apply, 18+ |
| | 10Bet Casino | £10 | £1 | No | 1-2 Business Days | T&Cs Apply, 18+ |
| | Dukes Casino | £10 | No Min (£2.50 fee) | No | Up To 4 Days | T&Cs Apply, 18+ |
| | NetBet Casino | £10 | £10 | No | 2-4 Days | T&Cs Apply, 18+ |
| | Paddy Power | £5 | £1 | No | 4-24 Hours | T&Cs Apply, 18+ |
| | Mr Green Casino | £10 | £10 | - | Up to 2 hours | T&Cs Apply, 18+ |
| | UK Casino Club | £10 | £10 | No | 1-2 Days | T&Cs Apply, 18+ |
| | Betfair Casino | £10 | £1 | No | 12 - 24hrs | T&Cs Apply, 18+ |
| | 32Red Casino | £10 | £10 | - | 2-3 Days | T&Cs Apply, 18+ |
| | 777 Casino | £10 | £10 | - | 2-3 Days | T&Cs Apply, 18+ |
| | William Hill Casino | £10 | £5 | No | Up To 24hrs | T&Cs Apply, 18+ |
| | Prospect Hall | £10 | £10 | No | Up to 2 hours | T&Cs Apply, 18+ |
| | Pots Of Luck | £10 | £10 | Yes | Up To 3 Days | T&Cs Apply, 18+ |
| | Coral Casino | £5 | £5 | - | Up to 8 hours | T&Cs Apply, 18+ |
To see a full list of Skrill betting sites visit our online bookmaker banking section.
How To Use Skrill for Gambling
Once you have a Skrill account using it to fund an online casino or betting site is incredibly easy. Load funds into the account through a bank card or bank account. If you don't have a bank account other payment means such as debit cards, current account store cards and cash vouchers (available in some high street shops) can be used. Fees do apply to some payment methods however (see later).
To add or withdraw funds to a casino all you need is your Skrill email address and payment password. Money transfers are some of the quickest around however the main benefit of using Skrill is the ability to keep track of gambling transactions as well as keeping them off your normal bank statements.
As with all payment providers you will need to verify your identity, address and age with Skrill, unlike with most other payment providers this does not have to be done immediately. There is a period in which you can use the account up to a limited amount before verifying. This is useful if you want to pay for something online but you don't have any identify documents available at that time. You will need to verify before you withdraw any funds from Skrill, see verification further down for more.
How to open a Skrill Account
To register and start playing through Skrill all you need to do is enter your email address and select a password.
Following this enter your name, date of birth, country of residence and your preferred currency (which can only be set once).
Now enter your address, phone number and agree to the terms and conditions. Click open account and you are all set.
Add money into your Skrill account immediately through any bank or store card or using any bank account (see screenshot below). Funds can also be added using PaySafeCard vouchers which can be bought in many high street shops in the UK. The major benefit of this is you can fund an account in cash, although larger fees do apply (see later).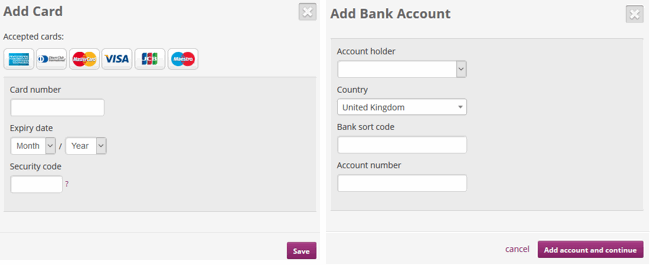 Skrill Account Verification
You will need to verify your identity account as well as any bank card/accounts to get the full use out of Skrill. There is a limited period where you can use the account up to a value of few hundred pounds without verification however beyond this documentation is needed.
To verify your Skrill account you will need to prove you live where you say you live, using a headed statement or bill, as well as your identity and age, using a passport or driver licence. Following this you should be able to withdraw as you wish.
You can unlock limits on deposits and withdrawals by verifying your account, this is done by Skrill making a small deposit into your bank/card account with a reference number which you then enter back into Skrill to remove those limits.
Depositing and Withdrawing Using Skrill
Once you have set up your Skrill account and registered payment method, or added a voucher, there is no easier method to add funds to your casino account.
Select your deposit amount, enter the email address used for your Skrill account and select deposit. A separate window will load where you can login to your Skrill account to verify the transaction and select the payment method if you have multiple sources.
That's it, once verified the money will instantly be added into your account. To withdraw you only need to enter your email address.
Minimum deposits and withdrawal amounts are comparable to bank cards, sometimes higher but rarely beyond £10. Maximum withdrawal and deposit amounts can be lower thank with a card although multiple transactions can be made if necessary.
One down side to Skrill is many casinos do not give welcome bonuses if your first deposit is made in this way. This is largely due to problems in the past where multiple unverified Skrill accounts could be used to exploit sign up offers. If you would like to use Skrill we list all casinos above that do award bonuses with this payment method. Alternatively make your first deposit using an alternative method to claim the bonus and then switch to Skrill later.
Skrill 1-Tap
Some top end casinos and betting sites, such as BetVictor, accept Skrill 1-Tap payments. Once you have verified your Skrill account with a 1-Tap merchant you can add funds directly without having to enter your password into Skrill each time.
This works for both depositing and withdrawing, the main benefit being the transactions are truly instant, with no intermediate processing times.
Skrill and Casino Bonuses
Many UK casino sites will accept Skrill payments but they will not allow you to claim the welcome bonus if you deposit for the first time this way. This is due to some fraudulent practices in the past where people could open unverified but limited Skrill accounts to claim multiple bonuses under different aliases.
Although Skrill have tightened up on this many betting and casino sites will still not issue introductory bonuses. You can see which casinos do or not offer deposit sign up bonuses on the table at the top of this page.
To get around this you could sign up using an eligible deposit method first, e.g. bank card or PayPal, to claim the bonus, and then switch to Skrill later.
Account Verification Using Skrill
If signing up to a casino using a bank account or bank card, as long as your address and name is the same, then verification can often be automatic through a process known as a soft credit check. This is not possible if you join using Skrill as your first deposit method.
Before you will be allowed to withdraw from an online casino you will therefore need to verify your ID, address and age. A front and back scanned copy of a passport/drivers licence and a bank statement/utility bill will usually suffice.
This is a legal requirement of having a UK gambling commission licence and all casino should do this. This is not designed to make it difficult for you to get your winnings. I recommend verifying your account immediately after registering to avoid delays with later transactions.
Skrill Pre-Paid MasterCard
Skrill offer a pre-paid MasterCard that allows you to use your eWallet account funds to pay for things in the real world. This also allows you to use Skrill to fund online casinos that don't accept the payment option directly.
When you apply the card will take around 10 days to arrive. It is free to sue for online and shop purchases but will charge a fee for cash withdrawals.
This is a great way to maintain the flexibility of using a bank card while keeping all of your gambling transactions in one place, and away from your normal bank statement. The fact the card is pre-paid too means you can't go overdrawn.
Fees
Sending and receiving money to and from casinos and betting sites is free on Skrill's end. If you are charged a fee then this is by the casino site itself and if this is the case consider palying with another operator as the majority are fee-free.
If you are sending money to someone else the fee is 1.45%. Uploading funds to Skrill carries a fee, which varies depending on the method but typically is 1%.
Withdrawals via Visa are charged at 7.5% whereas those to bank and other methods have a flat fee of €5.50, roughly £4.75.
Currency conversions have a fee of 3.99% which is automatically applied.
If you do not use or login to your Skirll account within 12 months you will be subject to a €3 (or equivalent) fee monthly.
Security
eWallets are generally thought of as more secure than direct card or bank payments as your details are not stored with the merchant. Rather you only need to register your main payment details in one place. This logically reduces the risk of your payment details being stolen.
Updating is also much easier if you use Skrill, as you only need to update your card details once.
Skrill themselves use high end encryption technologies. They were the first licenced e-money issuer in the UK, so they have been at this game a long time, and are regulated by the Financial Conduct Authority (FCA). Skrill accounts also have two-factor authentication available to further increase security levels.
Skrill vs PayPal
Skrill has greater coverage than PayPal in the world of online gambling. In fact, Skrill was designed for this purpose whereas PayPal was designed more for conventional merchants such as eBay. For more casino funding options Skrill is better than PayPal.
PayPal charge fees on a transaction basis (3.75%) whereas Skrill is free to send and receive money. In the long run Skrill can save you money in fees over PayPal.
Skrill also have VIP and reward programs (including lower fees and caps and multi-currency accounts) that PayPal doesn't offer, so for very active users this is a much more rewarding electronic money issuer.