PayPal is one of the oldest and most trusted digital wallet services available worldwide.
The principle is simple, a PayPal account acts as an intermediary service between you and your bank and allows you to deposit or withdraw money to and from casino and gaming websites.
The major benefit of PayPal is transactions are almost instant, much faster than card withdrawals that can take days, and they do not show up on your card or bank statements.
The service also allows you to keep all your gambling transactions in one place giving you the ability to keep track of your betting funds.
Read more about PayPal casinos and how to use PayPal on this page.
Online Casinos That Accept PayPal
18+. Play responsibly, BeGambleAware, for help quitting visit
Gamstop
. #ad.
| | Site | Min Deposit | Min Withdraw | Fees | Withdrawal Time | Visit |
| --- | --- | --- | --- | --- | --- | --- |
| | BetVictor Casino | £5 | £10 | 0% | Up To 24hrs | T&Cs Apply, 18+ |
| | 888 Casino | £10 | £10 | 0% | 2-3 Days | T&Cs Apply, 18+ |
| | Gala Casino | £10 | £5 | 0% | Instant - 8 hours | T&Cs Apply, 18+ |
| | Kaiser Slots | £10 | £10 | 0% | Up To 2 Days | T&Cs Apply, 18+ |
| | Betfred Casino | £5 | £5 | 0% | Up To 48hrs | T&Cs Apply, 18+ |
| | LeoVegas Casino | £10 | £10 | 0% | Up to 5 Days | |
| | Grosvenor | £10 | £5 | 0% | 24 Hours | |
| | Unibet Casino | £10 | £10 | 0% | Up To 12 Hours | T&Cs Apply, 18+ |
| | Vbet | £5 | £1 | 0% | Within 72 Hours | T&Cs Apply, 18+ |
| | Parimatch Casino | £10 | £5 | 0% | 1-3 Days | T&Cs Apply, 18+ |
| | Mr Play | £10 | £10 | 0% | Up To 3 Days | T&Cs Apply, 18+ |
| | Regal Wins | £10 | £10 | 0% | Instant | |
| | CasinoLuck | £10 | £10 | 0% | 0-2 Days | T&Cs Apply, 18+ |
| | Spin And Win | £10 | £10 | 0% | 15 mins - 3 days | |
| | NetBet Casino | £10 | £10 | 1.5% over £500 | Up to 5 Days | T&Cs Apply, 18+ |
| | The Rialto Casino | £5 | £5 | 0% | 10 mins | |
| | Mr Green Casino | £10 | £10 | £1 or 1% Over £100 | Instant | T&Cs Apply, 18+ |
| | UK Casino Club | £10 | £10 | - | 1-2 Days | T&Cs Apply, 18+ |
| | 32Red Casino | £10 | £10 | 0% | 2-3 Days | T&Cs Apply, 18+ |
| | 777 Casino | £10 | £10 | 0% | 2-3 Days | T&Cs Apply, 18+ |
| | Magical Vegas | £10 | £10 | 0% | 10 mins - 3 days | |
| | Prospect Hall | £10 | £10 | 0% | Up to 2 hours | T&Cs Apply, 18+ |
Looking for betting sites and bookmakers that accept PayPal?
What is PayPal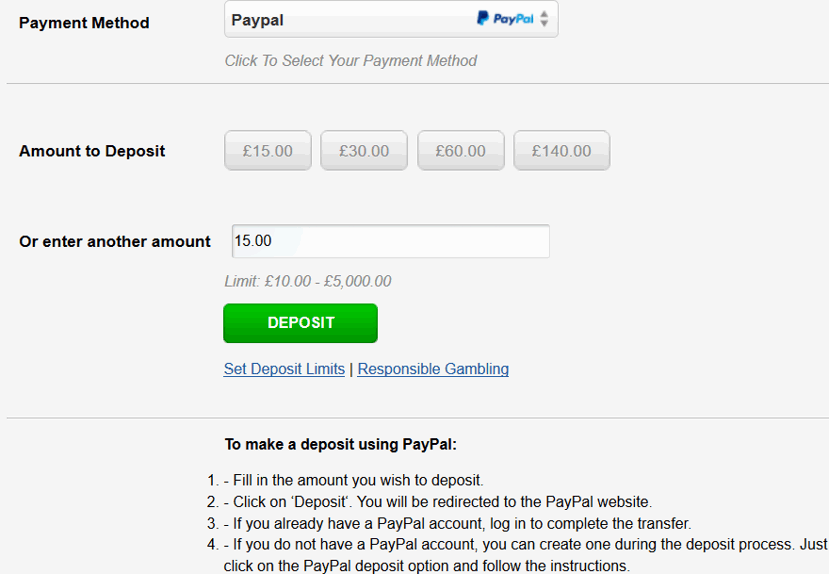 PayPal is in effect just an electronic money transfer service for sending funds between businesses and individuals. A common term given to this type of payment system is the electronic wallet, or eWallet.
The service earns money by charging fees to merchants and sellers for payments and withdrawals, and also by earning interest on deposits, most PayPal services are free for the general user (if banking in the same currency and not using a credit card).
The PayPal service gives the advantage of much quicker transaction times as well as keeping transaction records independent of your main bank account (see benefits section later for more).
PayPal is not a bank as it does not hold money in reserve, as real banks are required to do. PayPal is rather a licenced money sender. Your money is still protected and your funds are held in commercial accounts. PayPal have one of the best anti-fraud and protection systems in the financial industry.
How To Use PayPal for Gambling
PayPal can be used to send and receive money from almost any form of legal retailer, merchant, business or individual, including online casinos and betting sites.
The use of PayPal to fund your accounts is perfectly legal so long as online gambling is legal within the country in which you reside. If you are a UK resident and playing in the UK then the use of PayPal is perfectly fine.
The bank account form which your original funds are added will also usually need to be from a country where gambling is legal. For example, if you have a US bank account and you are currently residing in the UK and want to use that account, via PayPal, to deposit it is highly likely you will be refused.
Indeed, some payment methods, such as American Express, will not let you fund online casino accounts no matter which country or currency you hold an account in.
The safest option is to use a bank account from the same country in which you are trying to gamble online.
Setting up and using a PayPal Account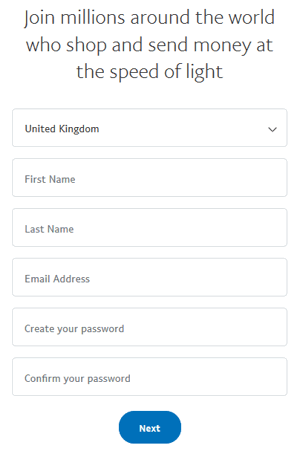 Setting up a PayPal account is very easy, all you require is a bank account in order to add funds and documents to verify your age, identification and residency (to prevent fraud).
Registering takes minutes and requires you to enter the standard details, name, address, etc. Following this you need to add bank account or bank card details.
This may take a couple of days to go through as the bank account must be verified to ensure it belongs to you. PayPal do this by sending a small deposit to your account and to verify you must enter this amount to unlock your account.
You will also be required to send in a copy of your passport, drivers licence or similar ID along with a couple of letters, e.g. utility bills or bank statements, that verify where you live. PayPal will also send a letter to this address containing a code, which must be entered online, to finalise the process.
Once verified and unlocked you can freely deposit and withdraw funds into your account as you wish. Multiple bank accounts and cards can be added to your PayPal account, although each will need to be verified independently.
You do not need to add funds into the PayPal account itself, PayPal can be used, and in fact is most commonly used, to send money direct from your bank/card.
This means funds can be added via PayPal without the need to have money in your PayPal balance. Of course you can preload funds if you want to.
Using PayPal To Deposit / Withdraw Online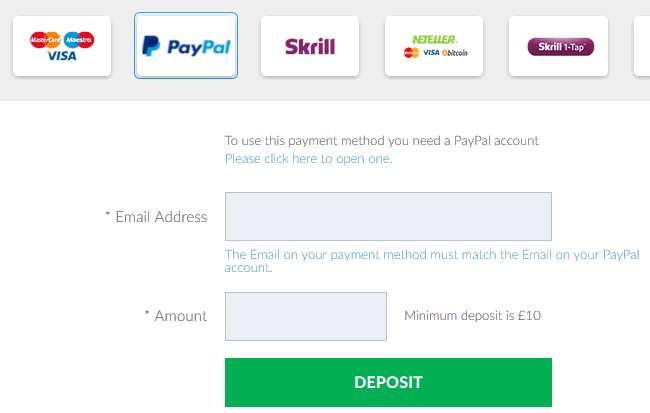 PayPal is free to use to send money and receive money from friends, family and casino/betting sites. The operator themselves may charge a fee however so do check in advance. You should only pay a fee to PayPal itself if you are funding an account in a different currency (3.4% currency conversion charge), or if you are using a credit card. Debit cards and direct bank transfers are free.
Of course PayPal can be used to buy pretty much anything and is free to use unless it involves a currency conversion.
If you are funding a casino account from your PayPal balance you can fund up to the maximum balance amount, if funding direct from your bank/card you can add as much as your own bank limits or the casino sites own limits will allow.
PayPal transactions are quick, the quickest around. The clue is in the name, electronic Wallet, this means both deposits and withdrawals are almost instant. The only major delay is how long your own casino site takes to process the transaction themselves. As soon as the button is pushed on their end withdrawals should take minutes or a maximum of hours.
All you need to set up PayPal as a payment method with a casino is your email username and password and possibly your phone if you are using two-factor authentication. No card numbers or security codes to remember.  An example of a typical deposit screen is shown above.
Benefits of Using PayPal to Play Casino Online
There are several benefits to using PayPal to fund online casino accounts:
Free – If using a bank or debit card to fund via PayPal sending and receiving money is free, if it is in the same currency.
Speed – Payments into PayPal accounts take a fraction of time, hours at most, compared to usual bank card payments which can take days.
Keep Track of Your Winnings – It can be difficult to keep track of deposit and withdrawals in a normal bank account, especially if you use several sites. Many operators also payout under other names. Paying through PayPal allows you to keep a list of transactions away from your usual groceries and bills.
Keep Activity Off Your Bank Statement – For whatever reason you may not want to have gambling companies show up on your usual bank statement. PayPal is a great way to do this, payments in and out show up as PayPal transactions.
More Information About Transactions – PayPal history is more detailed than you get on a typical bank statement. This can make tracking down payment much easier.
One Set of Payment Details to Update – Updating card details when they expire can be tedious if you use them on several sites. If you use PayPal however you only need to update these in one palce.
Quick Registration – Some sites now offer PayPal Quick Reg which uses your details from PayPal to register you without you needing to enter information manually.
Fraud Protection – The benefit of only listing your actual card details with PayPal is they are far less open to fraud than if you have them listed with multiple sites. PayPal's anti-fraud systems are also far more solid than any typical casino.
Bonuses – PayPal are one of the few eWallets secure enough that casino and betting sites will award sign up and introductory bonuses using this payment method.
Responsible Gambling – Using PayPal itself does not help people gamble responsibly but seeing all of your gambling transactions in one place can help you keep track of how much you are losing and winning.
About PayPal
PayPal is the most used online payment service, except for bank card payments. The service has been going since the late 1990s when it was set up to offer a new means to transfer money digitally.
History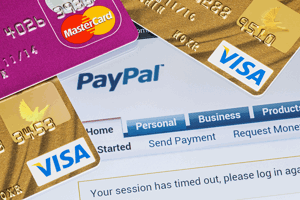 Launching one month apart in late 1998 and early 1999 two competing companies formed, Confinity and X.com, who would later merge to form PayPal. It was Confinity that first launched the PayPal service to the public in the autumn of 1999. X.com, founded by Elon Musk (yes that multi-billionaire rich guy who now runs his own space shuttle company, SpaceX), also launched an online payment service two months later as its primary focus.
Confinity achieved its first major success through association with eBay at the turn of the millennium. The company identified eBay as a great model but lacking an appropriate payment service with buyers and sellers needing to wait days or weeks for bank transfers or cheque payments to go through. A few months later X.com and Confinity merge, with Elon Musk as CEO, and following this the company (then still called X.com) went into a phase of rapid upscaling. This included the closing of the financial services arm of the company to focus on online payment services.
One of the first aspects addressed by the newly merged company was security with X.com becoming the first company to provide buyer and seller accounts that required verification to offer guarantees against fraud. This is one reason why PayPal is the most trusted eWallet today by players and casinos alike. They were also the first to introduce CAPTCHA and software programmes to detect fraud and freeze suspect accounts. In 2001 the company was renamed PayPal and floated publicly in early 2002.
Despite eBay launching their own competing payment service, called Billpoint, it could not keep up with or compete with PayPal. eBay therefore bought PayPal in 2002 for $1.5 billion.
PayPal spent the next 12 years as a subsidiary of eBay. In this time the eWallet became the premier online digital payment service, partly by buying or out competing their competitors, but mainly by being the best. They also cleverly partnered up with MasterCard in 2007 to create a secure card service allowing users to use their online account to pay with merchants that did not accept PayPal directly. By 2008 the company was generating nearly $2 billion in annual revenues.
By 2010 PayPal had acquired over 100 million account users operating in nearly 200 markets within 25 different countries. Following further online and offline acquisitions, partnerships and developments, PayPal finally spun off from eBay in 2014 into a separate publicly traded company.
PayPal is now the go to online payment provider. As of this year the company operates in over 200 countries with over 250 million active members, using PayPal services in 25 different currencies worldwide.
Key Facts
Founded 1998 – by Elon Musk, Ken Howery, Luke Nosek, Max Levchin & Peter Thiel.
Headquarters – San Jose, California, United States
Other Offices – Omaha, Nebraska (Operations); Luxemburg (European HQ); Singapore (International HQ), Scottsdale, Arizona (Tech Centre); Chennai, India (Software Development); Austin, Texas (Data Centre); Multiple (Customer Support).
Revenue – Over $13 Billion Yearly
Net Income – Over $1.8 Billion Yearly
Assets – In excess of $40 Billion
Subsidiary Companies – Braintree, PayPal Credit, Xoom , Venmo, Paydiant & more.
Employees – 19,000+
Countries Active – 200+
Users – Over 250 Million (20+ million in UK)
Currencies – 25+
Contact Information
Website – www.paypal.com
Phone – 0871 976 0728 (UK), 0800 358 7911 (UK), 1-402-935-2050 (from outside US)
Head Office Address – 2211 North First Street, San Jose, California, USA
Email – [email protected]