Bank Transfers, BACS And Wire Casinos
These are nothing new in the online casino industry - in fact they are not quite as taboo as one might assume that they are. Bank transfers or wire transfers are commonplace, however, interestingly it is in more of a less predictable fashion as anyone may think.
Ever since the explosion in popularity of online banking and e-commerce (essentially the ability to pay for things online), this has become the preferred method for most people, across every industry to pay for things, especially from the mid 2000s.
Over the years, there has been many developments in this industry which have, as a result, enabled businesses to operate at an increased speed and customers to acquire what they want more quickly and with more satisfaction.
Online Casinos That Accept Bank Transfers
18+. Play responsibly, BeGambleAware, for help quitting visit
Gamstop
. #ad.
| | Site | FPS | Min Deposit | Deposit Time | Min Withdrawal | Withdrawal Time | Visit |
| --- | --- | --- | --- | --- | --- | --- | --- |
| | BetVictor Casino | No | £5 | 2-5 Days | £10 | 2-5 Days | T&Cs Apply, 18+ |
| | 888 Casino | Yes | £10 | 5-8 Days | £10 | 5-8 Days | T&Cs Apply, 18+ |
| | Betfred Casino | No | £85 | 1-5 Days | £25 | 1-5 Days | T&Cs Apply, 18+ |
| | Energy Casino | No | £10 | 2-5 Days | £20 | 1-5 Days | |
| | Unibet Casino | No | No Min | 2-3 Days | £10 | 3-5 Days | T&Cs Apply, 18+ |
| | Parimatch Casino | No | £5 | 3-10 Days | £10 | 3-10 Days | T&Cs Apply, 18+ |
| | Mr Play | No | £10 | 1-5 Days | £10 | 6-8 Days | T&Cs Apply, 18+ |
| | Gala Casino | Yes | £5 | Instant | £5 | 2-4 Business Days | T&Cs Apply, 18+ |
| | CasinoLuck | Yes | £10 | 1-3 Days | £10 | 8-10 Days | T&Cs Apply, 18+ |
| | 10Bet Casino | No | £10 | 3-5 Days | £1 | 5-7 Business Days | T&Cs Apply, 18+ |
| | Dukes Casino | Yes | £10 | 1-3 Days | No Min (£2.50 fee) | N/A | T&Cs Apply, 18+ |
| | NetBet Casino | No | £10 | 2-4 Days | £10 | 4-12 Days | T&Cs Apply, 18+ |
| | Paddy Power | Yes | £5 | 1-5 Days | £10 | 1-5 Days | T&Cs Apply, 18+ |
| | Mr Green Casino | Yes | £10 | 3-5 days | £10 | 1-5 days | T&Cs Apply, 18+ |
| | UK Casino Club | Yes | £10 | 2-5 Days | £300 | 6-10 Days | T&Cs Apply, 18+ |
| | Betfair Casino | Yes | £10 | 2 Days | £10 | 3-5 Days | T&Cs Apply, 18+ |
| | 32Red Casino | No | £10 | 3-5 days | £100 | 3-5 days | T&Cs Apply, 18+ |
| | 777 Casino | Yes | £10 | 4-7 Days | £10 | 4-7 Days | T&Cs Apply, 18+ |
| | William Hill Casino | Yes | £25 | 3-5 Days | £25 | 3-5 Days | T&Cs Apply, 18+ |
| | Pots Of Luck | No | £10 | Up to 4 Days | £10 | Up to 6 Days | T&Cs Apply, 18+ |
| | Coral Casino | No | £5 | 2-5 Days | £5 | 2-5 Days | T&Cs Apply, 18+ |
| | Ladbrokes Casino | No | £10 | 1-5 Days | £0.01 | 1-5 Days | T&Cs Apply, 18+ |
Looking for betting sites and Bookmakers that accept Bank Transfers?
The History of Online Banking and Bank Transfers.
It is perhaps hard to fathom the days when you had to go to an actual bank and queue in order to make any transactions, however this did used to be a common occurrence. Such was the shift to online banking regarded that much of a major flagship move, that there is now even a day to commemorate it! Online Banking Day is October 8th.
Interestingly, the earliest recorded method of what can be perhaps associated with 'online banking' was in 1983 when Bank of Scotland offered a service to their customers called 'Homelink'. This is where customers had to connect to the internet via their televisions and telephones which then enabled them to be able to pay their bills and make transactions. Essentially, this is when 'online banking' was born.
It wasn't until another 11 years when advancements in online banking came, and that was in America. The Stanford Federal Credit Union triggered wide scale shift to internet banking, when it became the first financial institution to offer the service to its customers.
Not long after this, Presidential Bank became the first bank to allow customers to access their accounts online. Interestingly, the benefits of internet banking soon became increasingly in demand and as a result, most of the other banks began to offer this service.
In 1996 the aptly named 'Netbank' was founded and due to it not having actual physical branches, it had to pay higher than normal interest rates. The company had a successful reign during its tenure, benefiting considerably from the 1999 .com bubble and also completed some promising acquisitions.
Increased US Popularity
Just over a decade after forming, as the global financial crisis hit, Netbank ceased its operations.
It seemed that internet banking had become a considerable success in America. So much so, that by 2001 the Bank of America had three million customers who used their online service. This, at the time, was equal to 20 per cent of its total customer base, which even then was quite impressive as more and more customers were starting to understand the perks of online banking.
In 2006, 80 per cent of banks in America were offering an internet banking service and by then, there had been significant improvements around connectivity, especially with regards to wireless internet services.
Around this time, in conjunction with another industry which was beginning to take off (e-commerce), the more premier financial institutions began to create attractive differentiations by way of more and better products, especially for this industry.
This helped to build authenticity in the eyes of some of the initially sceptical customers, who by now realised a credible need for online banking, due to the rise in internet shopping services such as Amazon. Internet banking was now considered to be mainstream and showed no signs of going away.
Online Banking Gains Momentum In Other Industries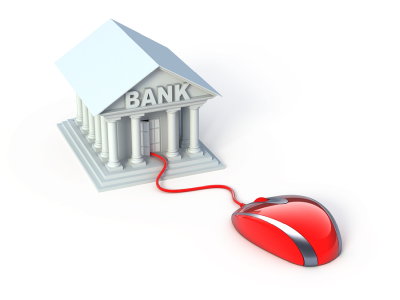 By 2010, online banking and the act of making a wire transfer had become so commonplace that a survey on consumer billing and payment trends that was conducted by a company called Fiserv, yielded results which surprisingly found that online banking was growing at a faster rate than the internet itself!
Online banking was now considered to be 'the norm' where the majority of consumers were concerned. By now, every bank offered the ability to use an internet service, with the ability to check balances, make transfers, set up direct debits and standing orders as well as order other new products such as cards.
The e-commerce industry had started to boom more than ever before as people ditched the typical high street shop and surfed the internet, with an increasing amount of websites now available that sold products and catered for online banking.
Around a similar time that online banking began to boom, the iGaming industry was also building momentum and growing in popularity. Where in the early 2000s there weren't many solely online gaming websites (most had physical stores), it had now become easier than ever before to set one up and have integrated payments.
One of the reasons for this, quite simply, is that there were now software companies who essentially provided this service for you at an affordable rate (there were now more of these) and as a result took care of the payment integration.
The Importance of Online Banking To iGaming
Gambling firms take the banking side of their business very seriously; bank transfers are still the most common way for customers to deposit money into their gambling accounts and for good reason.
It is one of the most convenient and quickest ways to have funds readily available to gamble with and the process couldn't be any easier.
All a customer has to do is register their card details when they sign up to gambling website and then to make further future deposits, they are only prompted for their CSC number (last three digits), to then have the funds available.
Also, with banking apps and gambling apps now available, the ability to do this at an even quicker rate (rather than struggling with a mobile internet browser) prompted an increase in the popularity of certain gambling products, such as In Play betting.
Mobile is now the most popular way of gambling, especially in the UK and this is expected to increase considerably as handsets become even better with more optimum designs, longer battery life and potentially, remote charging possibilities.
Despite some major advancements in financial technology over the years, which has led to innovative payment apps and gateways (such as PayPal), there are still those who find the act of bank transfers easier to do. Most of the time, gamblers are not even really thinking about the other options that are available due to their haste to make a wager.
Online Security Measures Taken By Gambling Firms
It has meant that gambling firms have to take their online security very seriously and as a result, they spend considerable amounts on a yearly basis to make sure that their customers are kept safe online.
Also, one of the stipulations of any gambling company, is that it needs to have licensing in place (such as from the UKGC - UK Gamling Commission). What this means is that they have to adhere to a certain set of rules, such as having the relevant financial security measures implemented.
Every company's gambling site needs to have an SSL certificate, which stands for Secure Sockets Layers. What this technology does is establish an encrypted link between the web browser and the web server, ensuring that all data stays private.
This is particularly important with regards to the act of making bank transfers for online gambling customers. Most online casino security is so well encoded, that any customer details would appear as complete nonsense to any outside threats or malicious hacking attempts.
Almost all online casinos (especially the more established ones) have dedicated teams and departments which specialise in watching out for fraudulent activity on their customer's accounts, so that any attempt can be combated immediately.
What Does The Future Hold For Banking In iGaming?
Although there are now many other options for customers to deposit and withdraw, bank transfer is still arguably the most popular way, due mostly down to the convenience of doing it.
However, there could still be some developments in order to make the process even more seamless. Currently most online casinos have daily deposit limits for bank transfers, most of which are quite generous, however with more and more legislation coming into place and concerns over the rise of problem gambling, sites could be forced to decrease these available limits.
Perhaps the biggest development in the future around bank transfers will be associated to mobile though.
With both the banking industry and the gambling industry offering apps for both services, it may not be too far a leap to suggest some form of integration in the future, to make the process even more convenient for their respective customers.