Complaining About a Casino
When it comes to the gambling industry, casinos have a strict code of conduct and legislation that they have to adhere to. This is enforced by the casino's relevant authority, such as the UKGC (United Kingdom Gambling Commission), who regularly monitor all gambling institutions for quality and conduct.
Every casino and operator will have their own complaints procedure though, and these may be substantially different from one another in terms of the steps that are in place and what is required of the customers. Some may be particularly regimented, while others might give customers a choice in terms of how they are able to get in touch etc.
In this article, we have provided an in-depth guide which details what is typically involved in a casino's complaint process and what is needed from the customer, as well as looking at how customers are protected by the authorities and notable cases which differ from each other.
Contact Information For Popular Casino Sites
18+. Play responsibly, BeGambleAware, for help quitting visit
Gamstop
. #ad.
| Casino | Contact Email | Contact Phone | Review | Visit |
| --- | --- | --- | --- | --- |
| | This email address is being protected from spambots. You need JavaScript enabled to view it. | 0800 047 0965 | - | |
| | This email address is being protected from spambots. You need JavaScript enabled to view it. | 0808 180 3232 | Review | |
| | This email address is being protected from spambots. You need JavaScript enabled to view it. | 0203 876 8709 | Review | |
| | This email address is being protected from spambots. You need JavaScript enabled to view it. | 0203 876 8708 | Review | |
| | This email address is being protected from spambots. You need JavaScript enabled to view it. | 0800 028 8365 | Review | |
| | This email address is being protected from spambots. You need JavaScript enabled to view it. | 0344 871 0000 | Review | |
| | This email address is being protected from spambots. You need JavaScript enabled to view it. | 0800 028 7747 | Review | |
| | This email address is being protected from spambots. You need JavaScript enabled to view it. | Call Back Service | Review | |
| | This email address is being protected from spambots. You need JavaScript enabled to view it. | 01384885040 | - | |
| | This email address is being protected from spambots. You need JavaScript enabled to view it. | 01384 885045 | - | |
| | This email address is being protected from spambots. You need JavaScript enabled to view it. | 02033189367 | Review | |
| | This email address is being protected from spambots. You need JavaScript enabled to view it. | 0800 44 00 11 | Review | |
| | This email address is being protected from spambots. You need JavaScript enabled to view it. | 01384 886435 | - | |
| | Form On Site | No Phone | - | |
| | This email address is being protected from spambots. You need JavaScript enabled to view it. | 0203 608 6491 | Review | |
| | This email address is being protected from spambots. You need JavaScript enabled to view it. | 0800 294 7294 | Review | |
| | This email address is being protected from spambots. You need JavaScript enabled to view it. | 0800 083 1990 | - | |
| | This email address is being protected from spambots. You need JavaScript enabled to view it. | 0800 032 1133 | Review | |
| | This email address is being protected from spambots. You need JavaScript enabled to view it. | +44 808 169 9799 | Review | |
| | This email address is being protected from spambots. You need JavaScript enabled to view it. | 0800 279 7342 | - | |
| | This email address is being protected from spambots. You need JavaScript enabled to view it. | 0800 279 2688 | Review | |
| | This email address is being protected from spambots. You need JavaScript enabled to view it. | 01384 884468 | Review | |
| | This email address is being protected from spambots. You need JavaScript enabled to view it. | +441765522017 | Review | |
| | This email address is being protected from spambots. You need JavaScript enabled to view it. | 02033189367 | - | |
| | This email address is being protected from spambots. You need JavaScript enabled to view it. | 01384 884466 | - | |
| | This email address is being protected from spambots. You need JavaScript enabled to view it. | +44 20 3608 6024 | - | |
| | Live Chat Only | 0800 056 5275 | - | |
| | Form On Site | Call Back Service | - | |
| | This email address is being protected from spambots. You need JavaScript enabled to view it. | 01384 884469 | - | |
| | This email address is being protected from spambots. You need JavaScript enabled to view it. | 0161 870 5948 | - | |
| | This email address is being protected from spambots. You need JavaScript enabled to view it. | Not available | Review | |
| | This email address is being protected from spambots. You need JavaScript enabled to view it. | 0800 031 4961 | - | |
| | This email address is being protected from spambots. You need JavaScript enabled to view it. | 0808 238 6061 | - | |
| | This email address is being protected from spambots. You need JavaScript enabled to view it. | 0800 279 7632 | Review | |
| | This email address is being protected from spambots. You need JavaScript enabled to view it. | 0800 6340163 | Review | |
| | This email address is being protected from spambots. You need JavaScript enabled to view it. | 0800 329 393 | Review | |
| | This email address is being protected from spambots. You need JavaScript enabled to view it. | No Phone | - | |
TLDR*
Of course, you might be in a real hurry to get an issue dealt with, so if that sounds like you, here it is in brief:
Gather as much evidence as possible (screenshots etc)
Have any ID and documentation handy just in case it is needed
Contact the casino as instructed by their complaints procedure
Keep notes and evidence of all contact made and answers received
If unresolved, escalate the matter to an independent body such as IBAS, the ASA, or UKGC.
Be patient, polite, and prepared to answer any questions they may have.
Screenshots are particularly useful if you can get them, as are timings, dates, and any other supporting evidence. You should have all this prepared so that you can send it as soon as requested to avoid delays.
By doing everything by the letter you leave the casino no room to get you on a technicality (not that many would necessarily try) so follow their instructions diligently and always conduct yourself with good manners.
You want to keep evidence of these exchanges too in case the complaint needs to go further, so don't delete emails or throw away letters and keep a log of any live chat interactions.
Finally, on your initial contact be as thorough as possible with your description of the issue, explain why you are complaining and be clear as to what you would like done about it. This sets the right tone from the beginning and means that both parties know exactly what is being asked for.
There is your 2 minute tutorial, but for a more thorough understanding of the subject read on.
*TLDR is an internet acronym for 'Too Long Didn't Read' for anyone who was wondering.
Who Handles Customer Complaints & How?
The way in which a casino responds to a complaint from a customer reflects significantly on their business and how they are perceived in the marketplace. The Gambling Commission are particularly vocal about how operators should handle complaints and are keen for the industry to set a leading example.
In the gambling industry, the consumer complaints process is especially influenced by the UK ADR (Alternative Dispute Resolution) regulations as well as the Gambling Commission's LCCP (Licence Conditions and Codes of Practice) for its licensed companies.
Meanwhile, the National Lottery operator has requisite conditions included into its gambling licence. What this means is that the ADR, Gambling Commission, and the businesses themselves are all equally accountable.
Let's look into each party in turn.
The Gambling Operator
Essentially, the gambling operator is required to have a written procedure when it comes to handling customer complaints and disputes. This must feature all of the necessary steps that a customer has to take to make a complaint, and this is by order of the LCCP social responsibility code provision. The initial step of the resolution process requires the operator to try and resolve the complaint by themselves whether this be online or in their premises.
Should a complaint not be resolved following this initial step, it is crucial that an operator has the required processes implemented for their customers to refer a dispute to an ADR provider, and it is mandatory that this be a free service for the customer. In addition, it is necessary for the operator to actually refer customers to this ADR provider.
'Disputes' and 'complaints' relating to the gambling industry have been classified by the LCCP as the following:
A 'complaint' refers to any issue that relates to any part of the licensee's conduct of the licensed activities. An example of this could be a complaint relating to the conclusion of a customer's gambling activities or worries about how the operator goes about their business.
A 'dispute' is in relation to any issue regarding the outcome of the customer's transaction, which may not have been resolved during the initial phase of the operator's complaints procedure and as a result, it is only a dispute that can be referred to an ADR provider.
The gambling operator is bound by these rules as a condition of operating.
ADR Provider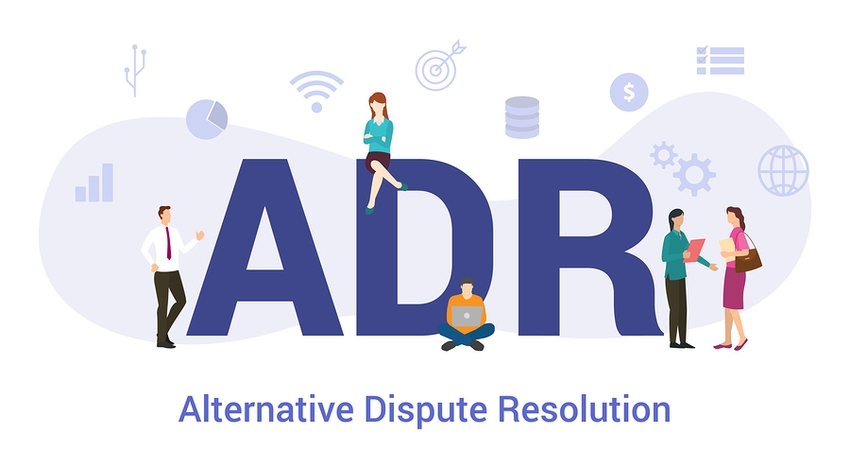 It could be that a customer makes the choice to further their dispute, and as a result gets in touch with the ADR provider that is listed in the operator's complaints procedures - although they can also request the details of an alternative ADR service. This, however, is only allowed if the operator agrees to it and there have been cases where it has been refused in the past.
What is important to note, is that customers can choose not to refer to the ADR provider and have the option to go straight to the courts if they wish and should feel that the matter warrants this. Ultimately though, this can be a more expensive option for the customer and there are no guarantees that the case will go in their favour.
A particular requirement of the ADR provider is to notify each party that is involved when they have received all of the relevant documentation relating to the matter at hand and also allow the customer and the operator to make any further comments that they wish about the documents to substantiate their case.
Within a maximum duration of 90 days after receiving all of the necessary documentation, it is required for the ADR provider to notify both parties of their decision. Should the case be particularly complicated then exceptions can be made to this rule, and if so the ADR provider is required to notify both parties when they can expect to receive a decision. If the dispute relates to a figure that is £10,000 or less, the decision should be binding on the operator if this is accepted by the customer. For those over £10,000 it is not binding.
Customers should take into account though, that an ADR provider has the option to turn away complaints under particular circumstances, such as if they are considered to be extravagant, or a customer has not made any attempts to try and resolve the issue with the operator first. If complaints do not relate to outcomes of a gambling transaction and are to do with something that is completely different then ADR providers are not able to do anything.
If and when a customer is not happy with the decision that the ADR provider has made, they can then approach the courts and take the matter further, however this can prove to be expensive and operators usually have considerable resources to fight cases for longer as well as in house attorneys.
The Gambling Commission
It is the Gambling Commission's role to approve all of the ADR providers and subsequently make sure that they adhere to all of the relevant regulations that are associated and continue to do this.
Key to the role of the UKGC is to make sure that operators meet three essential licensing objectives at all times. This means that they are required to work with licensing authorities and provide licenses to those operators that meet the Commission's requirements enabling them to offer their services to customers in the UK.
However, contrary to popular belief, resolving complaints for customers and helping them to retrieve their money is not part of what the Gambling Commission does.
But one thing that customers can report on is how a company is being operated, and following this the Gambling Commission can conduct their own investigations to understand whether an operator is breaching any of its license conditions.
Customers are also able to make reports to the Gambling Commission if they find that they are not happy with the conduct of their ADR provider, and they will consider this when reaching a decision as to whether the provider continues to meet the conditions of the ADR legislation. However, the Gambling Commission has no influence on the ADR provider regarding a decision about a dispute.
Because of all of this, it is so important that each of the relevant bodies carries out their roles to the letter, and when this does happen everything runs smoothly.
Who are the Approved ADR Providers?
For those who are wondering, there are a number of approved ADR providers that customers may end up being referred to by the gambling operator.
In October 2018, the Gambling Commission introduced new standards for ADR providers to adhere to, which include extra standards relating to:
Decisions that an ADR provider can offer
More clarity and independence
Quality and consistency
Sharing information and data regarding complaints
Customer service
The ADR providers that are approved by the Gambling Commission are listed below, and are the only ones which operators are allowed to work with. You can also see which sectors they work in.
How ADR Providers are Approved, Criteria, & Process
One thing that customers can be assured of is that the process behind ADR providers becoming approved is meticulous. They are vetted in detail and carefully selected to ensure that they are suitably equipped to fulfil their role as fundamentally independent adjudicators of the gambling industry.
Each ADR provider is required to prove that they meet a series of conditions to receive approval from the Gambling Commission, and they include:
Ensuring their website is consistently up to date in order that the information provided about their procedure is accurate and transparent and this includes the time taken for each case.
Allowing each customer complaint to be submitted online or by post and enabling any future exchanges of information electronically.
Confirming that they have sufficient understanding of the law as well as out of court settlements and also knowledge of judicial dispute resolutions.
Making sure that they can prove to the Gambling Commission that every ADR representative is completely unbiased and are not at any time paid based on the decision of a dispute or in any other way paid off by the operator.
Ensuring that they have procedures in place to prevent any conflicts of interest from arising.
Notifying both parties in a dispute of the outcome within the allotted time allowed (90 days).
Making sure that parties of the dispute are able to respond should they wish, as long as they are able to put forward supporting evidence.
Letting each party know that they can withdraw from the dispute at any stage.
How Does the ADR Reach a Decision?
When making decisions about complaints and disputes, the ADR has a process in place which they are required to follow, although each provider differs in a number of ways. There are some that have one official who is responsible for making the overall decision, while if the decisions are more of a complex nature this then reverts to a panel. This panel is required to consider all of the evidence that has been gathered by the case manager. There are other providers who offer a service of mediation as opposed to adjudication, where the provider will make a decision dependent on the evidence submitted by each party.
The mediation service is in place to help each party reach a mutual agreement, and in some cases it is not necessary for an ADR provider to step in at all because a settlement has been reached which removes the need for further action.
There are quite a lot of cases where an agreement can only be achieved based on the preliminary work of the ADR provider. IBAS (who are an ADR provider) reports that in 2016, 41% of cases were conceded by the operator due to the fact that they either admitted wrongdoing or conceded as a gesture of goodwill. Generally though, it is not possible to really assess the quality of the decision from the ADR provider looking purely at the number of cases that they made rulings on, regardless of whether this was in favour of the operator or customer.
Availability & Clarity of Complaint Procedures
What you may find, just like ADR providers, is that operators can vary in their approach to complaints from a number of different angles, such as:
How the information is displayed and where their customers can find it on their website
The particular steps that they take and what these are called (some operators may have a different name for these though essentially are the same)
How they handle complaints from a quality of service perspective
The channels of communication that are available for customers
A lot of operators tend to present their complaints procedure in a number of locations on their website. Some may have this in their 'About' or Responsible Gambling section which is usually displayed as a link in their footer, while others will have this in their Terms and Conditions (again in the footer). However the T's and C's are often littered with language that is hard to understand, vaguely worded, and generally favours the operator in terms of distinguishing clarity.
The decision on where to put this information could even be tactical from the operator's perspective. For example, they may decide to put it into a long and extensive document such as the Terms and Conditions where they think the customer might be deterred from looking - the language in these is often riddled with legal minutiae which is baffling.
On average, according to the Gambling Commission the length of a Terms and Conditions section on an operator's website is 9,500 words - which is about 20 A4 pages depending on font size. There have been instances where ADR providers have received complaints from customers who had not read an operator's complaint policy because they simply couldn't find it. This has led to requests for the complaints procedure to be more easily and obviously available, such as being presented as a separate link on its own dedicated page.
Astonishingly, only 39% of the operators surveyed by the Gambling Commission in 2016 provided information on how long they could be expected to take to resolve a complaint. Regional lotteries, it was found, appeared most likely to provide this information, possibly due to the more intimate, community-driven nature of their offering. From a wider perspective of the industry as a whole, it was found that policies provided only a small amount (if any) of information relating to whether a customer could expect a complaint to be acknowledged or be contacted about the next steps.
Every policy that was reviewed however, did give the customer an indication about the availability of an ADR provider and this is a strict requirement of the Gambling Commission for operators who fall under their purview. Availability of further information about the procedure varied depending on the operator, with just 17 percent of all operators presenting information about the ADR provider being free for their customers.
Why Do Customers Complain?
There are a number of reasons why a complaint may be submitted against an operator, each one differing in terms of severity.
Let's take a close look at why complaints are lodged and whether these can be justified.
Terms and Conditions
As already touched upon, terms and conditions can often contain a lot of language that is hard to understand and be presented in a way that can deter customers from reading them. This is one of the most common complaints that is submitted by customers in the industry.
The length of such documents can be an instant turn off from a player's perspective, especially due to the fact that most terms have sub-clauses which themselves can have sub-clauses leading to a minefield of information.
This is something that the UKGC especially are already aware of, and they constantly implement new measures that online casinos have to follow to ensure that the language is presented in a clear and concise manner. Where further problems arise though, is that each measure opens up a new loophole that online casinos will take advantage of and the fact that many have their own in-house counsel (lawyers), means that they will do all that they can to get around these.
Typically, the vast majority of complaints that are associated with the terms and conditions are related to an online casino's welcome packages and bonuses. The problem arises from wagering requirements and while these are mentioned both on the offer and the terms and conditions, many players are not aware exactly what the term 'wagering requirements' means.
If you saw '35x Wagering' in an offer, bonus, or promotion, this means that a customer has to spend the amount in question 35 times for their bonus winnings to be unlocked, and they are often not aware of this. On the face of it, an offer may look very attractive to the customer though in reality there is usually a catch which benefits the online casino more.
Withdrawal Duration
This can be a common problem for customers in the gambling industry. Some online casinos can take a long time to process withdrawal requests, and this basically happens because the casino can get away with it. Sometimes it is beneficial for them to hold money for as long as possible to make their accounts look favourable over a certain period. Because of this, when a customer makes a complaint about withdrawal durations, the casino will often process the transaction straight away as they do not want to attract attention to their creative accounting. To cover themselves, online casinos will usually have a disclaimer saying how many working days that customers can expect to wait for withdrawals to complete.
In some cases though, there are legitimate reasons for delays in withdrawal such as what day of the week that it is (weekends are not classed as 'working days') and whether it is a bank holiday. Also, it can often depend on the withdrawal method that a customer uses; for example, online payment gateways like Skrill or PayPal can differ in their processing times, while individual banks can also have their own transaction processing period.
A big win in a lot of cases may need to be verified by the online casino which is usually highlighted in their terms and conditions, while a customer's ID documents not having been processed is another thing that could slow the process down.
Technical Glitches
While these can be frustrating from a customer perspective, these can happen on every website, not just gambling ones - though online casinos are powered by some of the most advanced technology platforms in the world so glitches are generally quite rare.
When these errors happen though, these glitches can interrupt a customer's gameplay, void wins, and delay online processes from a user perspective, however, records are usually kept and matters like these are often resolved.
If you do feel particularly inconvenienced by these glitches though you can make a complaint and the most reputable online casinos will compensate you sufficiently – it may even be protocol for them to do it automatically.
You may sometimes receive an email from their marketing department that gives you so many free spins for example and you just need to 'Opt In' to receive them.
Self Exclusion
This has become a hugely important requirement for online casinos and it essentially means that you have the right to self exclude yourself from an online casino site. As such, you will no longer have access to your account or be able to login for a certain period of time.
It also means that online casinos are prohibited from sending you any marketing material, particularly in the form of promotion bonuses.
This is all to help encourage, aid and promote responsible gambling.
If you have self-excluded yourself and you still receive these then you have a very strong case to make a complaint and this also goes for if you are able to still log into your account.
In the majority of instances, self exclusion exists for those customers who have or who begin to develop a problem with gambling and is the main reason it was imposed by the Gambling Commission.
Complaining to an Online Casino: Step by Step
When it comes to making a complaint to an online casino, each one will follow an industry standard process, however, the way that this is presented and where to find it can differ.
Generally, the first thing to do is to contact the online casino directly in writing through their customer support section, with email being the best way of doing this because it keeps a clear record of correspondence. If you use the Live Chat function, you will most likely be asked to file your complaint via email anyway, though if you can't find the procedure anywhere then the agent will either refer you to their 'How to make a complaints' section or list the steps that you need to take, so live chat can be a short cut in that regard.
In your email, you need to list the following information:
Your account username
First name and surname
Your contact details
Following this, you should give a detailed account of your complaint including dates, times, and any supporting evidence which you feel could help your case. As well as this, you can ask the online casino to acknowledge that they have received your complaint and also an answer on how long you can expect to wait for them to look into the matter and come back to you with a solution.
After the receipt of your email, the online casino will then carry out an investigation internally, which often takes about a week, however if you feel that your complaint is not being handled in a serious enough manner, you can request that it be escalated to a manager.
When the online casino has looked into your complaint, it will respond to you with a proposed solution, and if you are happy with it then the case will close. If you are not, this is when you can get in touch with an ADR who will conduct another investigation.
Player Protection & Complaint Prevention
There are a number of procedures that online gambling companies have in place to ensure that they do not generally receive too many complaints, or that at least they are kept to a minimum. Let's take a look to see what online casinos are doing to help provide a smooth level of service and prevent complaints being made.
KYC
This is a crucial part of an online casino's player registration process and is an initiative that the Gambling Commission brought in to keep tighter control of a number of issues that were plaguing the industry.
It is mandatory for every online casino that is licensed by the UKGC to carry out a KYC check on their customers.
The term 'KYC' means 'Know Your Customer' and this process involves a series of checks which help to ascertain exactly who the customer is. This means that the new customer is required to submit various documents which help to prove who they are such as proof of ID, proof of address, and proof of payment method, with each one typically cross-referenced as well as they can be.
Proof of ID: The forms of ID that are usually required by an online casino are government issued, such as a driver's license or passport. The best way to ensure that this process goes as smoothly as it can is to make sure that the form of ID that you submit is as clear as possible. This means no blurriness, nothing cut out of the picture, and crucially that it is in date as online casinos do not accept ID documents that have expired.
Proof of Address: These documents are needed by the online casino to prove that you live where you say you do, and you won't be able to use your account properly without them. Online casinos typically need a document that includes both your name and address on it and as such the ones which are usually accepted are bank statements and utility bills as well as any other form of government issued document. Of vital importance is to make sure that the document is no older than three months from the date that you submit it.
Proof of Payment Methods: Up until April 2020, online casinos in the UK accepted credit cards, however, in line with Responsible Gambling procedures these were banned. Other forms of payment methods that online casinos offer include internet payment gateways such as PayPal, Skrill, and Neteller, however, these still have to be verified.
Encryption
Another way that online casinos try and reduce complaints is by ensuring that their websites are encrypted with the best software so that customer details cannot be stolen.
While this is industry standard, there is still a chance that any website can be breached, however, this is extremely rare, especially in the online gambling industry. It has happened though, and is certainly worthy of a complaint if it does!
Fraud Prevention
This can form the basis for a lot of complaints in the industry and often stems from players with gambling problems who use stolen funds (either from employers, family members, or friends) and more often than not end up losing it all.
While online casinos are more vigilant than ever and thorough in their registration process (particularly 'KYC) there are some cases which still slip through the net.
Quite often, online casinos will look out for suspicious wagering patterns and even have teams that do this specifically, while some ask for proof of a player's income – known as a 'source of funds' check - as part of the registration process or when larger sums of money are deposited.
This is how many online casinos have been able to keep a tighter check on fraud to reduce the risk of complaints.
Final Thoughts
With the online casino industry anticipated to grow significantly over the next decade, it is more important than ever before that it has a firm handle both on the complaints procedure, but also have consistent and thorough prevention methods which can help to mitigate the risk of complaints.
Ultimately, everyone involved in the industry as a whole is accountable for what occurs including the relevant gambling commissions, because at the end of the day, they exist to monitor online casinos and make sure that they are following the rulebook.