Gambling is big business here in the UK, although we are not the biggest country in the world for this sort of entertainment, and the rules are different wherever you go.
The world as a whole likes to gamble, seeing as there are casinos in a vast majority of the countries out there, but every country handles things in their own way.
For example, some countries allow pretty much anything, some say brick and mortar casinos are ok but online gambling is banned, whereas in other all forms of gambling are illegal.
North Korea has even banned gambling outright but made an exception for Chinese tourists, so there are casinos operating there even though it is supposedly illegal!
When it comes to real life casinos though, wouldn't it be interesting to know which countries have the most of them?
That's why we're here, to do the digging for you.
How Many Casinos in the Whole World?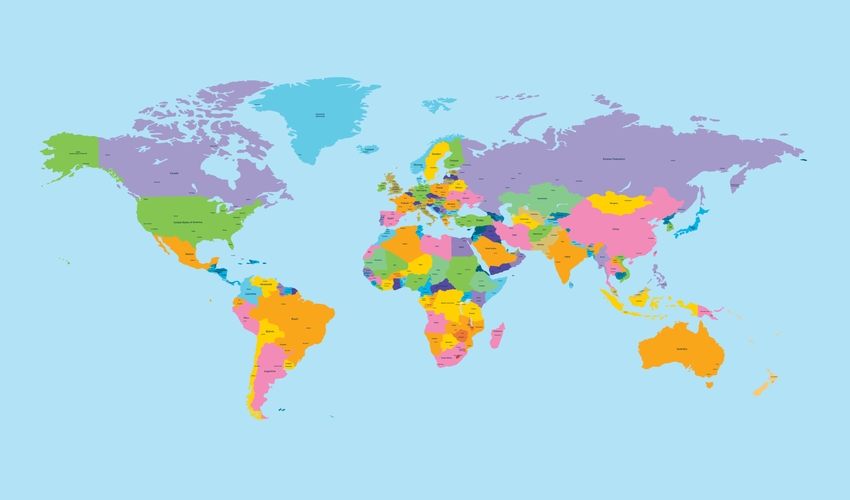 Believe it or not, this is actually a question we can answer with some degree of accuracy.
Casinos don't tend to open and close all that frequently, not in large numbers anyway, so as long as they are legal licensed venues there is a record of them and they can be counted.
That allows us to draw up a list, accurate as of 2020, of not only how many casinos are operating in the world but where they are too.
We calculate a little over 6,500 casinos, but the numbers will obviously fluctuate from year to year. In general, between 6,500 and 7,000 is a good estimate at any one time, and as a general picture of how the casino land lies the list below is pretty good.
There are some surprising findings here so have a look for yourself:
| Country | # Casinos |
| --- | --- |
| United States of America | 2,120 |
| Romania | 453 |
| Czech Republic | 421 |
| United Kingdom | 284 |
| Slovakia | 224 |
| Canada | 216 |
| Mexico | 209 |
| France | 189 |
| Netherlands | 188 |
| Croatia | 153 |
| Latvia | 123 |
| Argentina | 112 |
| Germany | 86 |
| Colombia | 80 |
| Philippines | 72 |
| Spain | 67 |
| Panama | 63 |
| South Africa | 60 |
| Lithuania | 60 |
| Australia | 59 |
| Cambodia | 54 |
| Albania | 54 |
| Austria | 53 |
| Macau | 49 |
| Estonia | 49 |
| Kenya | 41 |
| Peru | 41 |
| Vietnam | 40 |
| Slovenia | 39 |
| Cyprus | 38 |
| Italy | 38 |
| Dominican Republic | 35 |
| Costa Rica | 32 |
| South Korea | 32 |
| Ireland | 31 |
| Chile | 31 |
| Belarus | 29 |
| Japan | 26 |
| Egypt | 25 |
| Switzerland | 24 |
| Barbados | 22 |
| Zimbabwe | 22 |
| Puerto Rico | 21 |
| Bosnia & Herzegovina | 20 |
| India | 20 |
| Paraguay | 19 |
| Russia | 18 |
| Poland | 17 |
| Uganda | 17 |
| Mauritius | 16 |
| Finland | 16 |
| Uruguay | 16 |
| Bulgaria | 15 |
| Curacao | 14 |
| Aruba | 14 |
| Ghana | 14 |
| Kazakhstan | 13 |
| Nigeria | 13 |
| Jamaica | 13 |
| Tanzania | 12 |
| Nepal | 12 |
| Zambia | 11 |
| Portugal | 11 |
| Sint Maarten | 11 |
| Belgium, Botswana, Hungary, Angola, Singapore | 10 |
| Turkey, Georgia | 9 |
| Senegal, Greece, Nicaragua | 8 |
| Macedonia, Northern Mariana Islands, Denmark, Benin, Mozambique, Trinidad & Tobago, Norway, Morocco, Seychelles, Madagascar | 7 |
| Hong Kong, UAE, Belize, Antigua & Barbuda, | 6 |
| Myanmar, US Virgin Islands, Malta, Malawi, Malasia, Bahamas, Namibia, Sri Lanka, Tunisia, Democratic Republic of Congo, New Zealand, Monte Negro, Sweden | 5 |
| Vanuatu, Suriname, Swaziland, Lichtenstein, Reunion, Serbia, Monaco, Cameroon | 4 |
| Gibraltar, Gambia, El Salvador, Equatorial Guinea, Bermuda, Laos, Liberia, Rwanda, Ukraine, China | 3 |
| Cape Verde, Venezuela, Sierre Leone, Guadeloupe, Bonaire, Martinique, Saint Kitts & Nevis, Samoa, Dominica, Algeria, Turks & Caicos, Guatemala, Thailand, Guyana, Lebanon, Honduras, New Caledonia, Haiti, Armenia, Gabon, Moldova | 2 |
| Mali, French Polynesia, Djibouti, Burundi, Brazil, Netherlands Antilles, Saint Lucia, Andorra, Turkmenistan, Lesotho, Luxembourg, Ivory Coast, South Sudan, Saint Martin, French Guiana, Aland Islands | 1 |
To save you counting, we can tell you that there are 156 countries on this list, out of 195 countries in the whole world.
This means that bang on 80% of the countries in the world have at least one legally operating casino on their shores.
We are talking about proper casinos here too, not the Admiral slots halls you sometimes find in shopping centres and the like. Places with blackjack dealers and roulette tables, and free drinks if you are playing the slots.
Some of those not on the list are the stricter more religious countries like Iran and Qatar, where gambling is illegal in all forms (which incidentally causes a huge black-market problem), and others are just too small to make a casino viable, like Nauru and the Marshall Islands.
Other smaller countries have a disproportionate number of casinos considering their size, but some of these such as Gibraltar (34,000 population & 3 casinos), Curacao (155,000 population & 14 casinos) and Malta (525,000 population & 5 casinos) are to be expected given their relationship with gambling – all are offshore tax haven bases for the big gambling companies.
Anyone who has ever played in the live casinos will be used to hearing Eastern European accents from the dealers there, so the fact that countries like Romania, Slovakia and the Czech Republic are near the top of the list makes sense.
We might have expected to see higher numbers from the likes of Russia, who only have 20 casinos for a population of 144 million, but much of the Eastern population are spread out very thinly, and who really knows what goes on there anyway.
Cities with the Most Casino Density
Of course, a country like America might well have thousands of casinos, but they won't be equally spread out.
Casino tourism is a real thing, and certain parts of the world are renowned for their casinos and other forms of gambling entertainment, so the number of gambling establishments in these areas will be far higher than in most other places.
Nevada, for example, has 433 casinos as of 2022, whereas the state of Utah has none; so even though America as a country has 400% more casinos than Romania who are second on the list, certain parts of the country have a lot more than others.
This is true of other countries too, and we can examine some of the busiest casino destinations from all over the world.
Las Vegas (Nevada, USA)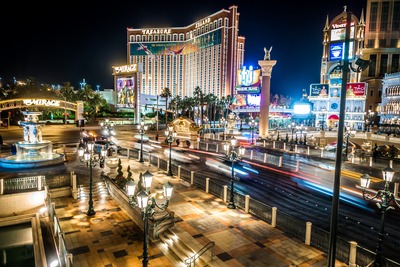 We may as well start with the most famous gambling destination of them all; some call it Sin City, some call it the Entertainment Capital of the World, but everyone knows about Las Vegas.
Located in Nevada, a state with 3 times as many casinos as the next closest state (Oklahoma with around 130 casinos if you were interested), Vegas itself is home to around 150 different casinos.
The most famous area in Las Vegas is of course the strip, where some of the biggest and oldest casinos are situated.
There are around 30 casinos on the strip alone, and some of them have been there forever. The Flamingo is the oldest casino on the strip, first opening in 1946, with the Tropicana having been there since 1957.
Other big names include Caesars Palace, Circus Circus, the Four Queens, and loads more.
Vegas really is the casino capital of the world though, with dozens more located just off the strip and more again as you head out towards the suburbs.
There are around 655,000 people who live in Las Vegas – that one casino for every 4,366 people! Of course they aren't really there for the residents, tourism is massive in Nevada, specifically in Las Vegas, and people travel hundreds of miles to visit and play in the casinos there.
Atlantic City (New Jersey, USA)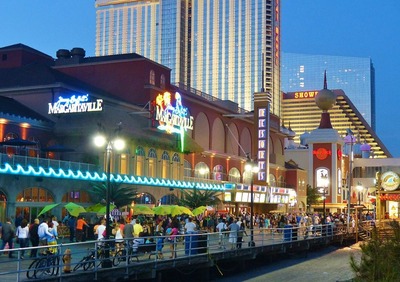 Often seen as Las Vegas' much poorer cousin, and understandably so (we've been, it's a little run down to be fair), Atlantic City was created to steal some of the gambling tourism in America, and for a while it was working.
It was a big destination back in the late 70s and throughout the 80s, and to be fair it still draws a crowd when it's in season, but the boardwalk can seem like a ghost town during some months of the year.
There is still enough business to warrant 31 casinos though, with the Borgata and the Hard Rock generally agreed to be the best.
Others that have been around for a long time are feeling a bit drab these days, such as Resorts right next door to the Hard Rock, which was actually the very first casino to open there in 1978, and the first legal casino anywhere in the USA outside of Nevada.
AC, as it is commonly referred to, only has a population of around 38,000 people (although the whole of New Jersey is home to almost 9 million), which works out as 1 casino for every 1,225 people.
Again though, it's mostly tourists that play casinos in AC, which is why the decline in popularity was such a problem for the area.
Macau (China)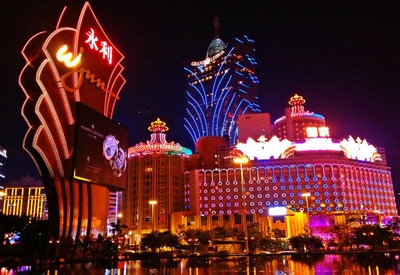 Although technically part of China, just like Hong Kong it is a special administrative region of the country, and the only place in China where gambling is legal.
Macau is essentially made up of 2 islands; the Macau Peninsula to the North and Cotai to the South, with the Peninsula holding around 58% of the 41 casinos operating there.
On both islands the casinos are packed together very closely, so visitors can hop from one to the other on foot, although at just 118km2 there is approximately 1 casino for every 3 square kilometres.
It attracts huge numbers of mainland Chinese casino enthusiasts, as well as a smaller number of foreign tourists, and has actually had higher gambling revenues than Las Vegas ever since 2007, fighting hard for the title of Gambling Capital of the World.
In fact, the gambling industry makes up at least 50% of the economy in Macau.
The Venetian Resort is the place most people would say is the best casino in Macau, but the Lisboa is the oldest, being the first casino to open there in 1970, although gambling there has been legal since the 1850s thanks to the Portuguese as it used to be a colony of theirs.
With a population of over 650,000 and with gambling being very popular with Chinese natives, there is plenty of business for the casinos in Macau, and business there has never been better.
Monte Carlo (Monaco)
Although it only has 4 casinos, Monte Carlo remains a gambling destination because of its' history and the legends that come with it.
A famous variety song called The Man Who Broke the Bank at Monte Carlo, for instance, tells the tale of Charles Wells, a confidence trickster who apparently won so much money playing roulette there that the table ran out of funds and had to be restocked from the vault.
It is also where Francois Blanc, the man responsible for European roulette as we know it today, ended up settling, and it was he in fact who made Monaco a gambling destination in the first place.
Monaco is actually a small principality of France, that was struggling financially a few centuries ago and Blanc brought in gambling as the answer. It worked, and Monte Carlo, the central region of Monaco, is still home to the famous Monte Carlo Casino which has been there since 1865, as well as the Casino Café de Paris and a few others.
It's one of the few places you can still play French roulette.
With a population of just 40,000 (32% of which are millionaires!) and an area of just 0.78 square miles (which is smaller than Central Park in New York), 4 casinos is an awful lot all things being equal. You can drive from one end of the country to the other in 10 minutes, or walk it in 50 minutes, so the fact it can support 4 casinos is incredible really.
Especially considering that local citizens are forbidden from entering the casinos unless they work in them, so they exist solely as a tourist attraction.
If Vegas is all about glitz and showbiz, Monte Carlo is all about wealth, style and opulence. If you want to gamble in a suit then this is the place to do it.
Prague (Czech Republic)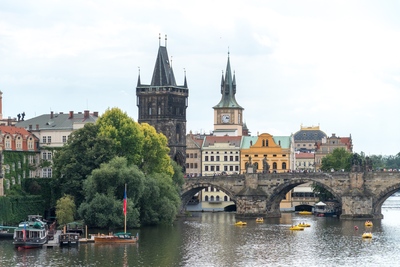 Although not commonly mentioned in the same breath as places like Macau and Vegas, there are around 28 casinos situated in this historic city so it definitely deserves a mention.
A country like the Czech Republic which has so many casinos can clearly rely on the locals to provide them with plenty of custom, but it won't hurt that Prague is a very popular tourist destination in its own right. Many visitors will decide to check out the casinos one night even if that is not the main purpose of their visit.
The majority are clustered around Prague 1 between the Old Town and the New Town, including probably the most popular of them all, the Ambassador Casino in Wenceslas Square.
It's fairly small, as they all tend to be in Prague, but has been there since 1991 so has had plenty of time to build its reputation.
The Rebuy Stars Savarin Casino is just around the corner too, and this is the oldest casino in the city, established since 1905. The Banco Casino is another one that everyone seems to enjoy.
There are 1.3 million people living in Prague and 10.7 million people living in the Czech Republic overall, so there are actually more casinos per person outside of Prague than in it, statistically speaking; Prague has 1 casino for every 46,428 residents, while the country as a whole has 1 casino for every 25,415 residents.
In terms of density though, nowhere else in the country has so many casinos as closely packed together as Prague.
Paris (France)
Widely accepted as being the birthplace of modern day roulette, Paris isn't particularly well known as a gambling destination amongst your average Joe (or Jean Luc perhaps), but the area around the Arc de Triomphe is nevertheless a bit of a hub for gamblers.
However, Paris has a long history of battling with casinos and gambling, so while many gaming clubs – as they are known over there – do exist, certain games such as standard blackjack and, ironically, roulette, are bizarrely not permitted.
Slots, baccarat, punto banco, chemin de fer, and table poker variations are allowed though, so the gaming clubs in Paris will feel a little different to normal casinos but not by much.
Like in Prague, most Parisian gaming clubs are fairly small, although the Paris Elysees Club has a large open gaming floor with a nice wide mezzanine level holding more gaming options too.
There are just 8 gaming clubs in Paris, but 5 of them are within a 20 minute walk of each other, and these are some of the best known too.
What's interesting is, although these gaming clubs are all pretty new (the law only changed to allow them in the city in 2018), many of them occupy beautiful old buildings where gambling establishments have previously existed.
Still, for a population of 2.2 million 8 gaming clubs is only 1 per 225,000 people, and most are within spitting distance of each other.
Add to that the small size of these clubs and the fact that they can't offer some of the most popular casino games, Paris isn't going to be a gambling destination for many casino players.
The rest of France doesn't operate under the same restrictions so you will find regular casinos dotted about all over the place – the coast lines to the North, West and South are especially popular with casino operators – but in terms of density Paris still comes out on top.
Palm Beach/Eagle Beach (Aruba)
Hands up who has never heard of Aruba?
No one will judge you, it's a tiny island country just off Venezuela and right next door to Curacao, which you may have heard of if you pay any attention to gambling licenses.
There are just 107,000 people living on this little island, which is only 20 miles long and takes up 180km2 in total.
Despite this, there are no fewer than 12 casinos on the island, which has been dubbed 'the Las Vegas of the Caribbean' – that's one for every 8,916 people or every 15 square kilometres.
The majority are located on Palm Beach, just North of Eagle Beach where most of the others are, but there is only 3.5km between the two beaches so they are essentially the same place. A taxi ride would take 8 minutes and you could walk it in about half an hour.
There are two more just on the marina at Oranjestad, near the airport, but the rest of the island has no casinos so all 12 are very concentrated.
In terms of size, the biggest venue is the Stellaris Casino, boasting 26 tables and 500 machines, which for a small island is pretty big, and other big names include the Ritz Carlton, and the Hyatt.
San Juan (Puerto Rico)
Another place that wouldn't really be considered by Westerners to be a destination for casino players, but with 7 casinos in a city of 327,000 people that's pretty busy.
Better still, most of them are located on the coastline to the North, so they enjoy gorgeous views and surroundings, and the other is only a short drive inland.
The largest casino in Puerto Rico is actually the Four Points which is in the middle of the island, but it is dominated by slots with only 10 table games, so bigger is not necessarily better in Puerto Rico. And with so many venues so close together in San Juan, finding a table you like is no difficult task.
You will find all casinos here are part of hotels or resorts as this is the only way casinos are legally allowed to run in Puerto Rico, so they will all be on the smaller side compared to the huge expansive casinos in America or Macau, but again, it's about density here.
The Casino del Mar at La Concha resort is a favourite of many; this is a sophisticated party casino with a special 'party pit' where gamblers can dance and play at the same time. However, the Casino Metro is a more chilled out venue and has 21 table games and more than 500 slots, so there really is something for everyone here.
From the Easternmost to the Westernmost casino in the city, it is only about 8km, so along the coastline there is a casino every kilometre, and one for every 46,714 people who live there.
The clientele at San Juan casinos then, is sure to be a good mix of tourists foreign and domestic, as well as locals looking for a bit of fun.
London (United Kingdom)
Last but by no means least, is our very own capital city, London town.
This country has a casino in almost every major town and city thanks to the likes of Grosvenor and Genting, but London is home to a good number of standalone casinos designed to be enjoyed by those with a little more cash to splash.
These are of course the more exclusive casinos located in Mayfair and the like, such as Les Ambassadeurs, Crockfords, Park Lane and The Colony Club, but they may not be accessible or affordable to regular gamblers.
The great thing about London though, is that it can offer casino experiences for everyone, not just the rich and powerful.
You might not be able to get into a casino in Knightsbridge, but Leicester Square is home to the Hippodrome, Horizons and the Empire (plus a Grosvenor and a Genting), all of which are open when everywhere else eventually shuts.
These places are all within 30 seconds of each other and provide a more 'American' casino experience with the flashing lights and the ringing machines, than the serenity and sophistication of the casinos down the road in Mayfair.
Nevertheless, despite being at opposite ends of the casino experience barometer, this still puts a good 16-20 casinos within 2 miles of each other, which is a 15 minute cab ride, or a 30 minute walk from East to West. That's a pretty densely populated area in terms of casino availability.
That's just the centre of course, but London only has around 24 casinos all in all, so most of the notable ones are slap bang in the middle in the West End, other than Aspers in Westfield Stratford.
London has a population of 9 million with a very high turnover (people move there and leave there a lot) which no doubt helps as new arrivals will want to experience the night life, but the huge tourism industry will be another boon to the casinos. While few regular casino players would make a trip to London especially for the casinos they would happily visit them as part of a visit, and high rollers might make a special journey, as for class and sophistication London has some of the best casinos in the world.