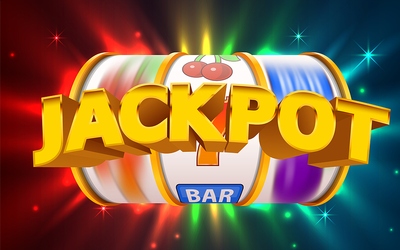 The word 'jackpot' can be used to describe any big win that a player might experience, whether it is the biggest payout on a standard slot or a genuine jackpot amount such as a progressive. However, most often it refers to a substantial pot of money that can be won by anyone playing the game, and it usually runs parallel with the potential payouts in the base game.
While there are a number of different advantages that a player can get from an online slot, such as bonus rounds or free spins, a jackpot represents the largest possible incentive, because the winnings are often many times your stake and, in some cases, can be life changing seven figure sums.
This tends to only be the case with progressive jackpots, and this type is also the most commonly used by casino game providers and casinos themselves, but other types of jackpot do still exist.
This article will cover how these jackpots work, but if you want to know more about how to play progressive jackpots specifically then we have a progressive jackpots game guide here as well.
The Workings of Casino Jackpots

The idea behind a jackpot is to attract lots of people to play a certain game in the hope of winning the huge payout. Only one person can win the jackpot so the chances of it being you are slim, but just like the lottery you have to be in it to win it, and if you're in it then "it could be you".
A jackpot is most commonly associated with slots, but these days you can win jackpots playing anything; bingo, blackjack, roulette, you name it. Sometimes, there are even jackpots that are linked between several different games and even across multiple game categories.
However the jackpot is structured, the way to win it is to get a specific combination of symbols or cards (or whatever applies to the type of game you are playing) that is statistically extremely unlikely. Often, you need to access a bonus round first, which in itself has a low probability of happening, and then that bonus round has to go your way as well.
In other games, especially the more traditional and classic slots, the jackpot can be achieved without the need for a bonus round, but these jackpots are typically smaller by comparison and you have to achieve this by lining up the most valuable symbols in the game along a payline. These might not even be progressive jackpots, so they are essentially just the biggest win achievable on that game but marketed as the jackpot amount.
Online Jackpot Rules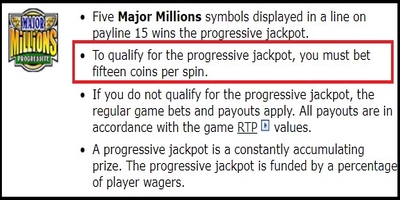 There don't tend to be any rules as such, but there might sometimes be conditions attached to jackpot eligibility.
Many games allow players to win the jackpot regardless of stake size or anything like that, but there are others that require the player to use the maximum bet in order to qualify for the jackpot on each spin. This means that players betting below that level have no chance of winning the jackpot.
Others might weight your chances of winning depending on the size of your stake, with bigger stakes getting a higher chance of winning. However, things like how long you have been playing for make no difference at all, you could win on your 1st spin or your 500th.
For non slot related jackpots you will usually have to wager a specific side bet (blackjack), bet on a specific extra area of the wheel (roulette), or win within a certain number of calls (bingo) to get your hands on the jackpot.
The 'rules' of each individual game will still apply, but they aren't generally altered because of the jackpot; so a blackjack variant will play in the same way as it would without a jackpot, for example, and a slot will have the same regular payouts and staking limits.
What are the Different Kinds of Jackpots that a Player can Win?
There are a variety of jackpot types out there in online casinos, and we have talked about them a little bit already; but for clarity let's just cover each one in turn and point out what makes them distinct from one another.
Standard – These are classed as standalone or static jackpots which means that they have a fixed amount that can be won. Regardless of how many players take part in the game, these fixed jackpots do not alter, whether the game is played once or a million times the jackpot amount remains the same. Because of this these are the most frequent jackpots to hit and as such, the least valuable. It also makes them the least popular, particularly among the more experienced players.
Locally Pooled – This kind of jackpot is one which changes depending on the amount of people who have taken part in the game, so a locally pooled jackpot is also a progressive. These pooled jackpots retain a small percentage from every spin on a particular game at a casino and this goes towards a local or casino-pooled jackpot total. The word local implies that only players at that specific casino are contributing to the pot so it will grow more slowly than a network pooled progressive.
Network Pooled – These are undoubtedly the largest jackpots, however, they are also the least likely to drop. They gather funds from across the entire network of casinos that offer the game (or games) with the jackpot attached. That means that players at hundreds of different casinos around the world are all contributing to the same pot which is why it can grow to be worth many millions before it is won. For example, a player from Finland won €17.8 million Euros playing Mega Fortune on a €0.20 bet, and a 26-year old British soldier won €18.9 million Euros with a 25p bet on Microgaming's Mega Moolah.
So essentially there are just two categories; jackpots for a fixed amount and jackpots that can increase (progressives).
All progressives will have a 'seed' amount, which is the amount put in by the casino or developer to start it off again after a jackpot is won, after which it can grow indefinitely. Whereas the fixed jackpot will regenerate at the same amount after a win as it was at before and stay there until it is won again.
What is so Appealing About Jackpots?
The obvious attraction for jackpot players is the potential life changing win at the end of it. Granted the chances of the winner being you are small, but it has to be someone, and people love to dream. A windfall the size of even the smaller jackpots could make a huge difference in people's lives.
There is also the fact that there is no skill element to the game. Every player has an equal chance of winning on every spin of the reels because the game is won completely at random and by chance. This means no one can get an edge over anyone else through experience or by spending more money. Young or old, rich or poor, the jackpot is a level playing field.
Not only that, but many jackpots can be played for with relatively small stakes. A 20p spin might be all it takes to win millions, and that also makes it affordable for most people, while the level of risk verses reward is small enough not to put even the more risk averse players off.
On top of all of these reasons, the jackpot isn't the only way to win money in the game. The big prizes are always attached to a regular slot with regular features, so you might not win the jackpot but you could get a nice bonus round that puts £100 in your pocket, for example.
From a psychological point of view the games are extra exciting too, because even though we all know the likelihood of us winning in miniscule, there is still a chance, and it could come on every single spin. That sort of anticipation is why people play gambling games in the first place, and it is amplified when there is a jackpot in the mix.
When were Jackpots First Introduced to the Gambling Industry?
This all started in the early 1800s when the highly popular game of poker was first created, otherwise known as 'Jacks or Better', which involved a deck of 20 cards being played between four players, with each one trying to get the better of each other with tricks and bluffs in order to walk away with the bounty. As a result of the methods that were associated with winning, the game had a negative stigma attached to it.
The game was based around a 'five card pick up' process which meant a player needed to have a couple of 'jacks or better' (such as Queens, Kings or Aces) and if they didn't have these, they would have to pass. Should no player have this, then the hands are dealt again and the pool would increase, which is where the term 'upping the ante' derives from.
Over the decades, the game evolved significantly into more of the 'Texas Hold'Em' style that is so popular today, which included a larger deck of cards as well as a larger prize pool. This was much harder to win as there would often be more players taking part, but the rewards would also be significantly higher which created a cycle. This theme is something that has been adopted by online slot games; the prize pool element, or in other words the jackpot.
The term 'jackpot' increased in popularity significantly throughout the 20th century, as it became commonplace in gambling activities such as the lottery, where jackpots could reach ludicrous amounts; people even started using the word to describe non-gambling related good fortune – landing a new job, getting a good deal on a new car, bagging a date with someone attractive.
Nowadays, the words jackpot and online slots go hand in hand, and a huge number of players seen them out on a daily basis, the majority of whom keep coming back to play them time after time which subsequently results in the jackpots increasing.