Ask pretty much anyone is the Western world to name a good location for a bit of casino gambling and 99 people out of 100 will say Vegas.
Las Vegas may well be thought of by most Westerners as the gambling capital of the world – it's technically not anymore, and you can read more about that here – but we don't have to go that far back in time to find it little more than a few dusty streets with the odd saloon and hotel.
The journey that this now famous city has been on is remarkable, and it also makes for a great story because much of the original town was built using the proceeds of crime, and Vegas' links to the mob are legendary.
It is generally known as a city of vice where dreams can be made and broken, fortunes can be won and lost… and people can be married an un-married in minutes.
Before that though, it was a peaceful quiet land, with tall grass, fresh water from natural springs, and a gentle breeze – a beautiful oasis in the Mohave desert… which is hard to imagine for anyone who has been there recently. It's a far cry from that now.
Did you know that Las Vegas roughly translates as 'the meadows'? That tells you how much the area has changed since it was first discovered and named!
But let's go back to that time, and discover a Las Vegas that is yet to be developed, or corrupted, as a destination for gamblers.
Mexico & Mormons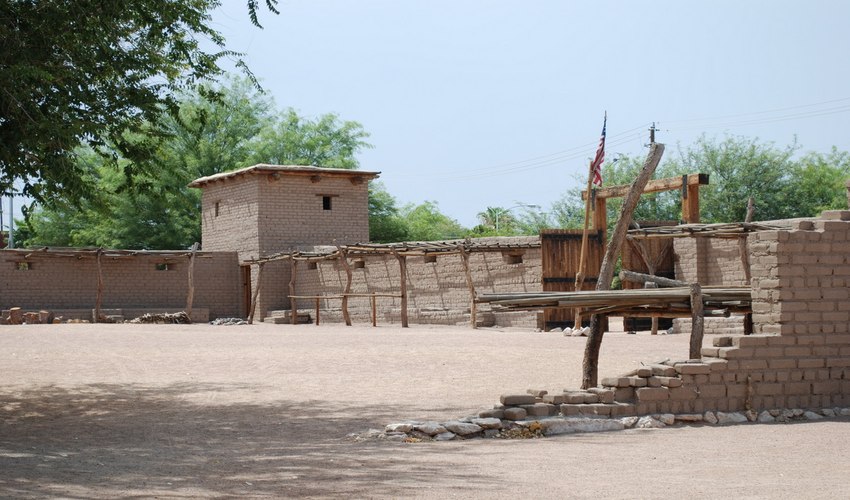 Believe it or not, Las Vegas wasn't always part of America – up until 1848 the area was under Mexican rule.
It is believed that humans have inhabited the area for at least 10,000 years, although the earliest settlers were most likely members of the indigenous Paiute tribe rather than Mexicans.
It wasn't until 1821 that the first Mexican is known to have entered the area; a man by the name of Rafael Rivera, who was there scouting out potential trade routes between New Mexico and California.
Just under 30 years later, the war between American and Mexico changed the course of Las Vegas forever, and it became part of America when the war ended in 1848.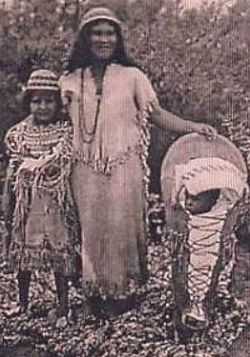 Despite humans living in and using the area we now call Vegas for many years prior, up until this point there had still not been a permanent structure built there.
That is until the Mormons arrived, built a fort, and tried to settle there in 1855.
The settlement failed due to poor crops and infighting among the group's leaders, so by 1857 the fort was abandoned, but it is still standing even today, right on the corner of Washington Ave and Las Vegas Boulevard, an important monument to the history of Las Vegas and a popular tourist attraction.
In 1865, Octavius Gass, a prospector and later a politician, took over the abandoned fort and had ideas of turning it into a rest stop for anyone using the Old Spanish Trail (the trade route mentioned earlier set up by Rivera).
The area began to thrive but never quite met Gass's expectations.
Nevertheless, it's status as a town was established, although it was renamed as Los Vegas Rancho in those days, so as to differentiate it from the Las Vegas in New Mexico.
Into the 20th Century: Glitter Gulch
It was in 1905 that Las Vegas was officially registered as a city, with much of the land having been bought by The Salt Lake City Railroad a few years before.
The Salt Lake City Railroad established the area as something of a refuelling post by enabling fresh water to be piped in via wells, and so it began life in the 20th century as a railroad town, attracting people to come and work and therefore live in Las Vegas.
In an ironic turn of events, it was actually the outlawing of gambling in Nevada in 1910 that led to the place becoming 'the gambling capital of the world' in a roundabout way.
You see, the act of gambling continued outside of the law in illegal gambling dens and speakeasys, but because it was illegal the people running the games were obviously criminals.
This meant that the area was known to ne'er-do-wells as a place to make money via gambling for 20 years before Nevada changed the law in 1931 to make gambling legal again. They recognised that it was a good way to boost the economy and attract people to the area, along with some of the most relaxed divorce laws in the country at the time, which encouraged a kind of divorce tourism trade.
At the point the gambling laws changed, all the people who had been operating illegally began operating legally instead, but they were still the same criminally minded folk who had been there before, so their practices weren't always exactly fair… or safe.
In the same year, work on the Hoover Damn was started, causing an influx of people to the town as more workers upped sticks and brought their families with them – the population went from 5,000 to 25,000+, and increase of 400% in a year.
This in turn meant that there were a lot of people with money in their pockets at the end of the week who needed something to do for entertainment, so casinos and showgirl bars started springing up on Fremont Street, which was at the time the only paved street in Las Vegas.
It also boasted the town's very first set of traffic lights courtesy of hydro power supplied by the damn, and the casinos realised that they could also use flashing lights to attract customers.
By the 1940s Fremont Street had earned the moniker, Glitter Gulch, and this was the beginning of Las Vegas as we know it.
Enter the Mafia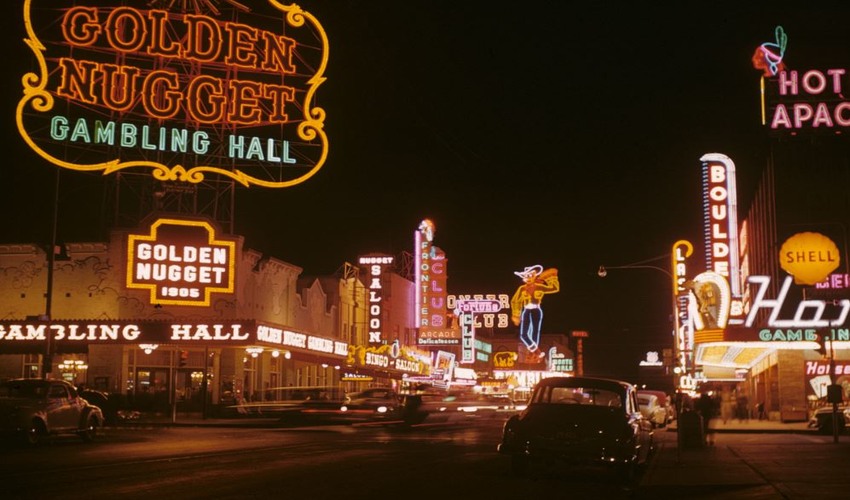 With links to organised crime already firmly established, Las Vegas was an obvious target for the mob.
They were active in the city for many years without ever running a venue of their own, but in 1946 the very first mob owned casino was built – The Flamingo, owned by the notorious Bugsy Siegel who met a particularly grisly end.
A few years earlier, the first themed casino in Las Vegas was opened, The El Rancho Vegas Hotel-Casino had a Western theme and set the ball rolling for many more themed venues in the years to come.
This was the beginning of what we now call 'the strip'.
Paradise
Fun Fact: The Strip was not technically in the city of Las Vegas, so the City was losing out on a lot of tax from the money that was spent there. Local officials attempted to annex the Strip and thus make it part of the city, but the crime lords who were active at the time 'used' Clark County Commissioners to turn the properties on the Strip into an unincorporated township. Its' name? Paradise, Nevada. Nevada law states that an incorporated town cannot annex an unincorporated township, so the majority of the Strip is still not technically part of Las Vegas, even today.
The Flamingo was the casino that set the tone for venues offering high class entertainment, engaging celebrities like Frank Sinatra and the Rat Pack to come and perform, and putting an emphasis on service and style – as it was in the post war era.
The owner, Bugsy Siegel, was backed by Jewish mob money, and was murdered as he sat on the sofa reading a newspaper in 1947, but other gangsters took up the mantle.
The Riviera, the Sands, the Sahara and the New Frontier were also built using the mafia's dirty money, albeit much later during the 50s and 60s.
The 1950s and five years either side really was the era of mafia control in Vegas, with 8 million people visiting per year and hundreds of millions of dollars passing through the casinos; but then in 1966 a man named Howard Hughes came to town.
He was a billionaire who locked himself in his suite at the Desert Inn Hotel and got to work buying up casinos and hotels from the mob. He didn't leave his room for a whole month, and when the owner threatened to evict him for not paying his reaction was to simply buy the Desert Inn Hotel too.
To fulfil his business ambitions, Hughes put together a kind of mafia of his own.
The Mormons who had initially tried to settle in Vegas a hundred years before still had a community there, and it was them Hughes used to handle his affairs.
He is reported to have said that he liked using Mormons to carry out his business because they didn't drink, smoke, or gamble so were immune to the temptations of Las Vegas, and would do the work he set them discreetly and with integrity.
The people he hired became known as the 'Mormon mafia', although they didn't quite have to same approach as the Jewish or Italian mobs.
He needed their help because he wanted to buy the venues secretly, and he bagged 12+ of them before his secret got out; plus, since many were bought from criminal enterprises he also did quite a lot to clean up the city, because once the gangsters had been paid they left town to enjoy their riches.
Las Vegas was slowly changing from a city of vice run by organised criminals, into a safe place to have a great time full of venues run by legitimate businessmen.
Population Boom
Vegas' gradual change from an organised crime haven to a corporate commercialised entertainment destination might be considered complete by the end of the 1980s.
This was when the first mega casino resort was opened, The Mirage in 1989, owned by Steve Wynn who had been building casinos in Vegas for a long time.
This is also when some of the older, smaller, establishments started to be demolished, and the Las Vegas skyline began to change dramatically.
Standards of service and levels of luxury had hit new highs and tourists were coming in droves to experience this new modern Vegas, and that meant more people came to work and live in the area too.
Between 1985 and 1995 it is thought that the population climbed around 7% each year, which when compounded means that the population almost doubled in 10 years:
| Year | Population | % Increase |
| --- | --- | --- |
| 1985 | 186,380 | 7% |
| 1986 | 199,426 | 7% |
| 1987 | 213,386 | 7% |
| 1988 | 228,323 | 7% |
| 1989 | 244,306 | 7% |
| 1990 | 261,407 | 7% |
| 1991 | 279,706 | 7% |
| 1992 | 299,285 | 7% |
| 1993 | 320,235 | 7% |
| 1994 | 342,652 | 7% |
| 1995 | 366,637 | Ends |
Official figures report a population growth rate of 97.6% during that period, and by the turn of the century Vegas was the largest city founded in the 20th century. By 2006 there were 552,000 living in the city alone, not to mention the surrounding area.
This influx of people along with the new mega casinos springing up changed the Vegas people had known and loved during the 50s, 60s, and 70s unrecognisably. This was the dawn of so called 'new Vegas'.
This period saw the construction of many of the mega hotel and casino resorts people still flock to today, such as:
Rio
Excalibur
MGM Grand
Treasure Island
Monte Carlo Resort
New York, New York
Bellagio
Mandalay Bay
The Venetian
Planet Hollywood
Palms
Interestingly, this is also a time when Vegas was seen as a family friendly holiday destination, despite the strong focus on gambling themed entertainments.
Many other attractions opened up to cater to the family crowd, and the 76,523 hotel rooms available in the city in 1992 were rarely empty.
This wasn't something that stuck, but it did do a lot to change the reputation of 'Sin City'.
This new golden age was about to come to an abrupt end, however, as the global financial crash and economic slowdown put the brakes on firmly.
Decline and Recovery
When the global financial crash happened following the home mortgage crisis in 2007, many of the ongoing construction projects in Las Vegas were halted.
New homes and new commercial buildings were put on hold or cancelled altogether, with many huge casino complex projects well into the planning and early construction stages never finished.
The crash also meant that people had less money to spend, so as a consequence fewer people went on holiday, or spent less while away, so tourism in Vegas was down and some casinos even reported a net loss.
Venue closures along the Strip meant that fewer people were attracted to the area as there was less on offer, and this in turn meant that the businesses that were still operating saw reduced footfall, creating a negative cycle.
It was around this time that Vegas lost the title of 'gambling capital of the world'. Macau's gambling venues topped those of Vegas for the first time in 2006, and with the financial crash just a year or so later Vegas had no chance of winning back the crown.
It still hasn't managed it.
That said, it was still attracting in the region of 40 million tourists per year, and the city did recover and relatively quickly too. Some say things were turning around as early as 2010, but by 2013 it was undeniable, with revenues and tourism numbers up and house prices rising month on month for over a year.
Things have continued to go well for Vegas ever since, without any sort of reinvention as the town had previously seen. It is not the same Vegas that existed in the 20th century, neither behind the scenes or from the high street, but themed resorts and flashing lights are still most definitely part of the attraction.
Mass Shooting
Not So Fun Fact: The deadliest mass shooting by a single gunman in American history took place in Las Vegas. On October 1st 2017, during a country music festival held in the Las Vegas Village, a 64 year old Nevada man named Stephen Paddock opened fire with an assortment of assault weapons, killing 60 and wounding at least 413. The panic that followed injured 400 more. Paddock fired over 1000 bullets from his room in the Mandalay Bay Casino and Resort, before taking his own life, and no motive for the shooting has ever been determined.
Since the city's past was so closely linked with organised crime, in 2012 the National Museum of Organized Crime and Law Enforcement was opened in the old US Post Office and Court House on Stewart Ave.
It's full of information covering the history of Vegas, with many details on the people mentioned in this article, and is an important and popular tourist destination for anyone in the area.
Vegas was stalled once again to due the COVID pandemic in 2020/21, decimating visitor numbers from 42.5 million to just 19 million overnight – that's down 55%. However even in 2021 with some restrictions still in place, numbers were back up to 32.2 million, so history will probably show this as a fairly minor blip on the timeline of this incredible city.
There are now around 150,000 hotel rooms available in Vegas, and it is the 3rd most popular destination in the States after New York and L.A.
And all because some Mormons built a fort.