ID and Account Verification Needed To Play at Online Casinos
When it comes to customer verification at online casinos there is a lot that you might not have considered, and while operators try to make this process as fast and smooth as possible there are certain important processes that they are required by law to undertake.
In line with the UKGC (UK Gambling Commission) and other relevant gambling commissions depending on where the online casino operates, there are certain checks that any online casino has to carry out on new customers.
They are so stringent that some people are put off, believing the casino to be crooked due to the type of documents they ask for evidence of. Be assured, so long as the casino is licensed with the UKGC they are not crooked, and this article should demystify the process for you.
Background
In the dark and distant days of online gambling it was a bit of a free for all to be truthful. Online gambling sites could do pretty much as they pleased and the gambling industry developed a less than positive reputation as a result.
Things have improved significantly over the years, but it all started with the UK Gambling Commission, a governing body and non-departmental public body set up by the UK Government to oversee the gambling industry and keep those operating within it in check.
Improvements were made year on year, but in 2018 there were big changes made to the verification process. In March of the same year the UKGC found that some customers were being treated unfairly by certain operators, who were setting very low weekly or monthly withdrawal limits or setting arbitrary time restrictions within which the customer had to verify before withdrawals were processed. In some cases failure to meet these deadlines would result in the winnings being made void.
Approximately 15% of complaints made to the UKGC by customers were to do with withdrawals being withheld or denied, so something had to be done.
This subsequently led to new rules and measures being brought into place which detailed what licensees needed to action around their ID verification process. The major change was that verification had to happen before any deposits were made, whereas in the past customers could deposit as much as they wanted but could only withdraw once they had verified.
The new verification terms included:
The verification, as a minimum requirement to the process, the name, address and date of birth of a customer before allowing them to gamble.
Asking for any additional verification information promptly.
Informing customers, before they are able to deposit funds, of the types of identity documents or other information that might be required, the circumstances in which the information might be required, and how it should be supplied to the licensee.
Taking reasonable steps to ensure that information on their customers' identities remains accurate.
There were a number of aims with these new rules:
Criminal Activity
These changes were initiated in part to help operators better prevent and identify potential criminal activity such as money laundering, identity theft, and fraud. Ultimately, the operators would have more concrete information about their customers the moment they joined the site, before anything untoward could go on.
It also put a stop to, perhaps not criminal activity, but certainly immoral behaviour on the part of the operator. Unscrupulous types could no longer invent unfair terms or make their customers jump through unnecessary hoops to withdraw their money.
Customer Safety
It was also thought that these changes would make it easier to discover if someone who had self-excluded themselves attempted to gamble again - something which should not now be possible anyway at any online casino.
If the verification process was thorough enough, it would flag up any previously verified customer who self-excluded and then tried to gamble again, and they could be stopped before doing any further harm to themselves.
Underage Gambling
The new checks would stop anyone underage being able to sign up in the first place because proof of date of birth was required. Underage gambling was becoming an issue in 2018 and some alarming stats from a UKGC study backed this up.
5% of 11 to 16 year olds had spent their own money on online gambling and 6% had gambled online using a parent or guardian's account. It was actually worse in the real world where 39% of 11-16 year olds had gambled at some point during the year, either buying scratch cards, fruit machines, or gambling with friends.
The UK Gambling Commission chief executive, Neil McArthur said that this new legislation would "protect children and the vulnerable from gambling-related harm, and reduce the risk of crime linked to gambling. They will also make gambling fairer by helping consumers collect their winnings without unnecessary delay."
The Verification Process
The exact process of verification from one operator to another might vary, although it will only be in subtle ways, but the identification documents they require will always be the same.
Usually you have three different ways to send in your supporting documents:
Email
Online Form
Live Chat
It is also possible for sites to verify you automatically using your bank details, especially if you have already verified at another site owned by the same overall company or white label provider.
Some sites won't let you do anything at all without verification, while others will allow you to browse the site but not deposit or take any other real action.
For the customer the verification process can be a bit of a drag, but you have to look at it as the lesser of two evils. You would rather have to verify than for the industry to be like the Wild West and for your money to be at risk right? It also helps protect vulnerable people, so look at it as just doing your bit.
When it comes to the documents themselves, you will need something that confirms your ID, something that confirms your current address, and something that confirms you are the card holder.
These are generally accepted:
| Document Type | Accepted Documents |
| --- | --- |
| Proof of Age/ID | Drivers License |
| | Passport |
| | National Identity Card |
| Proof of Address | Bank Statement |
| | Utility Bill |
| | Council Tax |
| | Phone Bill |
| Proof of Payment | Bank card, front and back |
| | Bank Statement |
You cannot use the document in two different categories, so if you use a bank statement as proof of payment, you will need something else as proof of address.
The gambling sites have done what they can to make this as quick as possible including enabling verification to be done using a mobile phone, and they will try and complete the process as quickly as possible at their end. The checks usually take no more than 48 hours but it's often much faster.
Source of Funds
This won't affect everyone, but sometimes online casinos carry out random source of funds checks on their customers. This is essentially a more thorough proof of payment check.
It may happen randomly – although this is not common – but it is much more likely to happen if you are gambling large amounts of money or much larger amounts of money than is normal for you.
The casino might ask about your job, income, outgoings etc, to check that you are not gambling more than you can afford.
It might seem like an invasion if privacy but at the end of the day they need to make sure their customers are in control and not doing any financial damage to themselves or those around them.
Just something to be aware of.
Verification Refused
This does happen, and a good job too – it means the casinos are doing their job properly.
It's not the end of the world though, and your verification could be refused or delayed for a number of trivial reasons.
Blurry images or photographs with part of the document cut out of the shot will be refused, but a simple resubmission is all it takes to fix this. Human error is another factor, for example accidentally submitting documents with conflicting information such as two different addresses if you have recently moved.
Just make sure you check your documents first and that any photos are taken with a decent camera in a well lit area and all should be well.
Of course, there are more serious reasons for your verification being refused, but unless you are a fraudster, a child, or someone who is known to the industry as a problem gambler you shouldn't need to worry about those.
Lastly, there may be some other reason why a casino does not want you as a customer, and it is their right to refuse their service if they choose. This is extremely rare and will only happen for good reason, such as misuse of offers and promotions in the past or extreme rudeness to staff etc. It would be unheard of for a casino to refuse someone's custom without a very good reason.
Why is ID Verification so Important for Online Casinos?
The now mandatory KYC (Know Your Customer) policy that has been introduced to the industry was deployed in order to make sure that users are who they say they are and to combat financial crime. It is also referred to as 'Enhanced Due Diligence'.
The reasons why the KYC process is so rigorous in the online gambling industry extends beyond basic financial crime though, and helps to counteract money laundering and the funding of terrorism too, since many operator sites allow gamblers from other regions.
According to Statista, the online gambling industry is predicted to be worth well in excess of $94.4 billion by 2024, and it shows no signs of slowing down. Along with this demand comes the need for even more stringent compliance, especially from a legislative perspective and helping to ensure that laws are adhered to.
The ID verification process for online casinos is important because ultimately, it is their responsibility to make sure that their players are as safe as they can possibly be. This is especially true when you stop to factor in some of the problems which have previously arisen from poor identification processes.
Major Problems Caused by Ineffective ID Verification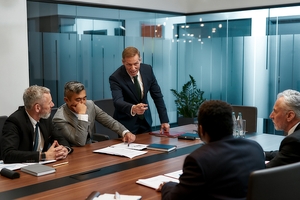 Online casinos have been the subject of a spate of criminal activity in the past, and in the majority of instances this has been because their identification verification and Know Your Customer (KYC) policies were not up to standard.
Arguably one of the biggest problems caused by a lax verification process relates to problem gambling. Any online casino that doesn't vet their customers properly could be contributing the responsible gambling problem in the UK by allowing people to gamble who should be protected.
These people often display quite obvious red flags which might include large amounts being staked consistently even after many losses, or being logged into the site for hours on end.
It is the responsibility of the casinos to question the source of funds in these cases, because many problem gamblers would find ways to access funds in an illicit manner, the most common way being via their employer's credit card or business account, which is basically theft. Family and friends are other common sources of money for problem gamblers.
Such cases have led to casinos being investigated and, in many instances, fined by the UKGC, because they were found guilty of essentially 'turning a blind eye' for the sake of profit. Their careless responsible gambling practices led to their own financial issues as well as those of the players in question.
Here are a few significant cases.
Daub Alderney Limited
In January 2018, Daub Alderney received a £7.1 million fine from the UK Gambling Commission, because they had failed to follow the Commission's rules in relation to money laundering procedures and not protecting vulnerable customers. Commission officials found that when they undertook a corporate evaluation over the course of June and July of 2017, there was a severe lack of risk assessment in place. The exact details of the breach involved the following:
The licensee (Daub Alderney) did not conduct the appropriate and ongoing monitoring of a business relationship to help their customers.
Daub did not on a regular and risk sensitive basis, apply sufficient and enhanced customer due diligence measures and enhanced ongoing monitoring in situations that by their nature demonstrated a considerable risk of money laundering.
They were guilty of failing to keep comprehensive enough records of all the evidence as well as supporting documents that it considered as part of its customer due diligence checks and also business relationship with the customer.
That Daub did not establish and maintain the appropriate and risk-sensitive policies and procedures that related to specific matters in order to prevent activities which were connected to money laundering and terrorist financing.
They did not provide regular and effective staff training in how to identify and also effectively deal with transactions as well as other activities that may be connected to money laundering or terrorist financing as a result of ineffective identity verification.
Richard Watson, an executive director at the UKGC illustrated how big this problem was at the time, implying that much more needed to be done in order to protect the customer: "This action is part of an ongoing investigation into the online casino sector. The operator's standards did not match the protections required, and this fine reflects the seriousness of these lapses."
Casumo
Meanwhile, in May 2018, it was revealed that Malta-based online casino, Casumo, had been the subject of an investigation by the UKGC who deemed that it had flouted legislation in connection to not having a sufficient KYC in place.
The UKGC determined that Casumo was guilty of the following:
They did not conduct ongoing monitoring of a business relationship with their customers as part of a due diligence process.
They did not apply, from a risk sensitive perspective, enhanced customer due diligence measures in situations that presented a higher risk of potential money laundering.
They did not keep sufficient or comprehensive enough records relating to their due diligence checks and processes.
Casumo was guilty of not initiating appropriate enough policies for the prevention of money laundering activities.
As a result of these breaches, the UKGC saw fit to impose a fine of £5,835,000 on the operator in line with the flouting of their licence conditions and also the Social Responsibility Code of Practice Provisions (SRCP) which make up a significant part of an operator's requirements laid down by the UKGC.
Video Slots
In September 2017, it was found that this company was in breach of a number of laws relating to verification compliance and social responsibility, though ultimately it was a failure to protect its players caused by weaknesses a lack of diligence in their registration process.
It was found that Video Slots:
Only conducted the basic and minimum checks when it came to the registration and vetting of new customers, once a deposit level of 2,000 Euros had been reached in a period of 24 hours. It was also determined that this approach to customer due diligence (CDD) was inadequate, because it meant that the same approach was used for all customers regardless of the level of risk that was attributed to the customer.
AML (Anti Money Laundering) policies did not effectively explain risk situations where enhanced customer due diligence and enhanced ongoing monitoring (EDD) would be needed.
The EDD process was not always able to identify and confirm a customer's source of wealth and/or funds effectively.
Because of these breaches, Video Slots received what many in the industry considered to be a rather soft, £1,000,000 fine. The majority of this financial penalty was donated to the NRGS (National Responsible Gambling Strategy) project(s), while £310,478.08 was divested and £12,000 was allocated to pay for the costs of the UKGC investigation.
Final Thoughts
The ID verification process for online casinos is an integral part of the customer user journey. It keeps the customer and the operator safe when managed correctly and is only a minor inconvenience when looking at the big picture.
It is still a manual process a lot of the time though which means it takes man hours, so it will be interesting to see whether technology will change the process at all in the future, especially as new forms begin to develop. Whether or not machine learning is to play a part remains to be seen, and there is no reason why smartphones couldn't play a part, perhaps employing the use of facial recognition, for example, as the technology becomes more sophisticated.
It certainly is an intriguing concept, though any potential security flaws would need to be ironed out first, and it might take time for the market to trust anything that sounds too advanced.