Casino and Online Casino Job Roles & Hierarchy
The differences between playing at a real casino and an online one are often discussed, but if you have ever stopped to wonder what the staffing situation is like in a brick and mortar casino compared to an online casino, well you're not the only one.
Many of the same job roles must exist, but how do they differ in the virtual world as opposed to the real world? Are there opportunities for croupiers at an online casino? There certainly won't be any bar staff, but then again a land based casino won't have need of anyone to man their live chat support service.
All of this got us thinking as well, and as a result, we have dug into the structural employee hierarchy for both online casinos and real life casinos, to find out who does what at each kind of establishment, and what their job roles consist of.
There are some interesting finds in here, and a few important roles that might easily be dismissed when in fact they are crucial to the successful running of a casino and keeping its customers happy.
Land Based Casinos
The size of the gambling industry in the US (predominantly Las Vegas and Atlantic City), is predicted to be worth $94.4 billion by 2024 according to Statista and the tens of thousands of people that already staff the casinos could well need adding to.
Management of any business is critical to how well it runs, both operationally and strategically, and this is no different with how casinos work. When considerable amounts of money enter and leave a casino every single day, especially somewhere like Las Vegas, management of resources is absolutely vital and ensuring the right staff are used to temper this, such as having a crack finance team, is just as key.
For sure, there are also other elements of how a casino operates which are just as important, not least from logistical and HR perspectives as well.
As a result, there is a lot to consider in order to keep a casino in check, so let's take a look at the various members of staff that you may see wandering around the casino floor.
President/CEO/Owner
There are a few terms used for the guy or gal at the top of the chain, but they are all more or less interchangeable.
In the case of someone like Steve Wynn who is a well-known figure in the gambling industry and owns Wynn Resorts and Mirage Resorts in Las Vegas, the term would obviously be 'owner'; however, most casino owners are a series of venture capital firms, serial investors, or asset management organisations.
After that, it is either the CEO or the President who usually sits at the top of the casino and pulls all of the strings. Often, they would be tasked with meeting the goals set by the owner or the executive committee – things like hitting certain financial targets and coming up with ideas on how to improve the customer experience, etc.
As well as being answerable to those above, they are also in charge of everyone below them and responsible for ensuring that each department can operate functionally.
Vice President/COO
Holding the second highest position in the casino industry pyramid, the Vice President, or COO (Chief Operating Officer) essentially oversees specific functioning elements within a casino such as security or finance. Under the Vice President or COO lie a number of the following positions which they are responsible for.
Vice President of Finances/CFO (Chief Financial Officer)
In charge of handling all of the finances and having a say on the more technical aspects of business strategy, this is a role which is arguably one of the most important in any casino from a growth perspective.
There may be financial assistants and/or clerks underneath the CFO depending on the size of the casino, however, the CFO themselves will know exactly what is coming in and out on a day to day, week to week, and month to month perspective.
Their job includes adjusting business plans, creating cash flow forecasts, profit and loss forecasts and balance sheets, so their role is comprehensively varied. Added to this, they are also responsible for ensuring everyone in the casino gets paid, as well as the casino's suppliers or contractors, while handling invoices is another important function.
Vice President of Human Resources/HR Director
With such a vast number of employees in a casino, there has to be someone tasked with ensuring that everything flows smoothly and the workforce are happy.
In addition to this, the HR Director is also involved in strategy, especially from a recruitment aspect, which means they also source and engage recruitment firms in some instances, assist with interviews, and then the onboarding process once a new employee joins the company.
Added to this, they also handle the more unpleasant side of things such as contract termination and employee disputes, though contract negotiation often falls within their remit too.
Vice President of Security/Head of Security
Arguably the joint most important aspect for a casino along with finance. Security has advanced considerably over the last 20 years and is no longer all about physical security but also cyber security as well.
Following a staggering number of attempts to rob casinos over the years, with criminals using all kinds of means and sophisticated technology, casino security staff have to be on top of their game at all times.
Responsible for surveillance, risk management, and the safety of both employees and customers, the head of security will usually have a team underneath them which will vary depending on the size and status of the casino. In some cases, the heads of security at major casinos may have even been ex-special forces.
Management
Underneath the typical C level or VP level staff, there is a management tier who feed down from the high ups to those who work under them. These roles often tend to be more of a hybrid between being operational and functional.
Managers in a casino tend to have the authority over the day to day running of the building and prefer to be present on the casino floor at all times to facilitate the smooth running of slot machines, supervision, and customer care. The management tier includes the following roles:
Customer Service Manager - Another highly important role in a casino, ensuring customers are always happy is a fundamental aspect, especially in popular resorts like Las Vegas or Monte Carlo where customers can easily go elsewhere.
Slot Machine Manager - This is what the customers come for, or at least a big part of it. Most casinos have in excess of one thousand slot machines, with the bigger ones containing many more. Ensuring that these work properly at all times and also being able to answer questions about them from customers means that they have to be extremely knowledgeable and at least know the mechanics of the different kinds.
Table Games Manager - Another part of what customers come to a casino for; each establishment often has at least blackjack tables and roulette wheel tables, while some also have baccarat and craps tables. Being knowledgeable about each game and where they are in the building is one important factor for the table games manager, however, they will also liaise very closely with security. Card counting in casinos is still quite common and with techniques becoming more advanced all of the time, identifying card counters can prove difficult. The table games manager will be well versed in how card counting works and will often always be on the lookout for this.
Food and Beverage Manager - Ensuring that customers stay in the casino for as long as possible is one of their main priorities, and as such, a casino must provide everything that a customer needs where food and drink is concerned. In order to keep customers satisfied and happy, especially if they are in the middle of a game, there is often table service so that they do not have to get up and miss out on the opportunity to wager more money. A food and beverage manager will ensure the smooth running of all of the food and drink facilities. The major casinos will usually have numerous bars and restaurants, which means that this can be a huge undertaking - it is almost a separate entity from the casino itself. As well as managing and playing a part in hiring the catering staff, they will oversee the ordering of food and drink, analyse inventory to see what is selling well and what isn't, to then be able to make decisions about what to order more and less of, as well as running promotions.
Shift Manager - With a casino being open for the majority of the day and some for 24 hours in the major resorts, the vast majority of employees will work shifts, and to coordinate this operation the shift manager will play a very important role. Possessing extremely high organisational skills and a knack for logistics, it is their job to work out how many staff to have on at any given time, what roles need filling, and also juggling holiday requests and pre-empting possible staff illness and who might cover as a contingency.
Casino Cage Manager - The ultimate duty of a casino cage manager is to ensure profitability at all levels which includes accounting for transactions, overseeing operations, controlling access to the vault, and providing an account for any problems. A great number of workers in a casino report to the cage manager, whose responsibilities may also include disciplinary procedures and scheduling personnel.
Floor Manager - Similar to the table games manager and slots manager, though more general, the floor manager usually surveys what is going on in a casino ensuring that everyone is happy, and will also likely liaise and coordinate with the security team to ensure that everything is above board. Essentially, the floor manager is central to what is happening and can often step in when there is a problem in each department. This ensures that the casino from an operational standpoint can run as smoothly as it possibly can.
Accounts Manager - An accounts manager at a casino feeds down from the VP of Finance and has more of a hands-on role, which includes monitoring day to day cash flow more closely, looking at what is coming in and going out of the casino and analysing the spending behaviour of the gamblers. They may also have some input with payroll, ensuring that employee salaries and wages are processed and if there were any unauthorised absences, that this is reflected in employee payments.
Security Manager - The security manager is the right hand of the Director of Security and will effectively run the security team. It is the security manager's job to know everything that is going on in a casino, who is coming in, who is going out and where any suspicious characters are hanging out. They also run an eye over surveillance cameras to ensure that everyone is operating above board.
Pit Boss
A pit boss is essentially in charge of the floor manager, table games manager, and slots manager and will generally oversee the 'pit'. He/She is part of the management team, but has a little more responsibility which is why they get their own section of the article. Hollywood tends to give a bit of a skewed idea of a pit boss's job too, often depicting them as the tough no nonsense veteran willing to get physical if necessary, which isn't very accurate.
When it comes to minor issues and problems, the pit boss will let the floor manager resolve them. However, for major disputes it is the job of the pit boss to step in and look to find a solution. Generally most of the problems relate to gaming discrepancies, with all of the major ones referred straight to the pit boss to sort.
Theresa LeaVerenz, who is a Pit Supervisor for one of the major casinos that sits on the Las Vegas strip and has thousands of visitors on a daily basis, stressed the importance of attitude while working in the role: "If I arrive in a bad mood, by the end of the day the dealers will be drained, and the customers will not be having a good time. So, instead, I'm constantly the cheerleader."
She continued: "I think that anyone who wants in on management should take classes in gaming management. Right now I'm taking one at the University of Nevada in Reno. It helps me understand why we do what we do and what goes on. We learn about potential cheaters, how to interact with customers, and management skills."
One Las Vegas 'insider' even stated: "Most casinos will make sure you can count cards before you are a Pit. Floor Supervisors aren't required to know it. As a Pit, you should be able to watch a guy play one shoe and figure out if he's counting or not.
"We honestly let most "card counters" play without any hassle because they are bad at it. If someone is really good, we will back them off from playing blackjack or even escort them off the property."
Base Level Positions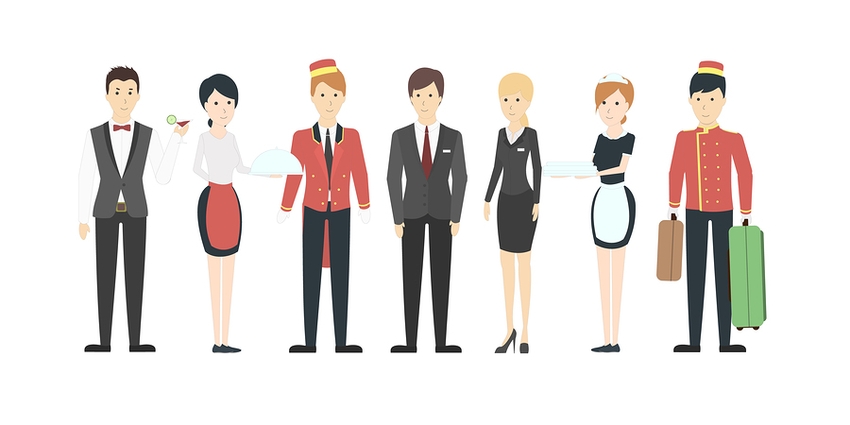 Without these people, the worker bees, it is highly unlikely that a casino would be able to operate at all. These roles are essentially the 'foot soldiers', and in some cases these workers will be able to do two or more of the following roles, especially if they have ambitions of climbing up the ladder.
Let's take a look to see what these roles are:
Table Game Dealers - More commonly known as croupiers, these guys have something of a glamourous appeal. A table game dealer has to have high levels of concentration, be able to multitask, and possess strong numeracy skills. As well as dealing the cards - or in the case of roulette, operating the wheel - they have to know exactly what winnings are owed on any given eventuality. For every six tables and their dealers, there is a floor manager acting as their direct superior.
Slot Machine Attendants - It is quite common that customers will have questions or issues relating to a slot machine in a casino - there are afterall, over 1000 of them in big casinos. One of the main responsibilities of a slot machine attendant is to make sure the machines are functioning properly and report any issues to the slot machine manager, who will make a decision as to whether a slot machine is to be removed from the casino floor.
Food and Beverage Servers - The most likely to bear the brunt of frustrations from aggrieved customers who may have not had any much luck and, as a result, feel like they need a drink. They are a necessity at the casino and play a considerable role in ensuring that customers remain happy and have someone to talk to. Duties will generally include serving food and drinks, taking orders, processing orders, collecting crockery and glasses and making sure that customers get the order that they asked for in a timely fashion and with a smile.
Receptionist - After security, the receptionist is usually the first point of contact for customers at a casino so their manner needs to be welcoming and professional. Their duties involve answering general queries, processing paperwork, and making sure customers feel welcome when they arrive.
Casino Cashier - From a customer's perspective, casino cashiers can be the equivalent of Gods. The job of a casino cashier is to distribute winnings to customers after they have won. What they can also do on a discretionary basis is exchange currency, especially if the casino is near more than one different currency zone (Gibraltar for example, which is next to Spain). A casino cashier is in a position of trust due to the sheer amounts of cash that they handle on a day to day basis, and they are also required to have high levels of numeracy.
Security Personnel - These are the employees who really are on the frontline and can even be at risk of injury if there is an attempt on the casino, especially if the perpetrators are armed. It is vital for security personnel in a casino to be switched on at all times due to the lengths that dishonest people will go to. They report to the Security Manager who liaises with the Head of Security.
Valet Drivers - Not all casinos will have these, especially those in built up areas, though there are some such as Monte Carlo, for example, where this is common practice. Their job involves receiving keys from a customer when they pull up in their vehicle (more often than not, this is a luxury vehicle) and take it to a safe parking space for them until they decide to leave. More often than not, this service is a privilege that is reserved for high rollers.
Bellman - As quite a lot of casinos have hotels built on top of them, a bellman in a casino resort is more common than you would think. Their role is to transport luggage from either the vehicle or reception up to the guest's room and ensure that they are happy before moving on. Usually a bellman will get a substantial number of tips, due to the customers often being quite rich. There aren't really any specific qualifications required in order to be a bellman; a high level of customer service skills is a given, as well as hospitality experience - in most cases though, it is more a case of 'who you know'.
Concierge Staff - Again, this is more related to casino resorts which have hotels. Concierge staff will work across the board to ensure that things run smoothly for customers and that all of their needs are attended to sufficiently.
Surveillance Team - Working in close connection with the security team, the surveillance team is essentially 'the eyes in the sky' and they monitor the security cameras closely, run facial recognition scans through the database, and liaise with the security team. They are usually overseen by either the Security Manager and/or the Head of Security jointly, especially if anything particularly suspicious arises.
What are the most important roles at a casino?
This is a question that arguably has more than one answer, however, due to the nature of the industry security is undeniably one of the most important roles. The security team are, after all, responsible for the safety of staff and customers alike, and have the potential to spot a highly charged situation very quickly. Security staff have to be incredibly skilled in what they do, especially in the major casinos.
Definitely up there with security is the head of finance, especially with a casino holding the vast amount of money that it does at any given point. Also responsible for driving the casino in the right direction and ensuring that all transactions are processed efficiently, the head of finance is undeniably very important.
There is also a case to be made for the third tier staff, because without them the casino would struggle to function at all. This is definitely the case for the hospitality staff, who have to ensure that customers are well looked after at all times and on some occasions take some considerable grief from frustrated or drunk gamblers, though in this case, security staff are usually there to back them up.
Online Casinos
There are many similarities and differences between job roles in online gambling and land based gambling. While there are probably more positions than you might have thought at online gambling companies, most roles in both have a comparable role at the other, with maybe some subtle differences.
What we have done is summarise what each facet does under their relevant C-level department (essentially what each executive level committee oversees, as there are usually hundreds of roles in a major online casino) so let's take a look at the roles that exist in a major online gambling firm.
CEO – Chief Executive Officer
Whether the company is owned outright or is part of a gambling group such as Entain Plc, a CEO in an online gambling firm is essentially responsible for overseeing the whole procedure. They will have a clear vision in mind as to how the company will operate and the direction that it is going to go in over the course of the following decade.
These often have to be visionaries and veterans of the iGaming industry and will have usually held similar posts at other major online gambling firms. Invariably this means they will have been a CEO at a smaller firm, or at least held C-level status such as CMO (Chief Marketing Officer) - marketing is an essential role in online gambling and due to its digital persuasion, it means that it also encompasses a lot of other disciplines such as technology and finance. The CEO, therefore, needs to have a sound business head, as well as be fully aware of the other important facets that play such a fundamental role.
Because technology moves so fast in online gambling, it means that the CEO has to be aware that things can turn or change direction at any moment, so having contingencies in place for any eventuality is absolutely vital.
COO – Chief Operations Officer
Arguably the CEO's right hand man, the Chief Operations Officer's role is a highly important one and they have to be fully aware of how the company is being run at any given time. Invariably, every other C-level role will report into the COO (though this can be quite fluid) and as a result they will have to have a strong understanding of not only the industry and each company department, but also the history, philosophy, direction, and values of the company as well.
As the 'operations' part of the job title suggests, the COO is responsible for ensuring that the company runs smoothly, which, with it being online means that speed is key. Things move faster online, so if problems are not mitigated in the right way it can cause problems. Quite possibly one of the most stressful roles in the industry, however, they are usually extremely well compensated for their efforts and responsibilities, especially in a major company.
Also falling under the remit of the COO is the HR department, which is an important department fir online gambling companies due to the sheer amount of employees they (usually) have. As well as looking after day to day issues, HR are responsible for playing a part in the hiring and onboarding of new staff, which can involve quite a lot of work. Due to the fact that many online gambling companies are based in tax havens such as Gibraltar or Malta, many new staff have to relocated. To encourage applications from top talent, a lot of online gambling companies look after the relocation of the member of staff themselves, which can keep the HR department very busy in a process that can take as long as three months to complete. They are usually required to keep the COO updated where necessary, and also under their purview is the disciplinary, dismissal, and contract renegotiation of staff.
CMO – Chief Marketing Officer
Reporting directly into the CEO, the CMO of an online gaming company is not only responsible for overseeing traditional marketing, but also digital marketing as well. In an online casino, there are many facets of digital marketing and these are split into different departments for ease, although they still work together.
These include SEO (Search Engine Optimisation), which is essentially making sure the website in question ranks in the search engine that they are listed on (basically Google), as well as ranking highly for certain keywords and phrases and such. This includes constantly auditing website pages and updating them in accordance to search engine best practice with the correct formula, which relates to the best combination of content, images, and how every web page looks.
Secondly, there is the branding department, who can often (internally at least) look like they are a separate 'creative agency' due to the fact that they will have copywriters whose role it is to create outbound marketing material in order to hook customers with the offers, via channels such as email marketing, SMS, banner copy, and even advert copy for their official sponsorship partners. It is also not unusual for copywriters to be involved in creating the description for new slot games that appear on the website and also standard website content. The designers also sit within the branding department, who will be responsible for actually creating the digital artwork for the advertising banners which go out and are circulated to customers on their database. This is why it is so crucial for copywriters and designers to be so close together, because those adverts need to be perfect in order to attract customers.
Also within the marketing department there is the CRM team (Client/Customer Relationship Management), who are the 'go-between' for customer service, the creative team, casino team, and if applicable, the sportsbook team. What they do is assign the promotions as they come in to the relevant departments and act as the bridge between receiving the offer in its entirety and it being sent out to customers.
The CMO is also responsible for overseeing the PR department which essentially works to ensure that the company is being marketed in the right way and their message is getting out to their target audience as intended. Because most marketing operations are usually done online with an iGaming company this team is often quite small, often comprising of one to three people, compared to the usual eight to twelve in other departments, depending on the size of the company.
Social media is huge in online gambling, and so the social media teams understandably hold quite a lot of responsibility. While getting messages out to their audience on these channels is key, so is managing the way that it is executed. Social media has also become a big part of customer service for an online casino and, as such, being able to answer customer queries in the correct manner is crucial.
CTO – Chief Technology Officer
Depending on the direction that the company is planning to move in, the CTO's role can differ.
They are responsible for numerous technical staff (developers) and functional staff (IT business orientated) that are under them, who work on updating the back end of the website (the mechanical side of things which make a website do what it does). The CTO will also take the lead on more advanced developments.
With mobile playing a huge part in online gambling, there are also different teams for the various mobile platforms (namely iOS and Android), which constantly ensure that the website works seamlessly on each; though in most cases, especially for the major companies, there is also an app.
The major online gambling companies have started to invest heavily in technology over the last few years as they look to gain a significant advantage over their competitors, which may mean that a proportion of people who work in the technology team are assigned to 'special projects'. These special teams are likely to be more highly skilled than others, particularly in the areas of machine learning (which uses highly specialised programming languages 'R' and 'Python'), which can have major benefits.
CFO – Chief Finance Officer
While the CFO's job in an online casino is by no means straight forward, they perhaps have more of an alleviated sense of pressure in terms of delivery than their hierarchical peers.
Being a good delegator is essential for a CFO in an online gambling company and as long as they know who is doing what, there is no reason why the company cannot function as it should. Underneath the CFO are the payroll department, whose responsibility it is to ensure that all outgoings are correct and processed on time, every invoice is paid accordingly to suppliers, as well as their day to day duties.
Undoubtedly, when it comes to business decisions regarding allocation of funds for investment, the CFO plays a key role along with the CEO, COO, and the relevant C-level role, as well as the role below them that it refers specifically to. For example, the Head of Creative (considered a senior management role) might want to hire a creative agency to create a television advert for the latest promotion, or indeed, series of promotions on a 6-12 month contract. As a result, the involved parties would initially be the brand manager (just below the Head of Creative), the CMO, COO, CEO and CFO, who will look at the figures, analyse the potential ROI (Return on Investment) and subsequently decide whether it is a justifiable cause.
Land Based vs Online: How Does Hierarchy Differ?
There can definitely be comparisons drawn between the roles in a land based casino and an online casino. There is an equivalent role in most cases for both, despite one being tangible and the other accessible through a screen, however, there is a lot of work that goes on behind the scenes and there is more to it than meets the eye.
Every online casino, especially the major ones, have more than one headquarters which are usually based in tax havens.
Online casinos, like land based casinos, have an executive committee that often includes a CEO (Chief Executive Officer), COO (Chief Operations Officer), CFO (Chief Finance Officer), CTO (Chief Technology Officer) and in most cases a CMO (Chief Marketing Officer). These all usually have different departments filtering down underneath them.
Where a land based casino has a security department, the equivalent at an online casino is the technology team, though more specifically the fraud department whose job it is to ensure that the online casino stays safe from cyber threats which can put customer's details at risk. This activity is closely monitored at all times.
Where a land based casino has table games dealers, an online casino might have live dealer rooms, where players get to see the game unfolding via video stream with a live dealer in a purpose built studio, often branded in the company's colours and logo. This operation online would usually fall under one strand of digital operations, which would be shared by IT and marketing.
In terms of customer service staff, this works online in almost the same fashion as it does in a land based casino, with online gambling firms usually having dedicated customer service teams answering queries through a series of channels, either via Live Chat, Social Media, or even via telephone.