The casino can be something of an assault on the senses if you have never been to one before, with the lights flashing, all of the machines making noises, and people cheering or shouting then busily hopping from one table to the next.
It's a lot to take in.
On top of that, it can seem like there is a whole new language to learn when heading to each game, with new rules to understand, slang terms being thrown around by other plays, and a short hand between casino staff that might feel impossible to follow.
You need our casino glossary, where we have helpfully bundled all of the most common casino terms into an easy to read list, broken down into general terms and phrases, then terms and phrases broken down by game.
Soon, you will be chatting away in the casino confidently as though you've been visiting for years.
General Casino Glossary: Terms and Phrases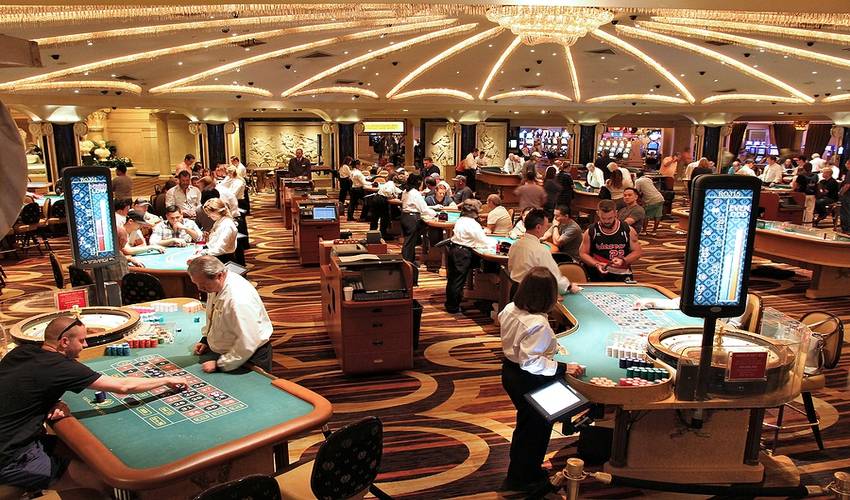 These are words and terms you might hear all over the casino and at a number of different gaming tables.
Anything more specific to a certain game will be listed separately under the related heading below.
ACS – Automatic card shuffler.
Advantage Player – Someone who is card counting or has some other way to gain an advantage over the casino.
Bankroll – The amount of money you have available to gamble with. You could also look at it as your gambling budget for the night.
Beginner's Luck – An inexperience player on a winning streak.
Betting Layout – The area of the table where a player places their chips in order to make a bet.
Bones – Not used all that often anymore.
Bonus – An offer from the casino to attract or retain players. Usually takes the form of risk free money to play with, or free turns on certain games. Bonuses will always come with terms and conditions.
Bonus Hunting – Using casino bonuses to accrue money quickly while risking as little of your own money as possible. The intention is to cash out as soon as any bonus funds are wagered through.
Bonus Whoring – As above.
Cap – A limit.
Card Shark – Someone who is very good at the card game they are playing.
Cashback – Usually part of an offer or an incentive to players who spend a lot and bet big. The casino will promise to pay back 10% on losses, for example.
Casino Advantage – A less popular way of saying House Edge. This is the advantage the casino has over the player in each of the available games. This advantage is built into the games by offering payouts that are less than the true odds of an event occurring, thus securing the casino a profit or the long term.
Chasing – This refers to a player who is chasing their losses. In other words, gambling more in order to win back an amount that has already been lost. This is a terrible idea and no one should ever chase their losses as it only leads to losing more.
Chips – In house currency at the casino. They are small round coloured discs which come in different denominations, and are used to bet on most table games. In a UK casino though, chips could also mean chips, as in a bowl of chips.
Coat Tail – To copy the betting decisions of someone else.
Cold (Streak) – When someone is not doing well, or is losing again and again.
Colour Up – When a player asks for their small value chips to be swapped for larger value ones. You might do this so that you have fewer chips to carry around.
Commission – A small percentage of winnings taken by the house in games where there is little to no house edge.
Comp Points – Reward points. You accrue them as you spend, and the points can sometimes be used to buy goods and merchandise from the casino, or be exchanged for cash or bonus cash to be spent back at the machines.
Credits – Some slot machines turn your money into credits, before you choose how many credits to bet per spin.
Credit – In casinos outside of the UK, it may also be able to bet on credit, but this is a very bad idea as if you lose you will owe money to the casino, and probably at an unfavourable interest rate too.
Cut Card – A coloured plastic card that is inserted into a shoe to indicate how many of the cards in that shoe will be played before the cards are swapped or shuffled.
Dealer – The casino employee who runs or facilities the game. They will be the one spinning the roulette wheel, or dealing the cards.
Dirty Money – Money won from players by the casino.
Down to the Felt – A gambler who is out of money.
Edge – Another way of saying advantage. The casino almost always has an edge of the player in all games, but it is possible, in blackjack for example, to get some of that edge back by playing optimally.
Eighty Six'd – Getting banned from the casino if they suspect you of cheating. The term comes from the days when mobsters ran Las Vegas. If they wanted to 'get rid' of someone they would drive them 8 miles out a dig six feet deep; in other words, they would bury that person in the Nevada desert.
Even Money – A bet that pays out the same level as the stake. So an even money wager of a £5 stake would return £10 in total.
Eye in the Sky – Casino security cameras watching for cheaters.
Face Card – A Jack, Queen, or King.
Flat Betting – Betting the same amount on each hand for a long period of time.
Gambler's Fallacy – Falsely believing that the outcome of a previous game can have some impact on the outcome of the next, during a game of chance.
Getting Down – Making a bet.
Hand – Has two meanings. It can mean the cards you are holding, but can also refer to a single round of a game. So you could say, "I played 3 hands of blackjack but only once had a good hand."
Heat – Unwanted attention from the casino staff.
High Roller – Someone who is betting large quantities of money.
Hot – Someone who keeps winning would be 'hot', as would a table where the players are doing well.
House – The casino is the house.
Jackpot – A large cash prize.
Junket – A group of players invited specially by the casino. Their journey and their stay will be funded by the casino.
Limit – A betting limit or a table limit. The minimum or maximum you can bet.
Multi-Hand – Playing several hands at once in the same game.
No Limit – A game with no limits.
Nosebleed – Stakes so high they give you a nosebleed.
Optimal Strategy – Only exists in some games, but means playing in the most statistically advantageous way on each hand.
Payout – The amount won on a game round. For example you might hit a winning combination on a slot machine and get a £5 payout.
Payoff – As above.
Payout Percentage – RTP, or return to player. This is what the game pays back out in winnings over a very long period of time. So a game with a payout percentage of 96% will pay out 96p for every £1 it takes, leaving a 4% edge for the casino.
Pit – The area of the casino where the games are located.
Playthrough – Wagering requirements. An offer that gives you £10 in bonus funds might require you to wager playthrough that £10 thirty times before it turns into real cash.
Press – Upping your bet to wager more than normal.
Progressive Jackpot – A jackpot that grows as more people play the game.
Push – Getting your stake back at the end of a game round. It essentially means the game is tied so neither the casino nor the player wins any money.
Random Number Generator – A complex algorithm built into digital casino games that decides what the result of each game will be. It is pre-programmed, strenuously and independently tested, and cannot be altered or controlled by the casino.
Rail – Watching a game but not playing it.
Return – The amount of money recieved after a winning bet is your return.
RNG – Random number generator.
Scared Money – Money a player cannot afford to lose, or stakes that are too high for the player's bankroll.
Session – A period of time in which the player plays the casino game.
Shill – A player who is on the casino's payroll, only at the table to make up numbers.
Shoe – The container that playing cards are dealt from.
Side Bet – A bet that can be placed alongside another game which is won or loss independently of the game it is tagged onto, even though it will use the same cards.
Stake – Your bet amount.
Tapped Out – Out of money.
The Cage – Where the casino keeps the chips and the money. The cashier.
Tilt – A losing streak.
Toke – Tipping the dealer.
True Odds – The actual probability of a result occurring. The casino will never give you true odds because if they did they would never make any money. For example, a bet on red on roulette pays out at 1:1, indicating that there is a 50% chance of winning. However, because of the green zero there is actually only a 48.64% chance of winning, so the payout is less than the true odds. This difference is the casino's edge.
Wad – Your bankroll. The amount of money you have with you.
Wager – A bet, or gambling in general.
Wagering Requirement – The same as Playthrough Requirement.
Whale – A player with lots of money who makes large bets but isn't particularly skilled at the game they are playing.
Roulette Glossary: Terms and Phrases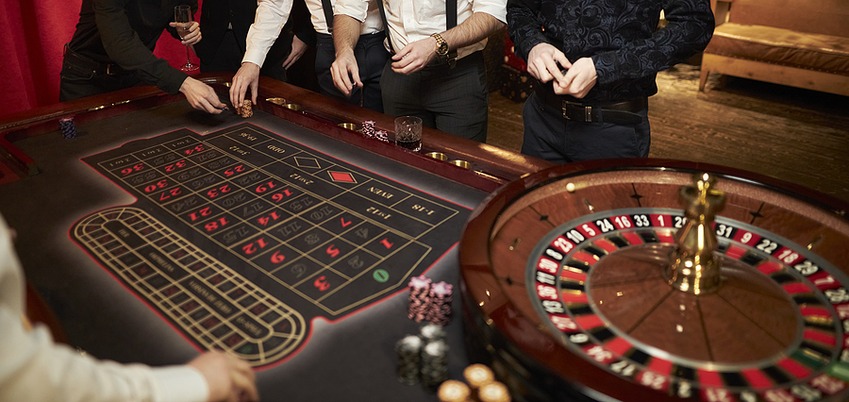 Roulette is a French game originally played with a spinning wheel and a small ball which is released onto the wheel while it spins.
Players can bet on which number on the wheel the ball will land.
American Roulette – Roulette with two green spaces, a zero and a double zero.
Banco – When a player puts all of their money on a single result. A bit like going 'all in' during a game of poker.
Call Bets – More complicated bets that are called out to the dealer rather than placed on the table.
Cold Numbers – Numbers that haven't come up for 37 spins or longer.
Column – A bet on one of the 3 columns running the length of the table. Each column contains 12 numbers.
Corner – A bet on 4 individual numbers, made by placing a chip where all four numbers meet.
Croupier – The 'dealer' on the roulette table; the one who runs the game.
Dolly – The marker placed on top of the winning number after each spin.
Dozen – Very similar to a column bet, but it covers 12 numbers that are in numerical order; 1-12, 13-24, 25-36.
Electronic Roulette – A wheel that operates without a dealer, with a digitalised betting board.
En Prison – A rule found mostly in French Roulette which gives even money bets a second chance at success if the ball lands on zero.
European Roulette – Roulette with just a single zero on the wheel.
Ficheur – A machine built into the table that sorts chips won by the casino into their different colours, saving the croupier a lot of time.
Final – Betting on all numbers that end with a specific number. So a final 4 would be bets on 4, 14, 24, and 34.
French Roulette – Roulette with a single zero that also includes either the En Prison or La Partage rule. The layout also looks different to European and American roulette.
Fret – The metal ridges that help the ball bounce around on the wheel.
High Bet – An even money bet on numbers 19-36.
Hot Numbers – Numbers that are coming up more often than statistically probable.
Inside Bet – Bets placed on specific numbers.
La Partage – Very similar to En Prison, but instead of a second chance the stake is split in half so the loss is 50% less.
Low Bet – An even money bet on numbers 1-18.
Marker – A more common name for the dolly. Used to mark winning numbers after a spin.
Neighbours – Betting on a single number plus the numbers either side of it.
Outside Bet – A single bet on a large group of numbers.
Past Posting – Attempting to place a chip on the table after 'no more bets' has been called. This is against the rules and likely to get you banned.
Pinching – Attempting to take losing chips off the table after the result has been decided. This is also against the rules and equally likely to get you banned.
Pocket – The spaces on the wheel where the roulette ball will eventually settle. Each number has its own pocket.
Racetrack – An area to quickly place bets on several numbers without having to do so individually.
Split – A bet on 2 individual numbers made by placing a chip on the point where they meet.
Straight – A bet on a single number.
Street – A bet on 3 numbers, made by placing a chip underneath the row of 3 you want to bet on.
System – A method of betting on roulette that is designed to increase your chances of a win. There are many systems, but all of them are flawed in the long run.
Wheel Bias – A roulette wheel that has some sort of defect that makes the ball more likely to land on certain numbers or in certain areas.
Blackjack Glossary: Terms and Phrases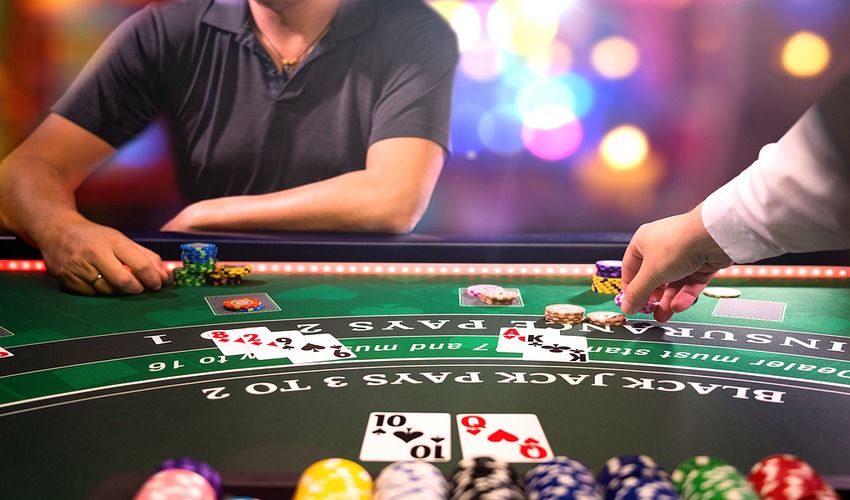 Blackjack is a card game that has many different variations and rules, and is also one of the only casino games in which the player's decision making can have an impact on whether or not they win the hand.
The player plays against the dealer and the objective is to get as close to 21 as possible without busting.
Anchorman – Last player to play before the dealer.
Backed Off – This means the casino is asking you to stop playing the game because they suspect you of card counting or some other form of advantage play or cheating.
Basic Strategy – Making the optimal decision on every hand based on mathematical probability.
Blackjack – The best hand in the game, an Ace and a 10 value card.
Burn Card – Before dealing the dealer will 'burn' the card at the top of the deck. This is to make sure to everyone at the table that the first player to be dealt does not know what the top card is.
Bust – This is what happens when your hand totals more than 21. It can also mean you have run out of money.
Card Counting – A style of advantage play whereby the player keeps a running tally of the high and low cards that have been dealt from the shoe. When there are more high value cards than low value cards left in the shoe, they increase their bets to try and capitalise on this information. It is not illegal but casinos will ask you to leave if they suspect you of it.
Cold Deck – A shoe that is delivering cards in an unfavourable manor causing the players to lose much more often than win.
Discards – Cards that have already been dealt and are no longer in the shoe.
Double Down – Doubling your stake after your hand has been dealt.
First Base – The seat next to the dealer, the first to be dealt.
Five Card Charlie – A rule whereby the player wins automatically if they manage to build a 5 card hand without going bust.
Hard Hand – A hand with no Ace, or an Ace that must be used as a 1 to avoid busting.
Heads Up – This is when there is only one player at the table against the dealer.
Hi-Lo – The most popular method of card counting.
Hit – Asking the dealer for another card to try and improve your hand.
Hole Card – The dealer's card that faces down and is only revealed at the end of the game. This card is known to be 'in the hole'.
Hot Deck – A shoe which is proving very profitable for the players.
Insurance – If the dealer's up card is an Ace, the player can buy 'insurance' from blackjack for half of their original stake. If the dealer has blackjack the insurance bet pays out at 2:1, if they do not, the insurance bet is lost. Taking insurance is one of the worst things you can do in blackjack.
Natural – A two card hand totalling 21.
Penetration – How deep into the shoe the dealer puts the cut card. This is called Deck Penetration.
Ploppy – A term used by experienced players to describe inexperienced players.
Re-Splits – The ability to split a hand that has already been split. So if you split a pair of 7's and were dealt another 7, you could split that hand again at a table that allowed re-splits.
Soft Hand – A hand that contains an Ace being used as an 11 rather than a 1.
Stiff – A hand that is difficult to play such as a the low to mid teens.
Surrender – Some games allow you to surrender after the deal. In this situation you get half of your stake back and do not play the hand.
Split – If you are dealt a double, you can split the hand to make two new hands, which will both be dealt an extra card and played as normal. This costs an extra bet equal to your initial bet.
Stand – Telling the dealer that you are happy with your hand and do not want any further cards.
Up Card – The card belonging to the dealer which is face up throughout the game.
Poker Glossary: Terms and Phrases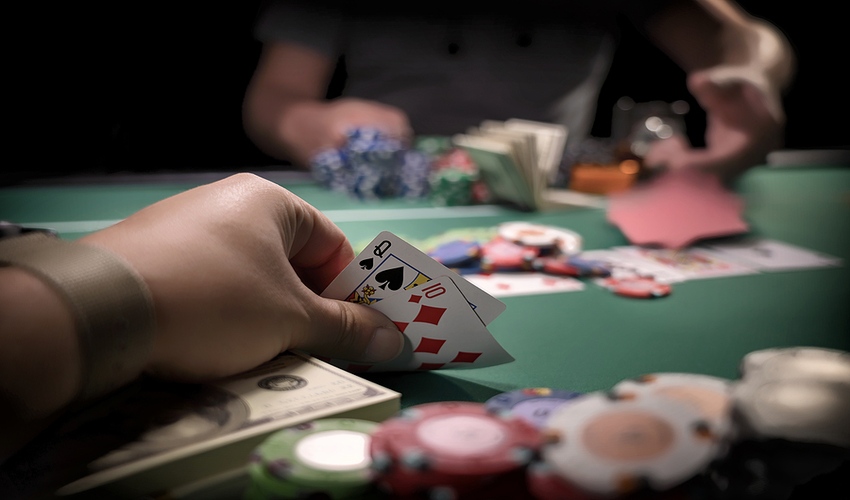 Poker is one of the most well known card games in the world, and there are a huge number of different varieties of the game with different rules and ways to play.
It is also the game with the most slang terms associated, so this list is not exhaustive. Some terms only relate to a specific form of the game, while others are applicable to all.
Poker is played peer to peer, so players do not play against the casino but against each other.
Ace in the Hole – An Ace that is yet to be uncovered. It is one of the 'hole' cards, so it is face down on the table.
Act – Like a turn. To make a decision.
Act out of Turn – To declare your intention before it is your turn to play.
Action Card – A card that creates a lot of betting activity because it is useful to more than one player.
Add-On – When a player is nearly out of chips but buys more before going bust.
Advertising – Deliberately exposing cards or making a play that is designed to give your competitors certain information. Used as a misdirection tactic.
Aggressive – Describing a player who is more likely to raise than to check or call.
All In – Betting all of your chips on the hand. Going all in is a make or break decision.
Angle – Doing something that is not against the rules, but frowned upon, such as acting out of turn (see above). A player doing this might be described as 'angle shooting'.
Ante – An obligatory bet that must be made in order to begin or continue the game. Different poker variations use ante's at different points.
Back Into – Winning the pot with a poor hand that would have folded if pushed.
Big Bet – The bigger of two bets in a fixed limit game.
Big Blind – The bigger of two obligatory bets in games like Texas Hold'em.
Blank – A card that has no apparent value to the game. Usually only applies to community games.
Bleed – Consistently losing chips by playing poorly.
Blind – An obligatory bet to start a game.
Bluff – To play a hand that is statistically unlikely to win, in order to disguise your style of play or to win the hand by outsmarting your opponent and making them fold.
Board – The community cards in some games, in stud games it means the cards in front of the player that are only available to them.
Boat – Another way of saying 'full house'.
Bottom Dealing – A cheating tactic where the dealer deals a card from the bottom of the pack rather than the top.
Box – The chip tray in front of the dealer. Also used to describe the position of the house dealer, so if John was the dealer for the game, you could say "John is in the box for this one".
Boxed Card – A card the wrong way up in the pack, so everyone sees it before it is dealt. This will usually just be discarded on the rare occasions that it happens.
Brick – A card you didn't want.
Broadway – A straight made up of 10, J, Q, K, A.
Brush – Casino employee who acts as hospitality in many ways, including brushing off tables in between games.
Brunson – A 10 and a 2 hand in Texas Hold'em. Named after legendary player Doyle Brunson who won the World Series of Poker two years in a row with that hand, both times using them to complete a full house.
Bubble – The last finishing position before earning a payout in a tournament. So in a 100 person tournament where only the top 10 players get paid, finishing 11th would be known as getting bubbled or bubbling out.
Buck – Marker used to show which player is the dealer for the hand.
Bully – A player who raises aggressively to try and force weaker players out of the game.
Busted – To lose all of your chips.
Button – Another word for the marker used to show which player is the dealer for the hand.
Buy-In – The amount needed to enter a game or tournament in the first place.
Buy the Pot – Making a bet when everyone else is checking, to try and force the other more cautious players to fold, and therefore win the pot.
Call – Matching a bet or raise to stay in the game.
Call the Clock – Essentially telling someone to hurry up or fold. If someone calls the clock on you then you have a set amount of time to make a decision, and if you take longer than that your hand is automatically folded.
Calling Station – Name given to a player who rarely raises but regularly calls.
Cap – A limit on the number of raises allowed per betting round.
Cash Game – A game where real money is used.
Cash Play – Playing with cash until more chips arrive.
Cashing – To win money from a tournament.
Cashing Out – Swapping your chips for real money and leaving a game.
Catch – To receive the cards you need on a draw.
Check – Betting nothing and passing on your turn.
Check-Raise – To check while intending to raise when if someone else bets.
Chip Dumping – When two players collude in a game in order to win the pot and share the rewards, one might deliberately lose chips to the other. This is chip dumping.
Chip Leader – The player with the biggest stack of chips in a game or tournament.
Cold Deck – A deck that has been pre-arranged in order for one player to win. This is cheating.
Collusion – Two players working together in a game in secret. This is also cheating.
Combination Draw – A hand containing both a straight draw and a flush draw.
Community Card – A card that can be used by all players at the table to build a hand.
Cutoff – The seat to the right of the button. This is thought to be the best seat at the table.
Dead Hand – A hand that is not allowed to play the current game. This can happen for a number of rare reasons.
Dead Money – Money in the pot contributed by players who have since folded or are extremely unlikely to win.
Declare – To say out loud what you intend to do.
Deep Stack – A stack of chips that is excessively large for the stakes being played.
Defence – Making a play that forces someone suspected of bluffing to either fold or risk even more money.
Donkey – Name given to a poor or weak payer.
Door Card – Player's first face up card in stud games, first card in the flop in Texas hold'em.
Downbet – Betting a smaller amount than in the previous round.
Down Card – A card that is dealt face down.
Downswing – Losing a proportionally large amount in an unexpectedly short space of time.
Draw – To be on the draw means you have a hand that could be potentially very good, but you need the community cards to be in your favour when they turn. So a hand that only needs one or two more cards to create a flush, for example.
Drop – To fold.
Dry Board – This means the cards on the flop probably haven't improved anyone's hand.
Early Position – Players who act first because of where they are seated.
Exposed Card – When a card is accidentally shown to other players who shouldn't have seen it.
Feeder Table – A tournament table from which players move to the main table as others are eliminated.
Field – All players in the game or tournament are the field.
Fifth Street – Another way of saying the river. This is the fifth and final community card.
Fill Up – Receiving the last card needed to create a strong winning hand.
Final Table – The last table in a tournament where the finalists battle it out for the top spot.
First Position – The player who must act first in the first round of betting. Also known as being under the gun, this is the least advantageous seat in the game.
Fish – Name for a poor or weak player.
Float – To call a bet knowing that you intend to bluff in the next round.
Floorman – Casino employee who resolves disputes and keeps tables full and running properly. A player can call the floorman (or floorperson) if needed by shouting "floor".
Flop – The first 3 community cards on the table.
Flush – A hand with 5 cards all of the same suit.
Fold – To bow out of the current game and lose any money bet so far.
Forced Bet – A mandatory wager usually occurring at the very start of a new game.
Fourth Street – Another way of describing the turn. The fourth community card.
Freezeout – A tournament type where rebuys are not allowed, and the competition continues until one player has won everybody else's chips.
Full House – A hand made up of 3 cards of the same value, and 2 other cards that are also of the same value. So a hand might be 3h, 3c, 3s, 10h, 10d.
Going North – Dishonestly sneaking more chips onto the table so you have more to play with than everyone else.
Going South – The opposite above. Dishonestly removing chips from the table.
Grinder – A player who wins money slowly but surely, in small amounts.
Hand History – Keeping note of the hands that have already been played.
Heads Up – This is playing against only one other player.
Hero Call – Calling on someone you think is bluffing, when you do not have a strong hand yourself.
High Card – When not even a pair is formed from a hand, your highest card is effectively your hand. So a high hand of 10 would beat a high hand of 9.
Hollywood – Behaving in an animated or exaggerated fashion to try and get a reaction from another player.
Horse – A player who has been bankrolled by someone else, so they are not playing with their own money.
In Position – The player who is last to act.
In the Money – Finishing a poker tournament ranked high enough to get a payout.
Inside Straight – A hand with 4 of the 5 necessary cards to complete the hand, with the missing card being in the middle; so 2-3-x-4-5.
In Turn – The player who is next to act.
Junk – A poor hand.
Lag – A player who uses lots of small raises to try and outplay their opponents. Someone who plays in a mildly aggressive manner.
Lammer – Another word for the buck or button. A plastic disc which often has a 'D' or the word 'Dealer' written on it.
Laydown – To fold a strong hand because you think the opposition has something even stronger is to laydown.
Limp In – To enter the pot by calling rather than raising.
Live Hand – A hand that could still potentially win the pot.
Live Game – A game with a lot going on, a lot of action.
Made Hand – A hand that could win the game with no further improvement.
Match the Pot – Betting an amount equal to what is already in the pot.
Middle Position – A seat at the table midway between the seats directly next to the dealer or button.
Misdeal – A deal that has gone wrong in some way and has to be started again.
Muck – To fold, sometimes without even looking at your cards
Nit – A player who does not take risks.
No-Limit – A game that allows players to bet all of their chips on a single game.
Nothing Card – A community card that doesn't improve anyone's hand.
Nut Hand – The best possible hand given the current situation.
Offsuit – Cards of different suits.
On the Button – Being in the best position at the table, that of the dealer. This player can bet last armed with the knowledge of what all the other players have done.
Open – To bet first, to open the betting.
Out of Position – Everyone is the game is out of position except the player who bets last.
Outside Straight – A hand containing 4 out of 5 necessary cards to complete the hand, with the missing card being at either end; so x-2-3-4-5-x.
Overcard – A card with a higher value.
Overpair – A pair in a player's hand which is stronger than the highest community card.
Pair – A hand made up of two cards of the same value.
Pat – A hand that is complete as soon as it is dealt and needs to further improvement.
Playing the Board – This is when a player's best hand is made out of the community cards and not their own cards, but they still go to the showdown.
Pocket Aces – Being dealt two Aces as a starting hand.
Pocket Cards – The first two cards you are dealt.
Poker Face – A Lady Gaga song from 2008.
Position – The order the players sit around the table. There are advantages and disadvantages depending on where you are sat in relation to the button/dealer.
Pot – The money at stake for that game round. The chips the winning player stands to take.
Pot Sweetener – A small bet that is supposed to build the pot a little by making everyone else do the same. It is not an aggressive bet designed to make anyone fold.
Pre-Flop – This is the point at which all players have been dealt their cards but the flop is yet to be dealt.
Proposition Player – A 'prop' I someone who is paid by the casino to start poker games and keep them active. They have to play with their own money though.
Purse – The total prize in a tournament. You might say "The tournament has a purse of £100,000".
Racoon – A poor or weak player.
Rack – A tray used to store chips. Can also mean a stack of 100 chips.
Rag – A low value card.
Rail – The barrier behind which spectators can watch a game. A player who loses all their money may also be described as 'going to the rail'.
Rainbow – 3 or 4 cards of different suits, often in a flop.
Raise – To increase the size of the bet during a round of betting.
Rebuy – To buy more chips in a tournament where you have not been successful so far and are worried about getting knocked out. Usually only allowed once or twice.
Redraw – When you have a playable hand but also the potential to make a better one.
Reraise – To raise again after a raise has already occurred in the same betting round.
River – The last card dealt in the game, the 5th card in Texas hold'em.
Rock – A player who has a safe style of play, only betting hard on hands that are very strong.
Rounder – A player with lots of experience who travels specifically to find high stakes poker games to play.
Royal Cards – Picture cards such as Jack, Queen and King.
Royal Flush – A hand containing 10, J, Q, K, A all of the same suit. The best poker hand possible.
Rush – To be 'on a rush' is to have won several high value pots in a row.
Satellite – A type of tournament which grants entry into a much bigger tournament as a main prize.
Scare Card – A card that could potentially be very useful to someone. Usually a community card.
Set – Another way of saying three of a kind.
Shark – A professional poker player.
Shill – Someone working for the casino and playing with the casino's money.
Shootout – A type of tournament where each table plays to the last player, and then all of the top players from each individual table come together to play each other.
Short Stack – A stack of chips that is quite low comparative to the stakes being played. Not a good position to be in.
Showdown – The point at which players reveal their hole cards to decide a winner. This only happens if there are 2 or more players remaining at the end of the betting rounds.
Sit n Go – A style of tournament where players can just show up, sit down, and start playing. There is no schedule.
Slow Roll – To delay or avoid showing your hand in the showdown.
Small Blind – An obligatory bet placed by the first person to the left of the dealer, followed by the big blind.
Snap Call – Making a quick decision without much thought.
Snow – A worthless hand that is played in a bluff.
Splashing the Pot – Throwing in chips in such a way that it creates a mess. Bad etiquette.
Stack – Your poker chips.
Standing Pat – To play your hand using no draws.
Steam – To make a decision out of anger or frustration.
Straight – A hand in which you have any 5 cards in sequential order. Does not have to be suited.
Straight Flush – As above but all cards are also of the same suit. The second best hand in poker.
Stub – The cards left at the end of a game that have not been used.
Stud – A style of poker game which uses up cards and down cards instead of hole cards and community cards.
Suited – Cards of the same suit.
Tank – To 'tank' is to take a long time to act.
Tell – A 'tell' is a reaction of some sort that gives information to an opposing player.
Three of a Kind – A hand with three cards all of the same value.
Tilt – Making bad decisions because of an unsettled state of mind.
Turn – The fourth community card to be turned over, it comes after the flop but before the river.
Under the Gun – To be 'under the gun' is to be the player who acts first on the first round of betting. They are sat to the left of the blinds.
Up Card – A card that is dealt facing up.
Upswing – A player who wins more than expected in a short space of time could be described as experiencing an upswing.
Up the Ante – Increase stake levels.
Upstairs – To raise. You could take your bet upstairs, i.e. bet more.
Value Bet – A bet that is made to encourage someone else to call.
Wake Up – To get a good hand from the off.
Walk – When all players fold after the big blind is placed.
Wash – A form of shuffling where all cards are placed face down on the table and mixed up.
Weak Player – Someone who is easy to scare out of a hand.
Wet Board – A table with community cards that could be very useful to more than one player.
Window Card – An up card in stud poker, or the very first card of the flop in hold'em.
Craps Glossary: Terms and Phrases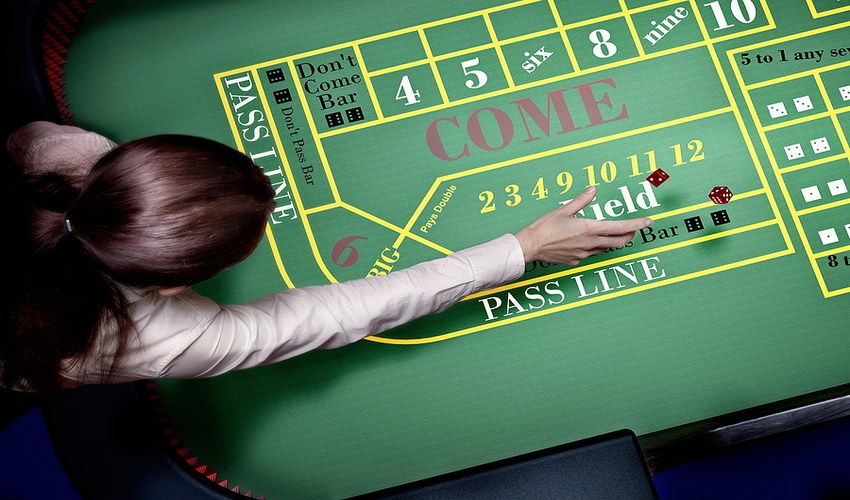 Played with dice and often seen as one of the most complicated games in the casino, Craps is indeed a very dynamic game and the slang terms associated with it do nothing to make it easier to get to grips with.
Players can join the table at any time in the game, and so long as they know what stage the game is at they can join in and make bets.
Aces – A roll of 2, because an Ace means 1.
Ace Deuce – A roll of 3, because ace means 1 and deuce means 2.
Any Craps – A bet on 2, 3, or 12.
Big Red – Number 7 or a bet on number 7.
Bones – Dice
Box Numbers – Numbers 4, 5, 6, 8, 9, and 10 – the place numbers.
Box Cars – Number 12 or a bet on number 12.
Box Man – Casino employee who sits between the dealers and opposite the stickman, supervising the game.
Boys – The dealers.
Centre Field – The number 9 is often called centre field.
Change Only – If a player puts money down to buy chips, the dealer will say 'change only' so everyone knows that player is not betting on the current game with that money.
Cheque Change – Splitting a high value chip into smaller value chips.
Cold Dice – Used when players are frequently failing to hit the point.
Come Bet – A bet made after the point has been established.
Come Out – The first roll of the game or rolling the dice before a point is established.
Crap Out – Rolling a 2, 3 or 12 on the come out.
Don't Come – A Don't Pass bet made after the point has been established.
Don't Pass – A bet that the shooter will not make the point.
Down – A player might take an unsettled bet 'down' by requesting this from the dealer.
Easy Way – Rolling an even number such as 4, 6, 8 or 10 without doubles.
Fever Five – Number 5.
Flea – A player who bets table minimum over and over again.
Front Line – Another way of saying the pass line.
Garden – Field bet.
Hard Way – Rolling 4, 6, 8 or 10 with a pair.
Hi-Lo – A single roll bet on 2 or 12.
Hi-Lo-You – A single roll bet on 2, 11, or 12.
High – Number 12 or a bet on 12.
Hop – A single roll bet for a specific dice combination, hard or easy.
Horn – A bet split across numbers 2, 3, 1, and 12.
Hot Dice – A game in which players are either frequently hitting the point or rolling without hitting 7 for long periods of time.
Inside Numbers – Numbers 5, 6, 8, and 9.
Lay – To bet that a 7 will be rolled before the point.
Layout – This is the area of the table where bets can be placed.
Little Joe – Number 4 or a bet on number 4.
Low – A single roll bet on number 2.
Marker – A button with 'On' on one side and 'Off' on the other. Used to show whether or not a point has been established in the game and placed above the point number when 'on'.
Mechanic – A shooter who can reportedly control the dice to some degree.
Midnight – An alternative way to say number 12 or a bet on 12.
Natural – Rolling 7 or 11 on the come out roll.
Nina – Number 9 or a bet on 9.
Off – Before a point has been established, the 'off' button will be displayed.
On – Once a point has been established, the 'on' button will be displayed.
Outside Numbers – Numbers 4, 5, 9 and 10.
Pass Line Bet – A bet made on the come out roll that the shooter will make the point.
Place Bet – A bet that a specific number will be rolled before a 7.
Point – The number rolled on the come out roll is established as the 'point' for that game. Only numbers 4, 5, 6, 8, 9, 10 can be established as the point number.
Right Way Bettor – Someone who is betting on the pass line, so with the shooter.
Same Bet – Making the same bet on the new game that you made on the last round. Can be verbalised to the dealer since there are already chips on the table.
Seven Out – Rolling a 7 after a point has been established.
Shooter – The person rolling the dice.
Snake Eyes – Number 2 or a bet on number 2.
Stickman – The casino employee who pushes the dice to the shooter and calls out results.
Stroker – A player who makes complicated bets and/or creates unnecessary extra work for the dealer.
Take Odds – To bet odds behind a pass or come.
Working – A bet which is on the table but not yet won or lost is known to be 'working'.
Whirl – A bet costing 5 betting units including a horn and any 7 bet.
Wrong Way Bettor – Someone who is betting on the Don't Pass Line, so against the shooter.
Baccarat Glossary: Terms and Phrases
Another card game, this time with the objective of getting as close to number 9 as possible.
There are alternative versions of this game, but generally the player must bet on either the banker or the player's hand, or on a tie.
James Bond was a big fan of baccarat, or more specifically Chemin De Fer.
Banco – Spanish for Bank. Punto Banco is a variant of baccarat.
Banker Bet – A bet that the banker will win. Pays out at 1:1 but costs 5% in commission.
Banque – Another variation where one dealer sits between two tables and plays two hands at once.
Burning – Some games burn up to 6 cards when a new shoe is introduced.
Caller – A casino employee who turns the cards and calls the totals.
Carte – Asking for another card from the dealer.
Chemin de Fer – A baccarat variation in which the players take turns to act as the banker and play against each other rather than the house.
Commission – A bet on the banker is statistically more likely to win than a bet on the player (or the tie), but it comes with 5% commission on winnings.
Coup – A round of baccarat.
Delux Tableau – Another name for Banque.
Fading – Placing a bet against someone else.
Ladderman – The dealer who runs a game of baccarat.
La Grande – A natural 9, the best hand in the game.
La Petite – A natural 8, the second best hand in the game.
Loss Bet – A bet against the bank, so called because of the higher house edge.
Monkey – A ten or face card.
Natural – If the first two cards dealt make 8 or 9 this is known as a natural.
Palette – A long flat wooden stick used by the dealers to move cards around the table.
Pass – A win.
Punto – Spanish for 'player'. Again, Punto Banco is a baccarat variation.
Railroad – Alternative name for Chemin De Fer.
Shooter – Another name for bank.
Standoff – Another word for a tie.
Tie – If both the banker and the player finish with the same total, this is a tie. You can bet on a tie.
Slots Glossary: Terms and Phrases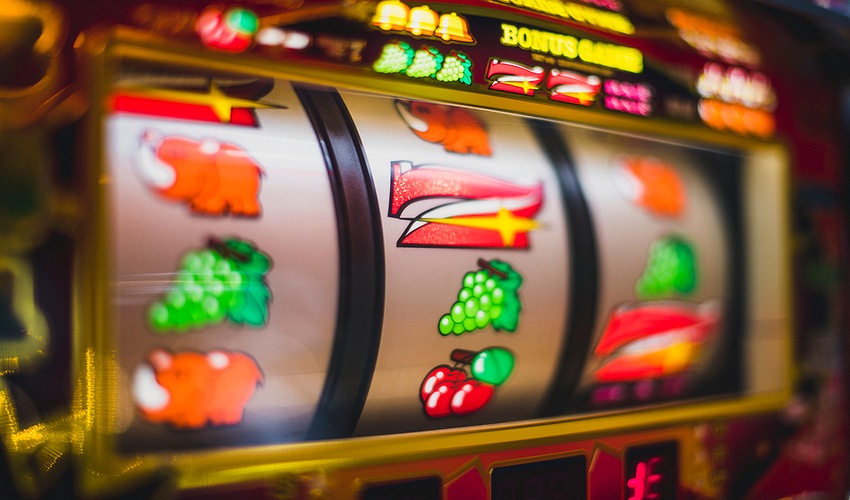 Slot machines come in all shapes and sizes and with all manner of extra features and bonus rounds these days too – they might even have jackpots attached. You can play them online or in person, and even if playing in person you might still have a choice between a video slot and a more old school machine.
They are games of pure luck with fixed payout rates that are managed by a computer built into the games, so players simply hit the spin button and cross their fingers that they will get lucky. There is no skill involved in slots, but people like them because they are fun to play and entertaining to watch.
243 Ways – A slot with 243 possible winning combinations.
3 Reeler – A slot with 3 reels.
5 Reeler – A slot with 5 reels.
Active Payline – Some slots allow players to choose how many paylines they bet on, so they can turn some of them off to make their bet cheaper if they want to. The paylines they bet on are the active paylines.
All Ways – A slot with no fixed paylines.
Auto Spin – A button that allows players to set the game spinning automatically for a pre-determined number of spins. This means the player does not have to click the 'spin' button before every spin.
Auto Play – As above.
Base Game – Most online slots, and many real slots, have feature rounds where the player can win bigger amounts for a short space of time. Until you trigger these rounds though, you are simply playing the base game.
Bar – A traditional symbol on slot machines.
Bet Max – The maximum amount you can bet per spin.
Bet Min – The minimum you can bet per spin.
Bet One – Only one coin or credit allowed per spin.
Bet Per Line – The amount bet per payline. This will add up to your total bet. So a 10p bet per line on a slot with 10 active paylines would cost £1 in total per spin.
Big Bertha – Large, loud casino machine with lots of reels, used to grab players attention in real casinos.
Big Hit – A big win.
Bonus Feature – A bonus round built into the slot which can be randomly triggered by landing certain symbols in the base game.
Branded Slot – A game that is based on a TV show or famous person. The Rocky slot or The Goonies slots are a good example.
Buy Feature – A button that allows the player to 'buy' the bonus round rather than waiting for it to trigger randomly in the base game. Will cost up to 200x more than a regular spin.
Candle – The light on top of the slot machine. On older slot machines, if the player needed assistance they could hit a button that would make the light flash to alert a casino employee.
Carousel – A group of slot machines in a casino arranged back to back in a circle.
Cascading Reels – Symbols fall onto the reels rather than spin, and winning combinations are removed and replaced, creating the potential for multiple wins on a single spin.
Classic Slot – A game with a classic theme. Usually quite simple games.
Coins – Some games turn your money into 'coins' and you can then bet a certain number of coins per line. You can also adjust the coin value. This creates quite a complex way of doing things but it also gives a lot of flexibility.
Cold Machine – A slot that is not currently landing many decent wins.
Collect – Taking any money you have in the machine back out.
Credits – Some machines turn cash into credits instead, and you bet with these credits until you decide to stop playing and cash out.
Demo Mode – Playing an online slot for free, but with no possibility of winning any money.
EGM – Electronic Gaming Machine.
Expanding Wilds – A wild symbol that, when it lands, will expand to fill the whole reel it is on.
Feature Round – Another way of saying 'bonus round'. Features come in all shapes and sizes, and can even include features of their own, so a feature within a feature.
Five Liner – A 3 reel slot with 5 fixed paylines.
Fixed Jackpot – A jackpot that does not change no matter when it was last won.
Fixed Paylines – A slot that does not allow players to adjust the number of active paylines would be described as having fixed paylines.
Free Play – This can mean the same thing as 'Demo Mode', or as 'Free Spins' (below).
Free Spins – Often a major factor in bonus rounds, free spins are essentially regular spins that have the same potential to land winning combinations, but they don't cost the player anything. If part of a bonus feature, they often have extra features attached to them such as enhanced payouts or multipliers.
Fruit Machine – A name for the old style slot machines you would find in pubs. These would not typically have a screen but lots of buttons and flashing lights, often using traditionally themed symbols such as the fruits, bars, and sevens.
Gamble Feature – An option whereby the player can gamble their winnings after a successful spin. Often implemented using a higher or lower card game, with the prize doubling if you guess correctly.
Hammer – To hammer a machine is to play it for a long time.
Hit and Run – A player who makes just a few spins on a slot at the maximum bet before going to a different one.
Hit Frequency – A less common way of talking about the RTP. It is how often the machine is likely to pay out on average.
Hopper – In old machines, the hopper was the area where coins would be stored inside the machine before being paid out as winnings.
Hot Machine – A slot that has been hitting a lot of good wins.
Jackpot – The top prize on a game. This can be part of the game or can run alongside it.
Linked – If two different games had the same jackpot attached, this would be described as a 'linked jackpot'. If that jackpot was a progressive jackpot, it would be described as a 'linked progressive'.
Loose – A slot that is 'loose' is currently thought to be paying out frequently.
Mechanical Slots – These are older machines that are run mechanically, so they could be exploited. Nowadays, games are run on an RNG which cannot be exploited.
Megaways – A game style that does not use paylines, but instead pays out for matching symbols in any position on adjoining reels. These games also offer a random number of ways to win per spin between 324 and 117,649, by allowing between 2 and 7 symbols per reel.
Multi Line – A slot with more than one payline.
Multiplier – A game feature that multiplies wins by the amount shown. So a spin with a 3x multiplier would pay 3 times as much as the base game for a winning combination.
Nudge – A button on some games which allows the player to bump a reel up or down in order to create a winning combination that did not quite land naturally.
One Armed Bandit – Another name for slots. So called because of the single handle on older slot machines that players would pull to make the reels spin.
One Liner – A slot machine with only a single payline, straight through the middle.
Onesies – A name for players who only ever bet the smallest stakes.
Online Slot – A game that exists on the internet, and is played via your browser.
Payline – A pattern which matching symbols must follow in order to create a winning combination. It might be straight across the middle, it might zigzag from top to bottom, it might do anything really.
Paytable – This demonstrates the different payouts for the different combinations of symbols, and often includes the rules of any bonus features too.
Penny Slots – Games that allow you to bet a single penny per line.
Pick Me – A type of feature in which the player has to pick between a number of different options onscreen to reveal their prize.
Pokies – An Australian term for slot machines.
Progressive Jackpot – A jackpot that grows the longer it remains unwon. A small percentage of each bet on the game will be added to the jackpot so that is gradually gets bigger and bigger.
RNG – Random Number Generator. This is a complicated algorithm built into each game, which determines the result of each spin. It runs through thousands of potential results in seconds, and randomly stops on one as you play the game. Each game is programmed to operate at a certain RTP as well, and the RNG will make sure this setting is met over a very long period of time.
Reels – Quite literally a reel with different symbols on it that spins around next to other reels and stops at random. These are the foundation of every slot game.
RTP – Return to Player percentage. This is the amount the machine is programmed to pay back out as winnings, although this will only be true over millions of spins. So a machine with a 95% RTP will pay out 95p for every £1 spent on it, but it will do this randomly. So you might spin 100 times and win nothing, whereas someone else might come along and win hundreds on their first spin.
Rows – The size of the reel will dictate how many rows a slot has. The most commonly found combo is a 5 reel 3 row slot, so a game with 5 reels that each show 3 symbols at a time, so there are 15 symbols showing after each spin.
Scatter – Symbols that do not have to land in specific combinations to win. Often used to trigger a bonus feature.
Scatter Pays – As above.
Short Win – Getting a big payout after only a few spins.
Slot Tournament – Players compete against each other playing the same game, to see who can win the most in a pre-determined amount of time. The winner gets a prize.
Sound of Rain – Refers to the old days when coins used to fall out of the machine after a win. A big win would sound like rain as the machine emptied many coins into the well.
Stacked Wilds – Refers to wild symbols that can land directly on top of one another.
Symbol – The images on the reels. Different symbols have different values.
Taste – When a machine pays out a small amount that keeps you interested it is said to be 'giving you a taste'.
Theoretical Return – The same as RTP.
Ticket – Modern machines pay out digitally, and spit out a ticket with a barcode on it when the player wants to stop. This ticket is the value of what was left after the player had finished playing. It can be fed into another machine or taken to the cashier and exchanged for real money.
Tumbling Reels – Another way of describing Cascading Reels. Symbols fall onto the reels rather than spinning in, and any symbols involved in a win are removed and replaced, creating the potential for extra wins on the same spin.
Variance – Often used interchangeably with the word 'volatility', although they do have slightly different meanings. A slot's variance is a measure of how often it pays out and how much it pays out when it does. A high variance slot won't pay often but will pay more when it does, a low variance slot will pay out a lot, but not in great quantities. Variance refers to longer time periods in general.
Video Slot – A game that uses a screen and digital reels, and often has touchscreen elements, rather than an older style machine that actually contains physical reels.
Volatility – Very similar to variance. It is a measure of risk when playing the game; so a volatile game will be more likely to burn through a lot of money quickly, whereas a less volatile game will tend to keep paying out smaller wins to keep you afloat for longer. Volatility refers to shorter periods in general.
Well – The collection tray where coins would land after a win in old machines. This is where the player would retrieve their winnings.
Wide Area Progressive – Slots found in different casinos, sometimes miles away, but linked to the same progressive jackpot nonetheless.
Wild – A symbol that can stand in as any other symbol, although not usually the scatter. It's a bit like the blank square on a Scrabble board – it can be anything you need it to be.
Win Both Ways – A game that pays combinations from left to right and right to left.
Winning Combination – When symbols land in the right place on the reels, matching the pattern of a payline, this is known as a winning combination.