With a game like poker, it is fairly easy to calculate the odds each player has of winning providing you know what cards they are holding.
This is why watching live tournaments like the World Series of Poker is so much fun, because you know something the player's themselves don't, you can see each remaining player's chances at any given moment displayed as a percentage.
You can then marvel at their bluffing skills, plain bravado, or pure stupidity as they make their next move, and gawp in amazement at any big upsets.
We've seen occasions when a player with a sub-10% chance of winning the hand has gone all in only to be predictably and more soundly beaten at the showdown.
Of course, that same player could have had a pretty good hand themselves and figured the other guy was over confident, or just trying to bluff his way through – a very small chance of winning doesn't necessarily mean a bad hand.
This neatly brings us onto the topic of the article.
You see sometimes – and probably more often than you might think – the guy with a sub-10% chance of winning gets the exact card he needs to turn that tiny chance of a win into a very real victory.
This is often described as an upset, which basically just means that it was extremely unexpected and shocked players and viewers alike. A more technical term is a bad beat, which describes a situation where a player who has an extremely good hand is beaten by an even rarer hand.
Some upsets create bigger shockwaves than others though, and the following are some of the biggest upsets, or bad beats, in poker's recent history.
Adam Levy vs Phil Hellmuth – WSOP 2008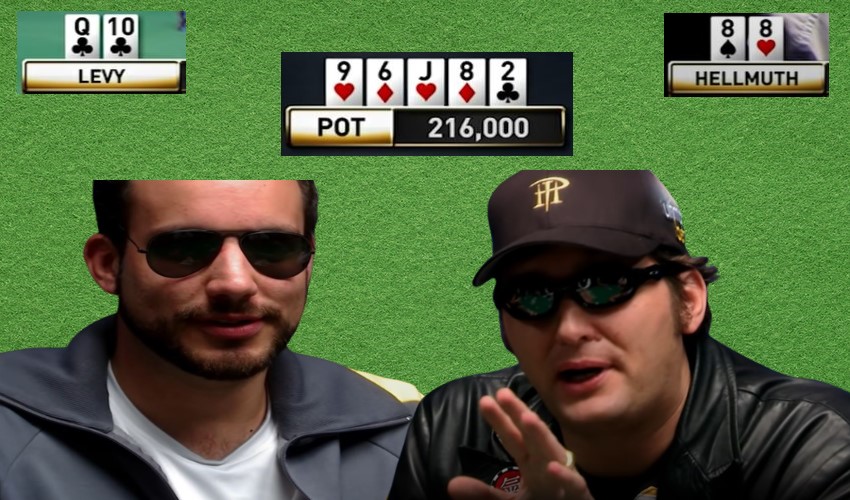 Let's start with this one because it concerns Phil Hellmuth getting his ass handed to him, and we always like to see that because he's the sorest loser in poker and generally an unpleasant guy.
It was day 4 of the main event, with just 350 of the original 6,844 players remaining, so a good way to go before anyone could realistically start thinking about winning the thing.
Nevertheless, we are fairly deep into the competition and Hellmuth is tired or hungry or whatever it is that makes him act like a baby. Maybe he needed burping.
He's got a pair of 8s while Levy is in the game with Queen, Ten. They are heads up before the flop.
The flop reveals a nine, a six, and a Jack, keeping things fairly even but with Hellmuth having the stronger hand and a 59% chance of winning.
He raises $20k which Levy calls fairly quickly, given that he is only one card away from a straight.
That card comes on the turn which is an 8 of diamonds, but of course, this also gives Hellmuth three of a kind, so he's thinking his chances have just increased, when in fact, the balance now lies 77% to 23% in Levy's favour.
Hellmuth checks, clearly not sure what Levy's game is yet, so Levy raises $37k to draw Phil back into the game, who takes the bait.
A two on the river does nothing to change things so Levy has won the hand, but neither of them know it yet.
Phil Hellmuth raises to $60k and then tries to psych Levy out by hilariously saying:
"I'm not tricky enough to play Queen Ten this good am I?"
Levy answers with a raise to $155k which seems to surprise Phil, but nevertheless he calls it, and he doesn't like what he sees.
"He called a raise with a fffu… he called a raise with a Queen Ten, honey!"
He then goes on 5 minute tantrum saying things like "he's some internet player from Florida or somewhere stupid", and "he has no concept of poker". He also called him an idiot player about 300 times.
He had a go at the dealer too, sarcastically complimenting his dealing and then complaining about previous hands, before the dealer gently let him know that he only just sat down. He was a new dealer.
The best comment though, was arguably when Hellmuth said of Levy,
"Idiot players call raises with Queen Ten, they probably don't even know how to spell poker. I mean this kid has all the chips, and he probably won't even make the final 200."
He was wrong.
Adam Levy finished in 48th place taking home $135,100, and only a few places short of Hellmuth himself, who was defeated in 45th place, winning $154,400.
Pretty evenly matched then, eh Phil? You big cry baby.
Harvey Matthews vs Brandon Caputo – WSOP 2021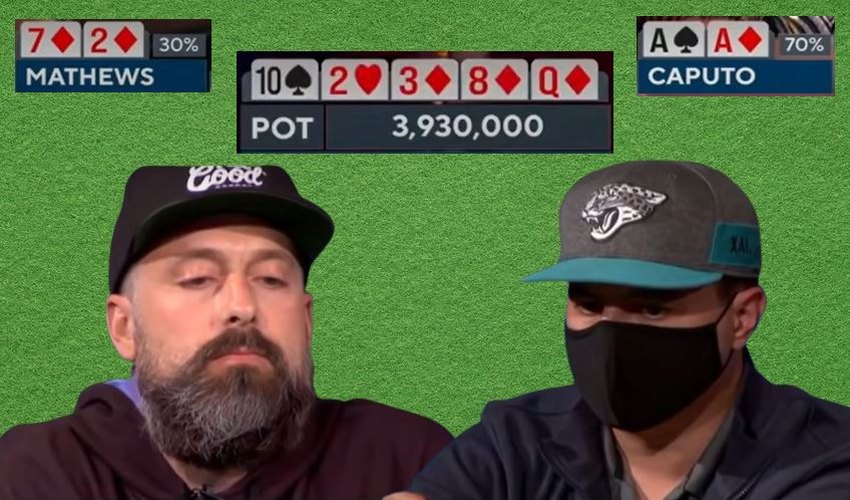 A good example of a player not finishing off the hand early enough here.
At the final table in Event #13, a $3,000 No Limit Hold'em Freezeout, Brandon Caputo had some very bad luck, but also did himself no favours.
They are head to head pre-flop, with Caputo holding pocket Aces and Matthews with just the 7 and 2 of diamonds; and we can all appreciate that is not a very good hand.
However, he is chip leader with $9.6 million while Caputo is just hanging in there in last place with $1.8 million.
Caputo seemingly suspects that Mathews doesn't have much, but rather than win the pot too early, he tries to tickle some more money out of him and get more value for his Aces. He needs to build up his stack.
The flop shows ten of spades, two of hearts, and three of diamonds.
This gives him just a 22% chance of going on to win assuming he isn't bullied out of the hand first. He now has a low pair of twos but that three of diamonds could also be handy.
With the pot at $480,000, Caputo raises $160k, which Matthews calls quickly. A more aggressive raise here might have been enough to back Matthews off, but Mr Chip Leader has a $2 million lead over the second place player, so he can afford to gamble a bit.
An 8 of diamonds on the turn gives Harvey Matthews even more reason to stay in the game since he now has a pair and a flush draw. Brandon Caputo is still 70/30 odds on to win, but given Matthews' strong position in the game and his style of play, he won't be easily scared off.
Caputo raises $300k, still trying to squeeze as much out of his opponent as possible without scaring him off completely, which works, but only because Matthews knows that another 2 or a diamond would put him in a much stronger position.
What's more, Caputo hasn't been giving the signals of someone with a seriously strong hand.
Matthews considers his options for a while before going all in (up to the amount left in Caputo's stack), who can't back out now, so it's all down to the river.
Caputo certainly got the action he was after – the pot is now a shade under $4 million which would put him right back in the game – but when the Queen of diamonds comes on the river and gives Matthews a flush, Caputo is out of his chair and on his way home.
He still won $87k for coming 5th in the event, but it was a painful way to go.
Peter Eastgate vs Scott Montgomery – WSOP 2008
This one had to hurt with a capital OUCH.
It's the final table of the 2008 World Series of Poker main event, and only five players remain.
Three fold pre-flop, leaving just Scott Montgomery and Peter Eastgate in the game; Scott holds Ace, Three, both diamonds, while Peter hold a pairs of sixes.
The thing is though, Montgomery is seriously short stacked, and he needs this hand to stay in the game, so what does he do? He goes all in.
Probably not the most effective bluff in the world given that his tiny stack was visible for all to see, but nevertheless, Eastgate considers his decision after asking for a count, before calling. At this point, the statistics show the game leaning 62% to 38% in Eastgate's favour.
Montgomery is making nervous jokes just before the flop, clearly thinking his time is up, but the very first card is an Ace, and the second is the four of diamonds, turning the tables completely and giving Montgomery a 96% chance of success.
Still though, Montgomery is nervously joking that this will just make it even uglier when another 6 lands on the river. He won't let himself believe that he could win.
The turn card is another Ace giving him trips, upping Scott's chances of success to 98% and making the hand almost a dead cert for him, and you can see in his eyes in the video footage the very moment thinks he's survived to fight another day.
There is only a single card in the deck that could beat him now.
But this is not a story about Montgomery's hand, it's about Eastgate's, and Montgomery's premonition about a 6 on the river was about to come true.
As he predicted, a 6 of diamonds on the river did indeed make it all the uglier, giving Eastgate a full house and signalling the end of the road for Scott.
The crowd went ballistic, Scott Montgomery smiled ruefully to himself, and Peter Eastgate went onto to become the youngest ever winner of the World Series of Poker at that time.
Justin Phillips vs Motoyuki Mabuchi – WSOP 2008
In the same competition as Eastgate's miraculous win, came another even less likely bad beat. Although it came earlier in the competition and the stakes were not as high, the chances of it happening were 1 in 2.7 billion.
It was only day 1A of the main event, so the thing had barely even got going, when at one particular table Motoyuki Mabuchi was dealt a pair of Aces, so understandably, he wanted to play the hand.
He raised to $850 (blinds were $150/$300 at this early stage), and everyone else backed out of the hand but for one player, Justin Phillips, who was holding the King and the Jack of Diamonds.
You can already see where this is going can't you?
The flop delivered a fantastic boost for Mabuchi; Ace of hearts, Queen of diamonds, and 9 of spades, so he now had a set of Aces. Did you notice that Queen of Diamonds though…?
Both men checked after the flop – if Mabuchi had raised perhaps the result would have been different – but a 10 of diamonds came on the turn and this was enough to keep Phillips playing.
Now Mabuchi raises, to $1,600, but it doesn't scare Phillips off since he could be about to get the biggest hand in poker. He calls.
On the river, the final Ace is drawn, and Mabuchi, who now has quad Aces, thinks he's got it in the bag. He tries to bump up to $2,500 but Phillips raises much higher to $8,500.
Maybe at this point Mabuchi should have realised something was up, but he must have been too excited by his own hand to be properly considering his opponent's behaviour, because he took about 0.5 seconds to declare that he was all in, shoving his chips almost victoriously into the middle of the table and standing up.
That final Ace was the Ace of Diamonds, so while it gave Mabuchi a stonking hand, it also completed a Royal Flush for Phillips.
After seeing Phillips' cards, Mabuchi threw is own down in frustration, and Phillips reaction was incredible. Standing there in a plain white sleeveless top, mouth wide open and eyes popping, he was just as shocked as Mabuchi was.
Jonathan Duhamel Vs Matt Affleck – WSOP 2010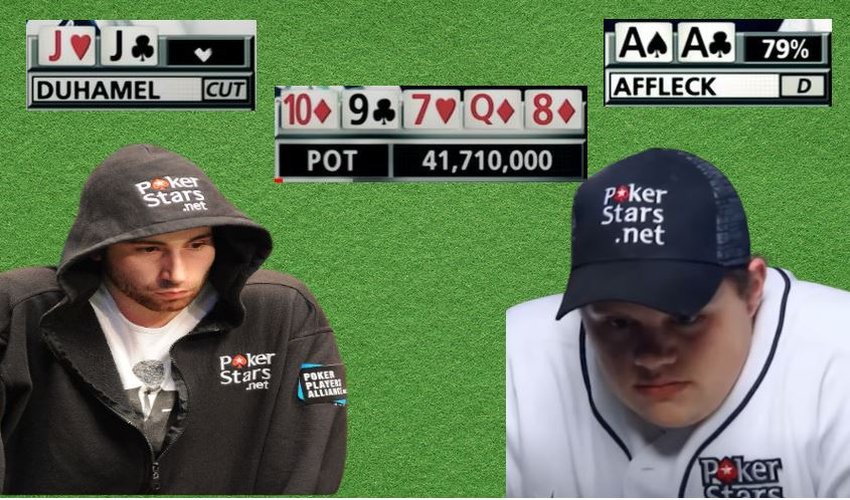 Possibly one of the most dramatic river card reactions in poker, was when college grad Matt Affleck faced down Jonathan Duhamel with a pair of Aces vs a pair of Jacks.
There were 15 people left in the main event, the money being bet was massive, and these two had the most chips on the table; Duhamel is chip leader, Affleck is second.
After several re-raises, the pot stands at $8.5 million pre-flop and Affleck has said since that he expected at least another $4 million from Duhamel after the flop, with almost no potential hand Duhamel could have worrying him.
The flop is 10, 9, 7, which doesn't change much; Affleck is looking good with a 73% win chance, and Duhamel checks.
This surprises Affleck who is now thinking he must have something in his hand, because if he was bluffing he would have bet the flop.
Affleck bets $5 million, upping the stakes significantly and attempting to pull more of Duhamel's chips into the pot, which works as Duhamel calls.
A queen shows up on the turn and once again, Duhamel checks, but Affleck is convinced he has the best hand, which he does, and decides this is the moment to go all in.
Duhamel does not respond for a very long time, a full five or six minutes go by, and Affleck is growing more confident the longer the silence continues.
Eventually, Duhamel calls, which Affleck has said he did not expect given how long he had to think about it, and interestingly, they both incorrectly guess at each other's hands. Duhamel thought Affleck had 10, 9, while Affleck thought Duhamel might have a pair of Kings.
The pot is now $41.7 million and change, and Affleck has a 79% chance of winning.
Affleck is on his feet, hands on his head, just waiting for the good news, while Duhamel is trying to hide in the hood of his hoodie and looks physically sick.
Then the dealer reveals an 8 on the river.
Affleck's shock and horror is written all over his face, and the crowd all involuntarily gasp in surprise almost as though the reaction had been choreographed, while the commentator briefly loses his mind.
Duhamel ends up with a straight, beating Affleck's hand, with poor Matt collapsing on the table and actually bursting into tears before leaving the room.
It was a hugely emotional moment for both of them – Duhamel couldn't even bring himself to celebrate the win – but for Affleck it was crushing. Unbeknownst to him, he was followed into the hall by a camera crew who filmed him crying into a wall, his face beetroot red, before gathering himself and heading back to the table.
Like an absolute gentleman, he went around the table, shook everyone's hand, and wished them good luck, including Duhamel, who would go on to win the main event that year.
Chris Moneymaker vs Phil Ivey – WSOP 2003
To be honest, we could choose from 3 or 4 different Moneymaker hands during the World Series of Poker 2003.
The guy, who was a complete amateur at the time, had more luck than Luck Larry the Good Luck Leprechaun as he made headlines by becoming the winner of the main event that year, but one heads up in particular sticks out.
There were just 10 players left in the tournament at this point, and the next player out would not make it to the final table, so the stakes were very high, and the atmosphere was thick.
Pre-flop, Moneymaker held Ace, Queen, while Ivey held a pair of nines, and all but one of the other players at the table had mucked.
The flop came, showing Queen, Six, Queen, giving Moneymaker an 82% chance of winning based on the cards on show. He raises, although not aggressively, and Phil Ivey calls, while the third player, Jason Lester, folds.
This bumps Moneymaker's chances to 89%, but the turn reveals a 9 giving Ivey a full house and turning the tables completely. Now, Moneymaker's chances of victory are just 17%.
You can understand why Ivey was confident.
Moneymaker's raise wasn't that of a man sure to win, and Ivey could still improve his hand if he got really lucky, plus, he said in an interview in 2022 that he thought he had a read on Chris, but with hindsight he should have folded on the flop.
He didn't though, and Moneymaker raises $200k, thinking his three Queens is going to be pretty hard to beat.
Ivey responds by going all in and Moneymaker calls in an instant, despite beings incredibly likely to lose. In fact, when he sees Ivey's cards he looks physically disgusted with his bad luck.
Only an Ace, a Queen, or a six on the river would save him.
It was an Ace.
Moneymaker roared in victory before taking the $1 million pot, as poor Phil Ivey walked slowly away from the table.
This hand twisted and turned in unbelievable ways, and is so significant because it paved the way for Moneymaker to win the tournament, which created an avalanche of amateur players getting into the game, exploding the poker scene to the levels it's at today.
Without this hand, the world of poker might be very very different indeed.
Casino Arizona – Bluff Magazine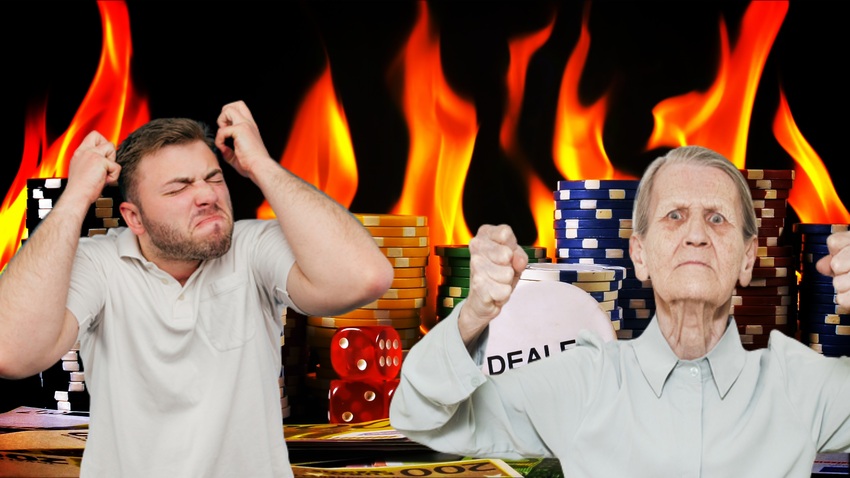 So this last one has to go on the list because it is such an awesome story, but the fact that it happened at a regular table with regular players rather than during a big game that was documented in some way, means that it can't be verified.
However, it was published in Bluff Magazine, which was a poker industry mag for 10 years, so it does have some credibility.
The story was published in 2006, but the events happened some time before then because it was during the author's college days when he used to play poker at the Arizona casinos.
Being Native American owned venues, they often have extras that go with their games, and in this case, there was a bad beat jackpot up for grabs.
This is where a progressive jackpot builds up and is won when one player with a very strong hand is surprisingly beat by an even stronger one.
There are parameters here; so the bad beat hand usually needs to be at least Aces full of tens (3 Aces and 2 tens), and that must obviously include the player's hole cards, so the opposing player's hand must beat that.
If this happens, the player with the best hand wins the pot for that game, but, the player who loses takes 50% of the bad beat jackpot, which will be much much bigger. The winning player gets 25% of it so they would still be happy too, while every other player at the table equally splits the remaining 25%.
So anyway, the author of the story sits down at a $6/$12 limit game and realises that two players who are already there absolute hate each other; he calls them Crew Cut (mid-30s stocky guy with short hair), and the Witch (an old lady, a very old lady).
They are exchanging insults about something that happened earlier in the game that neither of them had managed to move past, and it really was quite an unpleasant atmosphere.
The pertinent hand eventually came along, with the flop showing King, King, Ace, and everyone else bowing out early to leave just Crew Cut and the Witch in the game. Heads up.
An 8 came next, and then the two adversaries really went for it, raising like it was going out of fashion. Since this was a game with no limit on raises the pot built substantially, and eventually Crew Cut went all in with the river still to come and around $500 on the table. Remember, this is a low limit game.
He showed his hand, which was a pair of Aces, giving him Aces full of kings and thus qualifying for the bad beat jackpot which, at this particular casino, was $60,000 at the time.
By now a crowd had gathered so there were a lot of eyes on the game, and Crew Cut was playing up to them, taunting the Witch to show him a better hand and give him a bad beat.
The river had been another worthless card, so it was all down to what the Witch had in relation to that K-K-A flop.
She cooly stood up and showed her mortal enemy a pair of Kings, which would indeed beat Crew Cut and trigger the bad beat jackpot, and apparently said:
"Here's your bad beat"
Crew Cut pumped the air and whooped in celebration, about to become $30,000 richer.
Then, the Witch folded.
Crew Cut turned white, and asked her if she realised she could have just won $15,000 for herself as well as the hand.
"I don't need the money," she said, "but knowing you did…"
She then stared into his soul and smiled sweetly to end the sentence, before racking up and leaving the table.
How cold and totally badass is that?